Details

Published: Monday, 05 March 2018 06:42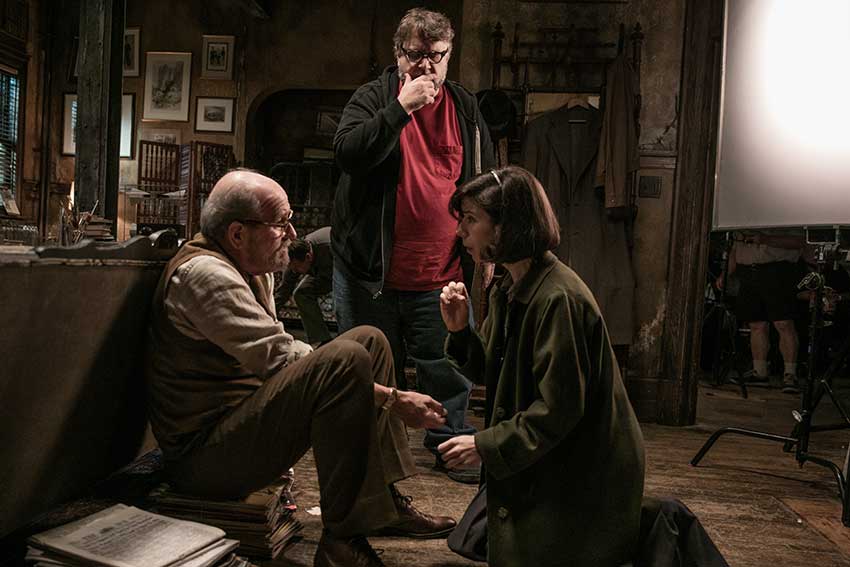 THE SHAPE OF WATER was the big winner at the 90th Academy Awards Sunday night. Mexican director Guillermo del Toro calls this fantasy film his most personal film, and it payed off with four Oscars including Best Director for del Toro and Best Picture. The film's original score by Alexandre Desplat took home the statue as well as production design. We talked to the director last year, and he explained why THE SHAPE OF WATER was the movie he's always wanted to make. For the list of winners, see below.
THE SHAPE OF WATER is a fantasy film, starring Sally Hawkins, Octavia Spencer, Michael Shannon and Richard Jenkins, set against the Cold War era circa 1962. Elisa (Hawkins), a mute and lonely woman, works as a janitor in a high-security government laboratory with her friend Zelda (Octavia Spencer). Her life is changed when they discover a classified experiment in the shape of a creature. Elisa must save this fish-like creature from a monster of a human kind - government agent Strickland (Michael Shannon).
Director Guillermo del Toro (HELLBOY, PAN'S LABYRINTH) fascination with monsters has come full circle with THE SHAPE OF WATER. All of the Mexican-native's films have led to what he calls his passion project THE SHAPE OF WATER. Here's what he reveals about his journey in bringing a very personal film to the big screen.
OSCAR WINNERS

Best Picture
The Shape of Water (WINNER)
Guillermo del Toro and J. Miles Dale, Producers
Directing
The Shape of Water (WINNER)
Guillermo del Toro

Actor in a Leading Role
Gary Oldman (WINNER)
Darkest Hour
Actor in a Supporting Role
Sam Rockwell (WINNER)
Three Billboards outside Ebbing, Missouri
Actress in a Leading Role
Frances McDormand (WINNER)
Three Billboards outside Ebbing, Missouri
Actress in a Supporting Role
Allison Janney (WINNER)
I, Tonya

Writing (Adapted Screenplay)
Call Me by Your Name (WINNER)
Screenplay by James Ivory

Writing (Original Screenplay)
Get Out (WINNER)
Written by Jordan Peele
Animated Feature Film
Coco (WINNER)
Lee Unkrich and Darla K. Anderson
Cinematography
Blade Runner 2049 (WINNER)
Roger A. Deakins
Costume Design
Phantom Thread (WINNER)
Mark Bridges

Documentary (Feature)
Icarus (WINNER)
Bryan Fogel and Dan Cogan

Documentary (Short Subject)
Heaven Is a Traffic Jam on the 405 (WINNER)
Frank Stiefel

Film Editing
Dunkirk (WINNER)
Lee Smith

Foreign Language Film
A Fantastic Woman (Chile) (WINNER)

Makeup and Hairstyling
Darkest Hour (WINNER)
Kazuhiro Tsuji, David Malinowski and Lucy Sibbick

Music (Original Score)
The Shape of Water (WINNER)
Alexandre Desplat

Music (Original Song)
Remember Me (WINNER)
from Coco; Music and Lyric by Kristen Anderson-Lopez and Robert Lopez

Production Design
The Shape of Water (WINNER)
Production Design: Paul Denham Austerberry; Set Decoration: Shane Vieau and Jeff Melvin

Short Film (Animated)
Dear Basketball (WINNER)
Glen Keane and Kobe Bryant

Short Film (Live Action)
Nominees
The Silent Child (WINNER)
Chris Overton and Rachel Shenton

Sound Editing
Nominees
Dunkirk (WINNER)
Richard King and Alex Gibson

Sound Mixing
Dunkirk (WINNER)
Mark Weingarten, Gregg Landaker and Gary A. Rizzo

Visual Effects
Nominees
Blade Runner 2049 (WINNER)
John Nelson, Gerd Nefzer, Paul Lambert and Richard R. Hoover