Details

Last Updated: Saturday, 12 April 2014 13:30
Written by Lupe R Haas
Kevin Costner began his return to the Hollywood limelight with the "Hatfields & McCoys" (2012) television miniseries. Then we saw him as Superman's Earth dad in a supporting role in Man of Steel. He sprung back into action with Jack Ryan: Shadow Recruit and as a leading man in 3 Days to Kill, but it's DRAFT DAY were he dominates the screen.
In recent years, Kevin Costner appeared in the occasional film, but he seems to have gotten lost in the Hollywood shuffle. It was the success of the "Hatfields & McCoys" that reminded us this guy was still around and he still had it.
My personal Kevin Costner favorites include 3000 Miles to Graceland, Thirteen Days, JFK, Bull Durham, No Way Out and The Untouchables. DRAFT DAY reminded me of the actor from those movies. His appeal on screen in DRAFT DAY is was what made him a star in the first place. He conveys emotions without words. You see the pain in his face and can feel what Sonny Weaver is thinking as the General Manager of the Cleveland Browns who has everyone riding him to make the right decision for the number one pick. It's a extremely high stress job that nobody will want after seeing this movie.
Jennifer Garner plays his girlfriend and fellow NFL executive who also springs the news that she's pregnant with their child that same morning while also dealing with the death of his father a week prior. Frankly, the guy should've had a heart attack with that much pressure on him.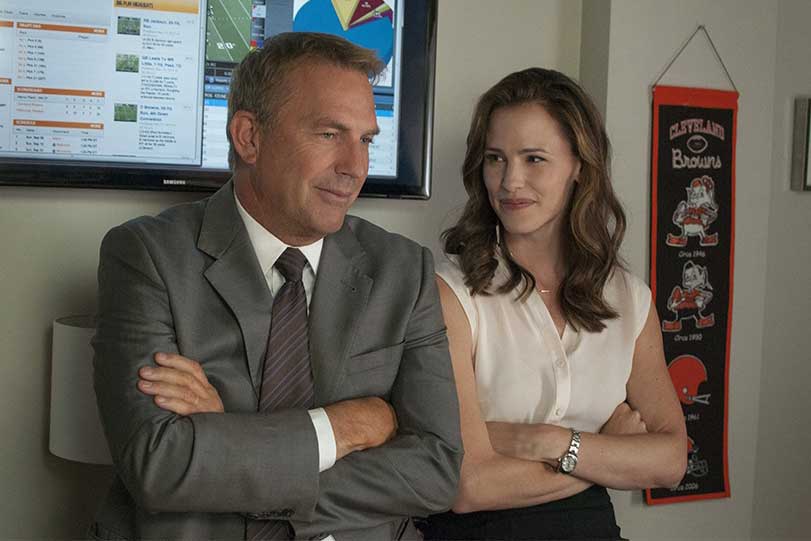 Kevin Costner is the heart of the movie. Frankly the concept of DRAFT DAY is weak in that it revolves around the NFL draft. As a non-sports fan, who really cares, but Costner makes you care because he has something to prove to everyone doubting his every move. You're also hoping he'll make the right decision when it comes to his girlfriend Ali (Garner) and their little bun in the oven. At some points in the movie, I wanted to yell at the screen and tell Denis Leary or Frank Langella's characters to leave Costner alone. That's how invested you become because of Kevin Costner.
The role of Sonny Weaver was written for a thirty-something actor in mind but director Ivan Reitman knew there was only one person who could pull it off on screen. He was right in going after Kevin Costner for the role. No other actor comes to mind who could've given the same performance.
Let's hope DRAFT DAY is a success so we can see more of Kevin Costner on the big screen in these type of leading man roles.
INTERVIEWS
Draft Day's Kevin Costner On Power of Movies & Racism
Jennifer Garner Calls Herself 'Legitimate Football Fan'