Details

Last Updated: Tuesday, 24 June 2014 06:04
Written by Lupe R Haas
Unfortunately for Mel Gibson, the role most people remember him by is his famous expletive-ridden rants on dozens of audio tapes in three separate incidents. The profanity-laced tapes pretty much insulted all races, genders and our ears. His personal life became endless fodder for the tabloids and late night jokes.
The "Leather Weapon" star and Oscar winning director ("Braveheart" 1995) was riding the waves of Hollywood success. It all started to go downhill for the two-time Oscar winner in 2006 when he was busted in Malibu for a DUI where he allegedly called the female police officer an offensive term and made anti-Semitic claims. All would be soon be forgotten until 2010 when new tapes were leaked online with Gibson spewing more hate for women and races. The last tapes released by screenwriter Joe Eszterhas in 2012 seemed to put the nail in his Hollywood coffin. Before the audio tapes were released, he was already getting flack for directing films like "Passion of the Christ" (2004) which some called anti-Semitic.
Hollywood is very forgiving when it comes to hot messes like Robert Downey Jr., but Gibson is a repeat offender that most people have sworn never to work with. The hot-tempered actor has worked sparingly since those incidents. His 2010 film "Edge of Darkness" was overshadowed by the scandal and flopped. His long-time friend Jodie Foster spoke out publicly on Gibson's behalf and directed him in "The Beaver" in 2011. In "The Beaver," Gibson plays a depressed family man who starts talking to a beaver hand puppet to deal with his problems. Of course, the concept of the film became joke central in the media and tanked.
At least his 2012 movie "Get The Gringo" saw the return of the Gibson we like as a quirky career criminal sent to a Mexican prison like no other which is town full of criminals, but with the help of a 10-year-old, he navigates through the dangerous community. Although the film didn't do much box office business, I, for one enjoyed seeing classic Mel Gibson on the screen.
Gibson has always gravitated towards edgy roles ("Mad Max," "Payback," "Million Dollar Hotel," "Conspiracy Theory"), rarely playing the straight man. While always portraying slightly off-kilter and flawed characters, the "Braveheart" and "Lethal Weapon" star never went full on evil until now that his public persona has been tarnished.
Up next for Gibson, he will be going up against Sylvester Stallone and his Expendables crew as the villain in the third outing of the "Expendables" where he joins returning favorites Jason Statham, Jet Li, Dolph Lundgren, Arnold Schwarzenegger, Terry Crews and other newbies to the franchise (Harrison Ford, Antonio Banderas, Wesley Snipes, Kellan Lutz) when it opens August 15.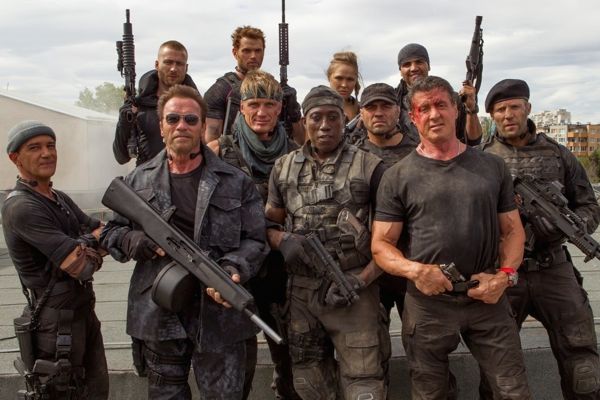 The Academy Award-winning director is also reprising his villainous role as Voz in Robert Rodriguez's "Machete Kills Again… In Space!" which should be quite entertaining to see Gibson fighting Danny Trejo and Michelle Rodriguez in zero gravity.
In 2015, Gibson returns to the big screen as another questionable good guy in "Blood Father" portraying an ex-con fighting drug dealers to save his estranged daughter. He's returning to familiar roles with that movie, but does he still have box office power? Audiences can be forgiving, but Hollywood may not be.
Hopefully he can step out of the shadow of infamy because while he may not be the greatest person in real life, as an actor, he was always enjoyable to watch on screen.
PHOTOS: THE EXPENDABLES 3: 16 New Character Movie Posters