Coming Soon
Details

Category: Coming Soon
Published: Tuesday, 10 November 2020 15:29
Emily Blunt is stuck between a manwich in WILD MOUNTAIN THYME with Jamie Dornan and Jon Hamm vying for her love. Christopher Walken also stars with an Irish accent. Watch the new trailer.
Adapted from John Patrick Shanley's play "Outside Mullingar," Stanley wrote and directed the film himself. He's also the writer behind MOONSTRUCK.
The setting is the beautiful landscape of Ireland for this romantic tryst. Rosemary (Blunt) is a farmer in love with her neighbor (Dornan) but he's clueless to her love because of an inherited family curse. Enter the handsome Jon Hamm, and we can't wait to see what happens.
Bleecker Street will release WILD MOUNTAIN THYME in theaters and on demand December 11th, 2020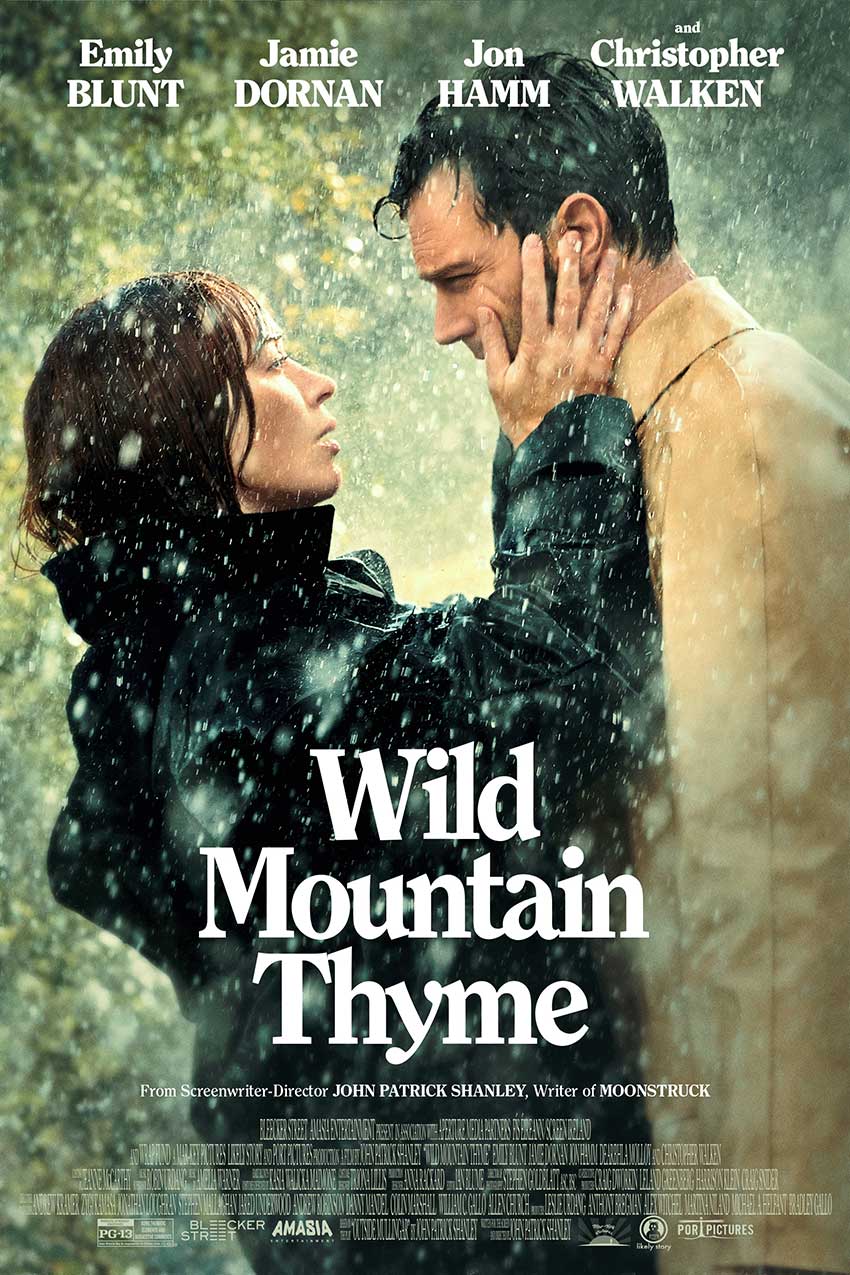 Official Synopsis
John Patrick Shanley, who created the classic MOONSTRUCK, brings his sweeping romantic vision to Ireland with Wild Mountain Thyme. The headstrong farmer Rosemary Muldoon (Emily Blunt) has her heart set on winning her neighbor Anthony Reilly's love. The problem is Anthony (Jamie Dornan) seems to have inherited a family curse, and remains oblivious to his beautiful admirer. Stung by his father Tony's (Christopher Walken) plans to sell the family farm to his American nephew (Jon Hamm), Anthony is jolted into pursuing his dreams in this comedic, moving and wildly romantic tale.

Written for the Screen and Directed by John Patrick Shanley
Based on the play "Outside Mullingar" by John Patrick Shanley
Starring Emily Blunt, Jamie Dornan, Jon Hamm, Dearbhla Molloy and Christopher Walken
Produced by Leslie Urdang, Anthony Bregman, Alex Witchel, Martina Niland, Michael A. Helfant,
Bradley Gallo
102 Minutes | Rated PG-13