Coming Soon
Details

Category: Coming Soon
Published: Tuesday, 13 September 2022 01:20
Steven Spielberg's childhood love of movies and his parent's role in shaping his future career is the inspiration behind his upcoming movie, THE FABELMANS. Watch the new trailer.
Gabriel LaBelle portrays the 16-year-old aspiring filmmaker Sammy Fabelman with Michelle Williams and Paul Dano playing his parents. Seth Rogen and Judd Hirsch also star.
Spielberg wrote the screenplay along with Pulitzer Prize-winning playwright Tony Kushner (Angels in America, Caroline, or Change), who has earned Oscar® nominations for his screenplays for Spielberg's LINCOLN and MUNICH.
THE FABELMANS is in movie theaters on November 11.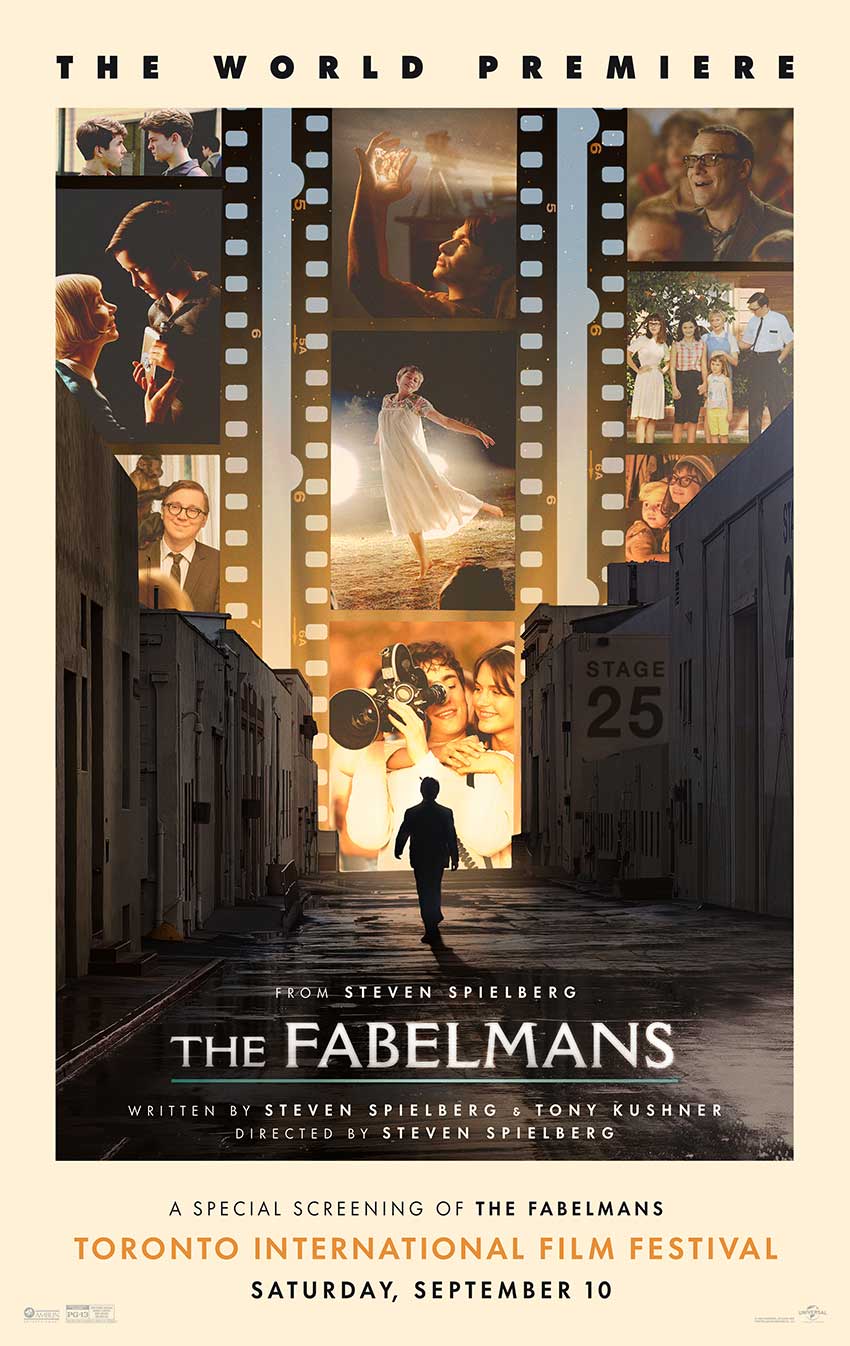 Official Synopsis

The film stars Gabriel LaBelle (THE PREDATOR, American Gigolo series) as 16-year-old aspiring filmmaker Sammy Fabelman; four-time Academy Award® nominee Michelle Williams (Manchester by the Sea, My Week with Marilyn) as his artistic mother, Mitzi; Paul Dano (The Batman, There Will Be Blood) as his successful, scientific father, Burt; Seth Rogen (Steve Jobs, An American Pickle) as Bennie Loewy, Burt's best friend and honorary "uncle" to the Fabelman children, and Academy Award® nominee Judd Hirsch (UNCUT GEMS, ORDINARY PEOPLE) as Mitzi's Uncle Boris.

The ensemble cast includes Oscar® nominee Jeannie Berlin (The Heartbreak Kid, Inherent Vice) as Sammy's paternal grandmother, Hadassah Fabelman; Julia Butters (Once Upon a Time … in Hollywood, 13 Hours) as Sammy's sister Reggie; Robin Bartlett (Moonstruck, Lean on Me) as Sammy's maternal grandmother Tina Schildkraut and Keeley Karsten (HUNTERS, EVIL LIVES HERE) as Sammy's sister Natalie.

The music is by five-time Academy Award® winner John Williams (SCHINDLER'S LIST, JAWS), the costume designer is two-time Oscar® winner Mark Bridges (THE ARTIST, PHANTOM THREAD) and the production designer is two-time Oscar® winner Rick Carter (Lincoln, Avatar). The Fabelmans is edited by three-time Academy Award® winner Michael Kahn ace (SAVING PRIVATE RYAN, SCHINDLER'S LIST) and Sarah Broshar (WEST SIDE STORY, THE POST). The film's director of photography is two-time Academy Award® winner Janusz Kaminski (Schindler's List, Saving Private Ryan).

Directed by Steven Spielberg, THE FABELMANS is written by Spielberg and Pulitzer Prize-winning playwright Tony Kushner (Angels in America, Caroline, or Change), who has earned Oscar® nominations for his screenplays for Spielberg's Lincoln and Munich. The film is produced by three-time Oscar® nominee Kristie Macosko Krieger p.g.a. (West Side Story, The Post), Steven Spielberg p.g.a. and Tony Kushner p.g.a. The film is executive produced by Carla Raij (Maestro, co-producer West Side Story) and Josh McLaglen (FREE GUY, LOGAN).

Genre: Drama
Cast: Michelle Williams, Paul Dano, Seth Rogen, Gabriel LaBelle, Jeannie Berlin, Julia Butters, Robin Bartlett, Keeley Karsten and Judd Hirsch
Directed by: Steven Spielberg
Screenplay by: Steven Spielberg & Tony Kushner
Produced by: Kristie Macosko Krieger p.g.a., Steven Spielberg p.g.a., Tony Kushner p.g.a.
Executive Producers: Carla Raij, Josh McLaglen