Coming Soon
Details

Category: Coming Soon
Published: Thursday, 27 March 2014 08:21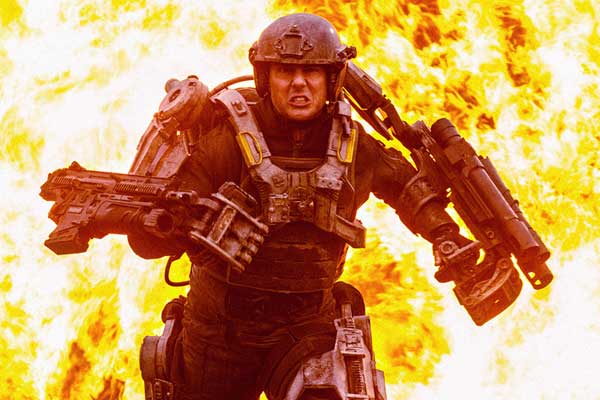 Live. Die. Repeat. That's the plot of Tom Cruise's new movie EDGE OF TOMORROW. Check out the new trailer and movie poster for the film that sounds like a futuristict Groundhog's Day.
Emily Blunt is Tom Cruise's leading lady in EDGE OF TOMORROW but she can handle herself as a Special Forces warrior Rita Vrataski. Once again Tom Cruise is battling invading aliens (Oblivion) as an officer thrown into battle on what seems like a suicide mission, but luckily for him he can come back and repeat his actions until he learns the skills needed to fight the alien race.
Directed by Doug Liman (Mr. & Mrs. Smith, The Bourne Identity), he's got the film creds in action that should make EDGE OF TOMORROW a standout from the other epic action films during the onslaught of summer movies.
The cast also includes Bill Paxton ("Aliens," HBO's "Big Love"), Brendan Gleeson ("Harry Potter and the Deathly Hallows: Part 1"), Noah Taylor ("Lawless"), Kick Gurry (Australian TV's "Tangle"), Dragomir Mrsic ("Snabba Cash II"), Charlotte Riley ("World Without End"), Jonas Armstrong (BBC TV's "Robin Hood"), Franz Drameh ("Attack the Block"), Masayoshi Haneda ("Emperor") and Tony Way ("The Girl with the Dragon Tattoo").
EDGE OF TOMORROW opens June 6, 2014 in 2D and 3D in select theatres and IMAX.
Official Movie Synopsis:
Major William Cage (Cruise) is an officer who has never seen a day of combat when he is unceremoniously dropped into what amounts to a suicide mission. Killed within minutes, Cage now finds himself inexplicably thrown into a time loop—forcing him to live out the same brutal combat over and over, fighting and dying again…and again.
But with each battle, Cage becomes able to engage the adversaries with increasing skill, alongside Special Forces warrior Rita Vrataski (Blunt). And, as Cage and Rita take the fight to the aliens, each repeated encounter gets them one step closer to defeating the enemy.
Liman is directing "Edge of Tomorrow" from a screenplay by Christopher McQuarrie and Jez Butterworth & John-Henry Butterworth, based on the novel entitled All You Need is Kill by Hiroshi Sakurazaka. Erwin Stoff produces, along with Tom Lassally, Jeffrey Silver, Gregory Jacobs and Jason Hoffs. The executive producers are Doug Liman, David Bartis, Joby Harold, Hidemi Fukuhara and Bruce Berman, with Tim Lewis and Kim Winther serving asco-producers.
The behind-the-scenes team includes Academy Award®-winning director of photography Dion Beebe ("Memoirs of a Geisha"), production designer Oliver Scholl ("Jumper," "Independence Day"), editor James Herbert ("Sherlock Holmes," "Sherlock Holmes: A Game of Shadows"), costume designer Kate Hawley ("Pacific Rim"), and Oscar®-nominated visual effects supervisor Nick Davis ("The Dark Knight"). The music is by Christophe Beck ("Frozen").