Coming Soon
Details

Category: Coming Soon
Published: Wednesday, 10 December 2014 16:44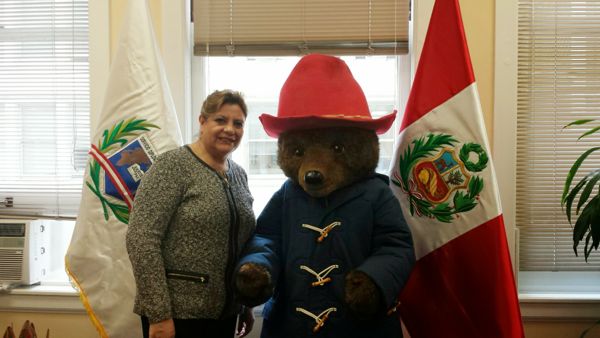 The young Peruvian bear Paddington, star of the upcoming film by the same name, made a special visit to the Bay Area today to get his passport, and we've got proof the teddy bears journey in our photo gallery.

The star of PADDINGTON began his travels in Oakland at The Unity Council's De Colores Headstart School where he met with Oakland Mayor Jean Quan and Councilman Noel Gallo. Both Mayor Quan and Councilman Gallo read Paddington adventure stories to the 100 + children present. They also presented the bear with an official City of Oakland Proclamation recognizing him for his artistry in "Lost and Found" and wished him well on his continued travels.

In the afternoon, Paddington continued his adventure at the Peruvian Consulate in San Francisco where he applied to get his Peruvian passport. After filling out the appropriate paperwork, Paddington met with the Consul General of Peru, Candy Chavez, who reviewed his application and issued him his passport.

Keep a look out for Paddington in your city as his travels continue through the holidays and the new year.
PADDINGTON will be released in theaters on January 16, 2015. Watch trailer



From the beloved novels by Michael Bond and producer David Heyman (HARRY POTTER), PADDINGTON tells the story of the comic misadventures of a young Peruvian bear (voiced by Ben Whishaw) who travels to the city in search of a home. Finding himself lost and alone, he begins to realize that city life is not all he had imagined - until he meets the kindly Brown family who read the label around his neck that says "Please look after this bear. Thank you." and offer him a temporary haven. It looks as though his luck has changed until this rarest of bears catches the eye of a museum taxidermist.