Coming Soon
Details

Category: Coming Soon
Published: Wednesday, 07 March 2018 22:31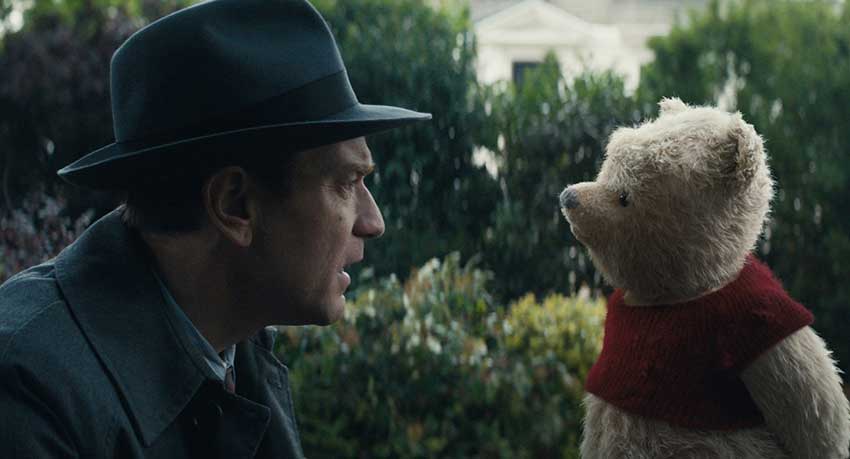 For some, the first look at Winnie-the-Pooh as a live-action character is jarring because he looks nothing like the cartoon version. However, hard core fans won't be disappointed since the live-action Pooh pays tribute to the original stuffed animal that inspired the story.
On Tuesday, Disney released the first trailer to the Winnie the Pooh live action movie, CHRISTOPHER ROBIN starring Ewan McGregor as an adult Christopher along with Hayley Atwell as his wife. Online reactions varied from excitement to comparisons of the bear to a G-rated Ted. For some like myself, the live action Pooh was vastly different from the cartoon version we've all come to love as children.
Disney and director Marc Forster (WORLD WAR Z, FINDING NEVERLAND) decided to stay faithful to A.A. Milne original inspiration for the story. In 1921 London, A.A. Milne gifted his son Christopher Robin Milne with a small stuffed bear which became the inspiration for the Winnie-the-Pooh stories. Eeyore, Piglet, Kanga, and Tigger came along soon after. The real-life stuffed animals are currently on display at in NYC's Children's Center at 42nd Street (see photo below).
If you look at the bottom picture of the original stuffed bear, the resemblance is uncanny to Disney's iteration of Winnie-the-Pooh.
In the heartwarming live action adventure, the young boy who embarked on countless adventures in the Hundred Acre Wood with his band of spirited and lovable stuffed animals, has grown up and lost his way. Now it is up to his childhood friends to venture into our world and help Christopher Robin remember the loving and playful boy who is still inside.
CHRISTOPHER ROBIN opens August 3 and features the voices of: Jim Cummings as Winnie the Pooh; Chris O'Dowd as Tigger; Brad Garrett as Eeyore; Toby Jones as Owl; Nick Mohammed as Piglet; Peter Capaldi as Rabbit; and Sophie Okonedo as Kanga.