Coming Soon
Details

Category: Coming Soon
Published: Monday, 08 August 2016 07:42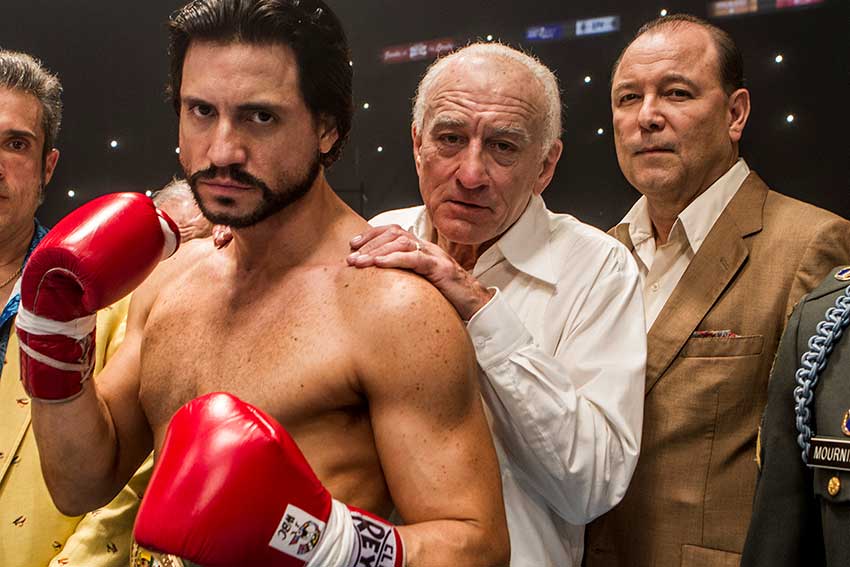 Edgar Ramirez stars as Roberto Duran in HANDS OF STONE with Robert DeNiro as his trainer Ray Arcel in the true story of the legendary boxer. In this clip, HANDS OF STONE acks a big punch, and it showcases the first fight between boxing icons Roberto Duran (Edgar Ramirez) and Sugar Ray Leonard (Usher).
HANDS OF STONE tells the story of how the legendary Roberto Duran (Ramirez) and his celebrated trainer Ray Arcel (DeNiro) changed each other's lives. From 1964 through 1983, in the heart of the golden era of boxing, the film explores the true life tale of Duran's infamous rivalry with Sugar Ray Leonard (Usher). Two time Academy Award® winner Robert De Niro stars as legendary trainer Ray Arcel, a Jew from Harlem who became the first boxing trainer to be elected into the Boxing Hall of Fame. He trained more than 2,000 fighters in his 70 year career, and none of them were ever seriously hurt. The movie captures his comeback after a retirement forced by the Mafia. Arcel agrees to train Duran for free, risking his own life, and beginning a journey that will change him forever.
Golden Globe Best Actor Nominee Edgar Ramirez stars as Roberto "Hands of Stone" Duran. The son of an American Marine who has an affair with a local girl while occupying Panama, Duran grows up with the will to avenge his nation's pride.
HANDS OF STONE opens August 26.