Coming Soon
Details

Category: Coming Soon
Published: Sunday, 14 June 2020 00:00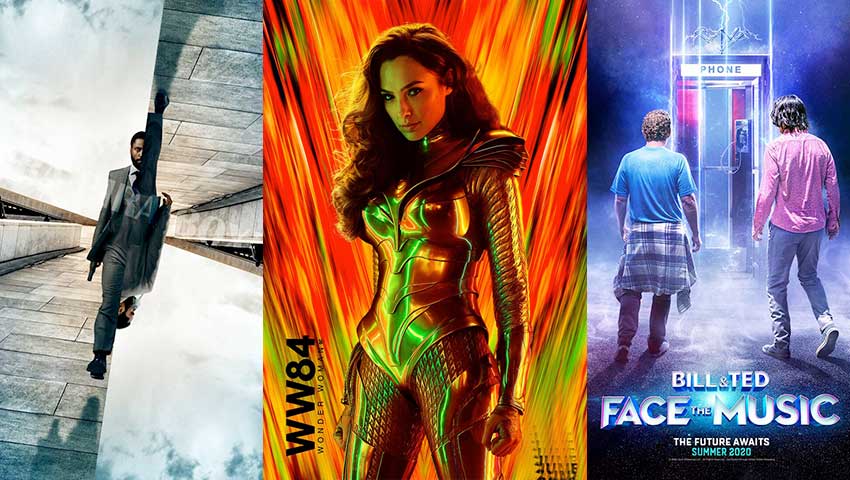 As movie theaters set to reopen in the midst of the COVID-19 pandemic at half-capacity or with no restrictions at all in places like Georgia, the summer blockbusters are revving to go but Warner Bros. has decided to move WONDER WOMAN 1984 from August to October. Warner Bros.' other high-profile movie TENET, directed by Christopher Nolan, was pushed back two weeks to July 31st. BILL & TED FACE THE MUSIC, on the other hand, moved up their release two weeks to August 14, the date left open by the WONDER WOMAN sequel change. Here's how your summer movie options are shaping up to look like.
Movie studios had to scramble their film slate in March when the majority of the world had to shelter in place and close down movie theaters. Most movie chains are planning to reopen in July so studios are gearing up their release schedules. Don't be surprised, however, if more shuffling occurs given to COVID-19 outbreaks or perhaps not enough people are willing to risk it in a dark movie theater.
What's baffling is why Warner Bros. is not moving TENET out of 2020 for a film that many fans want to see, and want to experience on the big screen specifically IMAX. Given Nolan's preference for large presentations and clout, he may be the hold out on moving the high profile film to next year or offering it on Digital. Online consensus suggests audiences are not ready to head out to movie theaters especially with masks becoming a political statement.
Sony has also announced NO TIME TO DIE will move up the release date five days early to November 20. Along with the other changes to release dates, it's more difficult to keep track so here's how the summer is shaping up to be at movie theaters until some other event disrupts business again.
SUMMER / FALL SCHEDULE
July 1 - (UNHINGED Russell Crowe)
July 17 - THE BROKEN HEART GALLERY
July 31 - TENET
Aug. 7 - SPONGEBOB 3
Aug. 14 - BILL AND TED FACE THE MUSIC
Aug. 28 - NEW MUTANTS
Sept. 2 - A QUIET PLACE 2
Sept. 11 - THE CONJURING 3: THE DEVIL MADE ME DO IT
Sept. 18 - THE KING'S MAN
Sept. 28 - THE CANDYMAN
Oct. 2 WONDER WOMAN 1984
Sony Pictures Moves 'Ghostbusters: Afterlife', 'Morbius,' 'Peter Rabbit 2' to 2021
Warner Bros. Announced 'The Batman' and Other DC Movies Delayed Release Dates
Walt Disney Studios Release New Film Dates For Marvel, 'Mulan,' 'Free Guy,' 'Indiana Jones 5'