Details

Last Updated: Saturday, 05 October 2019 23:13
Written by Lupe R Haas
10 Years Later
Ten years after ZOMBIELAND became a bona fide hit and cult favorite, the zombie slayers are back for another road trip. So what took so long?
Sitting in an edit bay with Fleischer and an editor, Fleischer explained why he waited to make the follow-up.
"If they're going to do a sequel, it has to be as good as the first one," says the director.
After the first film became a hit, Sony Pictures greenlit a sequel but the script wasn't up to par with the first film so they shelved it. So he went off to make other movies, GANGSTER SQUAD, 30 MINUTES OR LESS with Eisenberg and VENOM. The writers Rhett Reese and Paul Wernick went off to write the DEADPOOL movies. Since the original, the director points out the original stars, Woody Harrelson, Emma Stone, Jesse Eisenberg and Abigail Breslin have all since become Academy Award nominees and winner (Stone).
Interview: 'Venom' Director Ruben Fleischer Talks Tom Hardy's Comedic Timing
As far as the passing of time in DOUBLE TAP, it's obvious time has gone by since Little Rock (Abigail Breslin) is no longer little, but it's never mentioned in the movie.
"There's no real defined period of time, but the real marker is Abigail."

JOIN CMT MOVIE CLUB Become a Patron!
The Break-Up
The first scene we watched on the computer monitors takes place in a mall. It seems Wichita (Stone) still has commitment issues and has left Columbus (read on to find out why). It's been a month since she took off with Little Rock, now Tallahassee and Columbus are going at it alone. Still reeling from the break-up, Columbus is looking for a some "retail therapy" which is the reason he's dragged Tallahassee for some shopping. Much like in the original, the two share some very witty and hilarious banter.
Columbus sneaks away from Tallahassee as he spouts nonsense about being part native American. He enters a candle store, and finds another survivor. Zoey Deutch joins the cast as a valley girl millennial fittingly named Madison. Deutch is not your typical dumb blonde.
"She's not a one-dimensional character, she really brought so much to it," says the director. "She imbued a good energy."
As far as the mall setting, the store fronts are still in good condition with electricity running throughout. Fleischer explains the dams are still fueling power because of the rains which is brought up by Columbus in that clip. Fleisher and the writers researched what would happen to the cities and the planet after an apocalypse. They based it on a History Channel series, "Life After People" which describes the phases of how nature would take back the planet.
"There's electricity everywhere. We didn't make that up. That's a real justification. Unless someone pressed 'power off,' everything would keep going until ultimately the dams would get jammed or if something explodes."
He also showed us a clip of the White House where the group was living, and how they incorporated those studies into the look of the building and how vegetation has consumed it.
Lovers Reunion
The next clip Fleischer and the editor previewed is of Woody Harrelson and Jesse Eisenberg in Tallahassee's man cave at the White House. They have amassed a collection of toys including historical items from the Smithsonian explains Fleischer. Columbus boasts about his sexual adventures with Madison when Wichita makes a surprise visit. She has returned because Little Rock has runaway with a hippie musician fittingly named Berkeley to Graceland, the home of Elvis. Tallahassee has a meltdown like a father, destroying items in his man cave over Little Rock's choice in boyfriends.
As Wichita describes this young man, we cut back and forth from scenes of Berkeley with his acoustic guitar and Little Rock, back to Wichita explaining how this happened.
This sets in motion a road trip with all three in tow along with the new girl, Madison.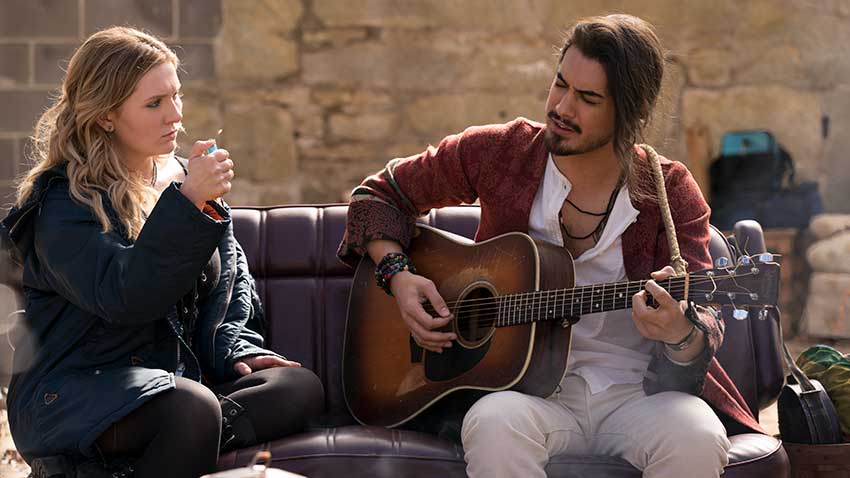 Road Trip
The next scene is of the four traveling towards Memphis. From the clip, we find out the reason why Wichita left the nest in the first place. Columbus proposed to her with expensive-looking ring he found in the White House. Now Madison is wearing it after finding it which sets off an argument between Wichita and Columbus.
The following clip has the gang stopping off at an overpass looking out to the city which has been consumed by vegetation. The director previewed that clip for us to show how the actors improvised on set.
Zombies Evolved
The zombies have also changed over the past decade. According to Fleischer, a prologue explains the ways the walking dead have evolved over the years, but he gives us a hint of how they've changed.
"One of the ways they have evolved is that there is a new species that our heroes call the T800s which are faster, stronger and harder to kill. So they know this threat is out there."
That makes it all the more dire for the crew to find Little Rock and the guitar-wielding hippie before they become a snack.
Rosario Dawson
Fleischer reveals Graceland lays in ruins but they do come across the "Hounddog Hotel," an Elvis-inspired tourist trap in Memphis that they invented. "It evokes Graceland but isn't Graceland," explains the DOUBLE TAP director. Tallahassee is an Elvis fan but they also stop because they see The Beast, Obama's converted Presidential car which Tallahassee Mad Max'd out. They presume Little Rock is in the hotel, so they go in search for the baby of the family.
The setting is obviously a gold mine for jokes with one of them being Columbus swapping shoes with a pair of Elvis' footwear on display. In another scene, Tallahassee sings and plays an Elvis tune. And that's when we meet Rosario Dawson's Nevada. She's a force to be reckoned with. She explains they are no longer there, and she fears for their safety because of the dangerous elements.
There's a hilarious bit in that scene in which Bill Murray is brought up. As you may recall, Columbus shot Bill Murray, playing himself in the original, after the actor pretended to be a zombie. When Nevada finds the intruders, she tells them she almost "Murray'd" Tallahassee. She explains Murray's death is now legend, and when she finds out who killed her beloved actor, she's going to do the same. Of course, they all play dumb. Then Wichita says, "he's killed more celebrities than cocaine."
The ZOMBIELAND: DOUBLE TAP director says the film is ultimately a road trip movie with a time-sensitive mission to find the youngest of the group. In the first one, the family was just forming, and in the sequel the four are very much family and you see the dynamic between them which makes it even more endearing the second time around. However, in the tradition of the first one, there's a lot of fun and LMAO moments along the way.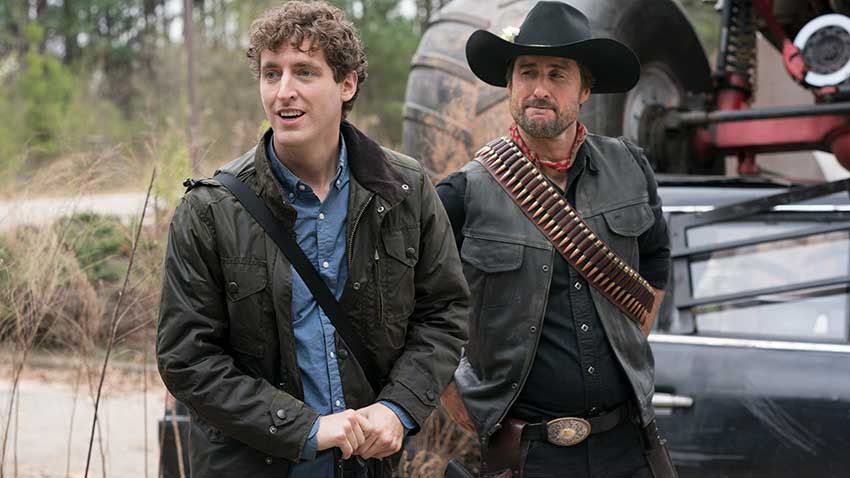 As far as surprise cameos a la Bill Murray, he says there are none and the additional characters have been revealed in the previews and trailers so far. Aside from Dawson and Deutsch, Luke Wilson and Thomas Middleditch join the cast as clones of Tallahassee and Columbus which should add to the hilarity of the new movie.
Other Deets
Aside from the clips, Fleischer revealed there are more visual effects than the original, and having had much more experience making visual effects-driven films like VENOM, he was able to expand on the action scenes for ZOMBIELAND: DOUBLE TAP.
He also feels the ending is very satisfying. When it comes to making ZOMBIELAND a trilogy, he doesn't promise one but there's hope.
"We didn't lay any breadcrumbs for a future one, but Emma said something that's super funny to me that she hopes that every ten years we can make a Zombieland, like in a BOYHOOD-type way where we check in with our characters and see how they're doing in the post apocalypse."

Since that is now out in the universe, let's hope that happens because judging by the what we saw in the edit bay at the Sony Pictures lot, ZOMBIELAND: DOUBLE TAP looks equally as fun and entertaining as the original.
ZOMBIELAND: DOUBLE TAP hits movie theaters October 18.