Details

Category: Interviews
Created: Thursday, 12 April 2018 08:57
Published: Thursday, 12 April 2018 09:21
Written by Lupe R Haas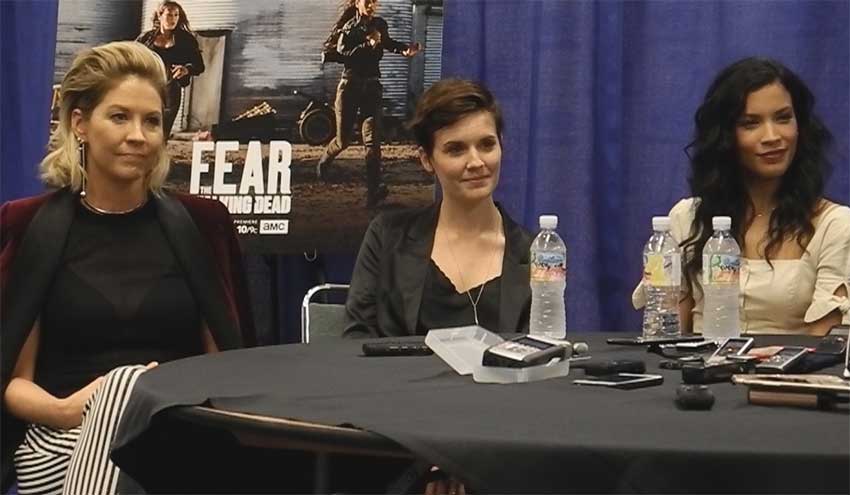 Three familiar faces join Fear The Walking Dead's Season Four premiering Sunday, April 15. The Walking Dead's Lennie James makes the transition to the sister show as Morgan, but how will they bridge the time since both shows air back to back? The new showrunners, new cast members Jenna Elfman, Maggie Grace (TAKEN) and returning favorite Colman Domingo give us insight into the transition and what's new this season in the video below.
At March's WonderCon in Anaheim, Fear The Walking Dead showrunners Andrew Chambliss and Ian Goldberg, and the cast were careful not to reveal any major plot points, but they did hint at how this season will be shaping up with new players and The Walking Dead crossover.
1. Playing with Time
The first clue which is crucial may address how Morgan crosses over to Fear The Walking Dead when the fourth season premieres immediately following The Walking Dead's finale.
Season 4 will play with time, according to the producers, which indicates there may be a jump in time which will be needed to explain how Morgan travels from the East Coast to wherever he meets the first Fear The Walking Dead characters given that the shows are airing back to back Sunday.
When we last left the Clark family, the family members had dispersed from the damn near the Tijuana border. Will they push east and meet somewhere in the middle? Hence the time jump which leads us to the next point.
Lennie James Stays Mum On Morgan's Transition To 'Fear The Walking Dead

2. Different Geography
Producer Andrew Chambliss did cop to changing the setting for the new season. Geographically the characters will find themselves in a different places. The show is shooting in Texas so that may be where the characters meet up. It's sure a lot closer to Alexandra, Virginia than the West Coast. For the characters to travel to Texas, there has to be a time jump from where we last saw the Clark family and Victor Strand. Since the characters are dispersed at the beginning, however, the various journeys may not play out in parallel time.

3. Who Morgan Meets First
Maggie Grace who plays Althea admits she worked with Lenny James first and we see that team in the trailer preview. Is she the first person Morgan encounters? The producers also let on that Morgan will continue to change as well as those he comes across. "Morgan will change and affect those he meets."

4. Maggie Grace's Character
Maggie also gave insight into her character. She describes her persona as someone who doesn't need saving. "She's capable because of who she was even though she's lost a lot." She's proud that this female character is "not ornamental or eroticized," and she has an agenda she sticks to.

5. Jenna Elfman's Character
Known for her comedic chops, Jenna Elfman joins the zombie-bashing club as Naomi, but she won't be there for the laughs. At the WonderCon press room, she said she signed on because she was looking for something different and this is a role she could bring her life experience to as a woman. Her character will be struggling with the idea of whether you're better off in a community or living isolated, but that deep urge to survive is there. In early previews, Elfman's Naomi tag teams it with Alicia (Alycia Debnam-Carey).

6. Victor Strand Still Not Trustworthy
Colman Domingo's Strand gives no guarantees he won't double cross anyone this new season, but he will be attempting to make amends for his past behavior.
Season four finds Strand as part of a community, but the past does haunt him, he admits. How long will he feel remorse? Not long according to the actor. "Some things may come up to rear their head if his survival is at stake." Leave it to Victor Strand to always look out for #1.
7. Themes
Executive producer Scott M. Gimple brought on new showrunners Andrew Chambliss and Ian Goldberg for Season 4, and they assured fans that this new season will feel new and different from any prior seasons or its sister show. Goldberg adds that the adversary and opposition to the characters this season is unlike anything seen before in any of The Walking Dead franchises.
There are also some clear themes in the upcoming Fear The Walking Dead season. At the start of season 4, the characters are feeling dejected but the producers say their feeling of hopelessness will soon lead to hope. How that happens, you'll just have to watch the premiere Sunday, April 15 after The Walking Dead finale.