Details

Category: Interviews
Created: Friday, 30 July 2021 23:00
Published: Friday, 30 July 2021 23:50
Written by Lupe R Haas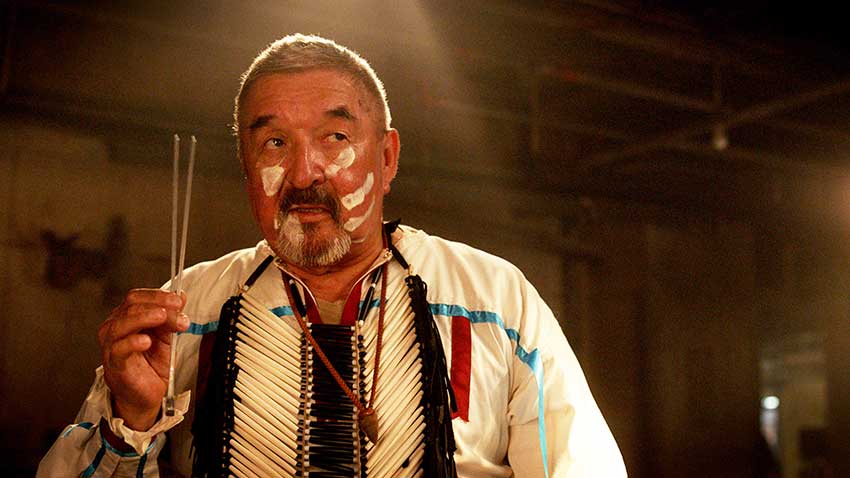 Veteran actor Graham Greene stars as a serial killer in A DARK FOE. CineMovie talks to the Native American actor about his role as the villain and he shares funny behind-the-scenes stories over his iconic role in DANCES WITH WOLVES with Kevin Costner and THUNDERHEART with Val Kilmer. Watch the video interview below.
In DARK FOE, now playing in On Demand, the First Nations Canadian actor portrays a killer named "The Cradle" who skins his victims. He tells CineMovie he doesn't view his character as a killer but as someone protecting his family.
We also reminisced about his most notable roles in Kevin Costner's directorial debut DANCING WITH WOLVES which earned Greene an Academy Award nomination and his work on THUNDERHEART opposite Val Kilmer. He gives us insight into both productions with some interesting scoop about his costars. He reveals he was thrown off a horse during DANCES WITH WOLVES and Costner asked if he needed a break but he was more interested in finding the horse for payback. The 69-year-old admits he may never ride a horse again, but he's not opposed to riding motorcycles.
In the interview, he also stated he was thrilled to have played a broad range of characters during his 40 years in Hollywood. He expressed that roles for Native Americans has progressed but he would love to see them portrayed as they are, and not just stoic. "My people are very funny," he quipped. He counts BILLY JACK and LAST OF THE MOHICANS as one of the worst films about Native Americans.