Details

Category: Interviews
Created: Tuesday, 26 July 2022 00:11
Published: Tuesday, 26 July 2022 13:31
Written by Lupe R Haas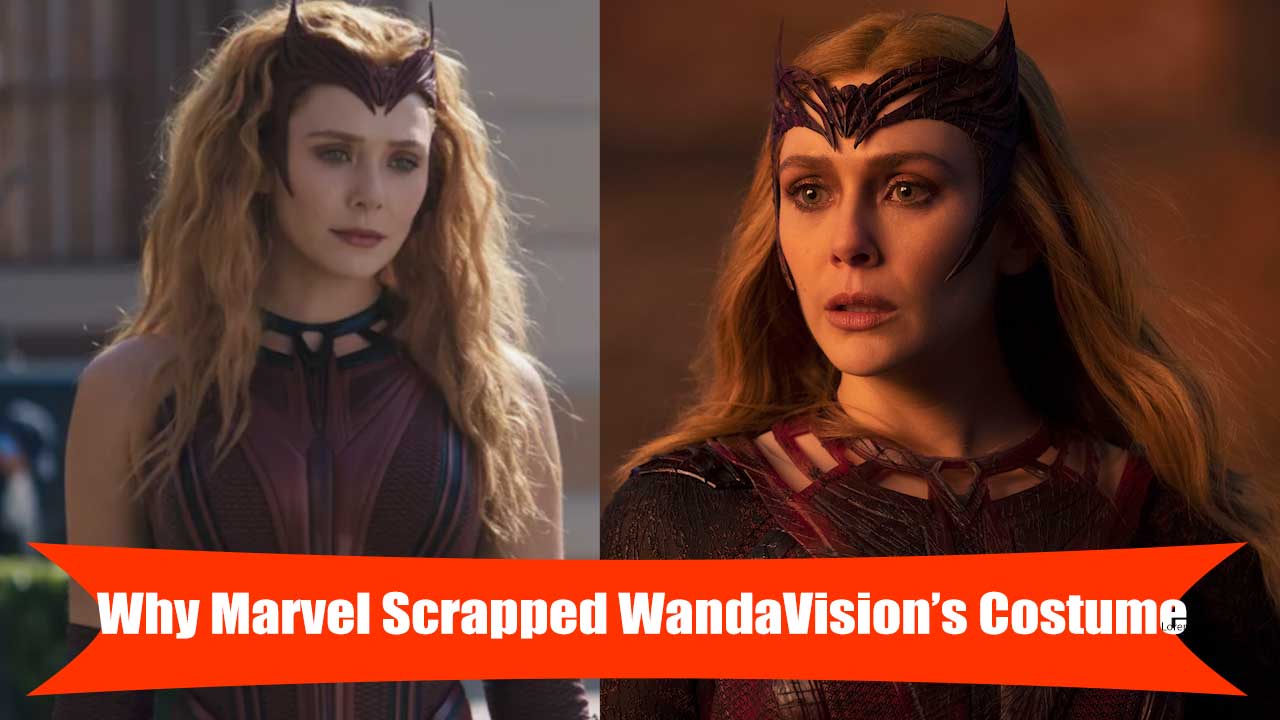 Elizabeth Olsen's Scarlet Witch costume from the WandaVision Disney+ series was not used for Wanda Maximoff's full transformation into a villain for DOCTOR STRANGE IN THE MULTIVERSE OF MADNESS. The movie's costume designer Graham Churchyard explains why director Sam Raimi wanted to reboot Scarlett Witch's wardrobe into something much darker in tone.
DOCTOR STRANGE IN THE MULTIVERSE OF MADNESS is now available on Digital, Blu-ray and DVD.
About Graham Churchyard's Costume design:
Costume Designer Graham Churchyard has crafted the outfits for the likes of Batman, Captain America, Spider-Man, James Bond ("Die Another Day") and Jedi Knights in the Star Wars franchise. He is joined by the celebrated and highly respected makeup designer Elizabeth Yianni-Georgiou, who is also a Marvel legend, having crafted the looks for "Thor: The Dark World" and "Guardians of the Galaxy," the latter earning her nominations for a BAFTA and an Oscar®. With the knowledge both Churchyard and Georgiou brought to the table, this dynamic duo adapted established styles and created entirely new looks for this film.
Both agreed that Doctor Strange's primary look should receive a much-needed makeover for this film. The brief was to create a more heroic, Superhero look for Doctor Strange while still grounding him in the world of Kamar-Taj.
"With this movie Kevin [Feige] wanted to upgrade Doctor Strange's costume," explains Churchyard. "In all his previous outings, he had remained in his disciple costume. Even though he had graduated and was now a Master, in 'Infinity' and in 'Endgame' he is wearing the disciple costume, so Kevin wanted to use the new movie as an opportunity to upgrade him so that he is wearing a Master's costume from the very beginning, which we tailored to give a very heroic and powerful silhouette."

The boots are higher, taken to knee length, and, as Churchyard explains, "There are still elements of the design from last time with the woven cuffs, but instead of them being braided they are now leather, so the whole look starts to add up to a Superhero look."
The cloak also has more personality than in previous films, and as a consequence is not on Doctor Strange's body a lot of the time, which was another reason to make more of the costume. The result: more of a V-shaped silhouette and much more tailored, with less fabric in the costume.
Doctor Strange has many different looks for this film, or "personality changes," as Churchyard refers to them. That meant adjusting the costume along the way. The first one, called Defender Strange, has the most heroic look—"pure action hero," as Churchyard says. "It's not the historical costume. It's still very Strange, but it's meant to have elements that you'd believe it to be like Errol Flynn in 'Robin Hood.'"
But one element that remains constant throughout is the Cloak of Levitation. "There were lots of discussions about the cloak, so I sketched out a number of designs, but in the end we decided to stick with the same cloak as the first film, which kind of makes sense because it is a relic that found Doctor Strange, and therefore is a very precious, irreplaceable item."
Another look that had to adapt to the narrative was that of The Scarlet Witch. Using The Scarlet Witch's outfit from "WandaVision" as his starting point, Churchyard made adaptations in both style and function that would stand up to the demands of the latest character development. He started by giving it a stronger, more defined profile, while using a softer, more pliable material around the bodice area, which allowed a greater range of movement for the action sequences.
Visually, The Scarlet Witch's costume is a dark scarlet, bleeding into black. The bodice is a tight-fitting, corset-like affair of reddened leather, fitted to the back of which is an ankle-length half-skirt, open at the front to reveal legs clad in skintight black leggings, seamlessly disappearing into knee-high black boots. The skirt is frayed, conveying battle action. Intricate veins of black spread across the upper chest area, emanating from the heart area, her emotional center.
The Scarlet Witch and Doctor Strange were not alone in getting a costume update. When Doctor Strange found himself in another universe, he came face to face with that universe's Christine, and there was something a little different about her look. "I wanted to try and move her on," says Churchyard, "so, although she was scripted to keep the white lab coat all the time, I talked to Rachel, and we found a beat in the film where she could lose it."
A beat was all Churchyard needed for his inner Edna Mode to be released. "Once we remove the coat she becomes the hero." So, the team designed Christine her very own hero suit. "She's literally wearing a superhero suit. The color retains a medical kind of scrubs feel about it, which is what everyone wanted to hang on to, and it works so well with the environment of that set."
Then there is Wong. After five years of being dust, he is now Sorcerer Supreme. "I had pretty much free rein on this one," Churchyard recalls. "I got in very early on and designed the rope dart that was scripted. I had this idea that this gadget would be on a bracelet that he could launch. It's a weapon we see him use a lot in the New York Gargantos battle scene. I kept Wong in the same colors as the first film, these rich eggplant and indigos, but quite early on Sam suggested putting some yellow in there, to give a sense of his progression toward The Ancient One, so we added these yellow panels to represent that journey."
While every other character look in "Doctor Strange in the Multiverse of Madness" was an adaptation of a look that had already been established in earlier films, with America Chavez the team had a blank canvas. "Defining a whole new character was really exciting," says Georgiou. "It's also very exciting to have a new female character that might go on to be a lead in her own universe one day. That coupled with the fact that she's so young, you're aware that whatever we do has to connect with new and younger audiences, not just the established Marvel fans."
For audiences, this is the start of America's journey, so whatever the team decided creatively had to leave room for the character to grow and evolve. "In the comics, she's more grown up. She doesn't have that sort of innocent look about her," says Churchyard. Filmmakers were clear that they wanted to keep her look pure, maintaining a sense of youthfulness that would give the character scope to grow and evolve in future stories.
For America's costume, Marvel was keen to hold onto the denim jacket that features in the comics. In the script, Doctor Strange sees a girl with a star emblazoned on her back, so this was the starting point for Graham and his team.
"I did lots of versions of stars that feature in Day of the Dead art," says Churchyard. "I started with a graffiti jacket by Balenciaga from a few years back and ended up with a more compacted jacket that we then set about hand-painting lots of graffiti onto." The jacket conveys the extent of her travels through the Multiverse, emblazoned as it is with stamps and badges.