Details

Category: Interviews
Created: Thursday, 27 May 2021 17:59
Published: Thursday, 27 May 2021 23:26
Written by Lupe R Haas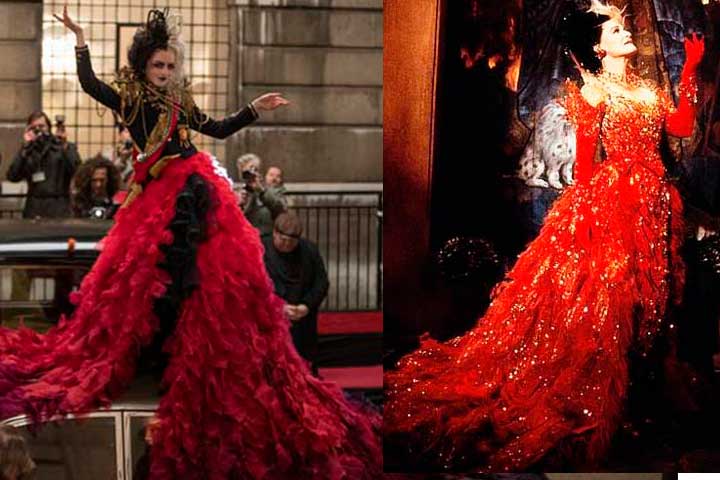 Glenn Close brought Cruella Deville to life in the 1996 Disney live action film, 101 DALMATIONS. CRUELLA costume designer Jenny Beavan (MAD MAX: FURY ROAD, A ROOM WITH A VIEW) explains how she kept in mind Close's version when designing younger Cruella's wardrobe for the Disney character's origin story.
Glenn Close ironically is an executive producer on the new live-action movie starring Emma Stone, Emma Thompson and of course some Dalmatians. CRUELLA traces the 101 DALMATIONS villain back to her roots from her rebellious childhood to the moment she becomes Cruella DeVil. Set in 1970s London amidst the punk rock movement, an orphaned Estella dreams of making a name for herself as a clothing designer, and is recruited to work for The Baroness (Thompson).
'Cruella' Movie Review: Outrageous But Fun
Emma Thompson and Emma Stone's wardrobe is to die for with looks ranging from chic to punk rock rebellion. The two-time Academy Awardⓒ winning Beaven outdid herself with the most elaborate wardrobe pieces such as a dress made out of newspaper headlines to a long train made up of garbage that slithered like a snake when Cruella rode off in a garbage truck.
Beavan revealed at a recent CRUELLA press conference that Close's version was definitely on her mind when designing Stone's costumes.
"Because we know where she ends up about 15 years later as, you know, Glenn Close, obviously. And so there was definitely, in my mind, it had to just be possible that this character could become that character."

Emma Stone and Emma Thompson Say 'Cruella' Dalmation Costars Followed Their Cues Well
Like Cruella DeVil in the 1996 version, much of the costumes in CRUELLA are over the top but with a punk rock vibe circa 1970s when the musical movement took off in the U.K. Beavan borrowed much of the look of that time period since CRUELLA takes place in 70s London.
As Estella transforms into Cruella, her wardrobe change symbolizes her rebellion against The Baroness and the system. The costume designer looked to past and present British designers for inspiration.
"I think the inspirations were various because she's so diverse in all her different looks," says Beavan. People have spoken of punk things. I think I just looked at so much stuff. And then out of it, you kind of pull what appears to be the narrative thread. And so of course I looked at [Vivianne] Westwood, and [Alexander] McQueen and [John] Galliano, and, BodyMap, and sort of dug into my past at Biba and, you know, just trying to really find all those funny things that we loved."
All the designers mentioned above have a rebellious nature to their designs ranging from the 60s up to the 80s. Sex Pistols fans will certainly see the influence of the punk rock band's artwork in CRUELLA. The Pistols manager Malcolm MacLaren, who was also a boutique owner was largely responsible for that anarchistic look, and his then designer girlfriend Vivienne Westwood borrowed from the musical movement for her clothing line which MacLaren used to create the look of his artists (including the New York Dolls.)
There's one outfit preference from both the animated and 1996 live action 101 DALMATIONS that was left behind. Close's character preferred her fur coats, but for obvious reasons - fur coats are no longer acceptable in this day and age so you won't find any in CRUELLA thankfully.
CRUELLA is in movie theaters May 28, and on Disney+ Premier Access for an additional fee.