Details

Category: Interviews
Created: Monday, 17 August 2020 01:11
Published: Monday, 17 August 2020 02:36
Written by Lupe R Haas
Angelina Jolie and 10-year-old Brooklyn Prince voice circus elephants in Disney+'s THE ONE AND ONLY IVAN premiering August 21. The two actresses recorded together so Brooklyn suggested both wear elephant onesies. Jolie obliged which made the actress very happy. Listen to how it all came about from the endearing young actress below.
Disney's THE ONE AND ONLY IVAN comes to Disney+ on August 21st. Adapted from Katherine Applegate's award-winning book, Ivan the gorilla's story is based on a real ape named Ivan who could paint. The film stars Bryan Cranston and the voices of Sam Rockwell, Angelina Jolie, Helen Mirren, Chaka Khan, Danny DeVito, and the adorable Brooklyn Prince.
Angelina and Brooklyn voice the circus' elephants, Stella and Ruby. At the Zoom press conference for the Disney movie, Brooklyn recounted how she decided that she and her costar would wear matching elephant onesies during their recording session together. She reveals cute details like her mom buying Angelina the matching elephant suit.
THE ONE AND ONLY IVAN will exclusively stream on Disney+ on August 14.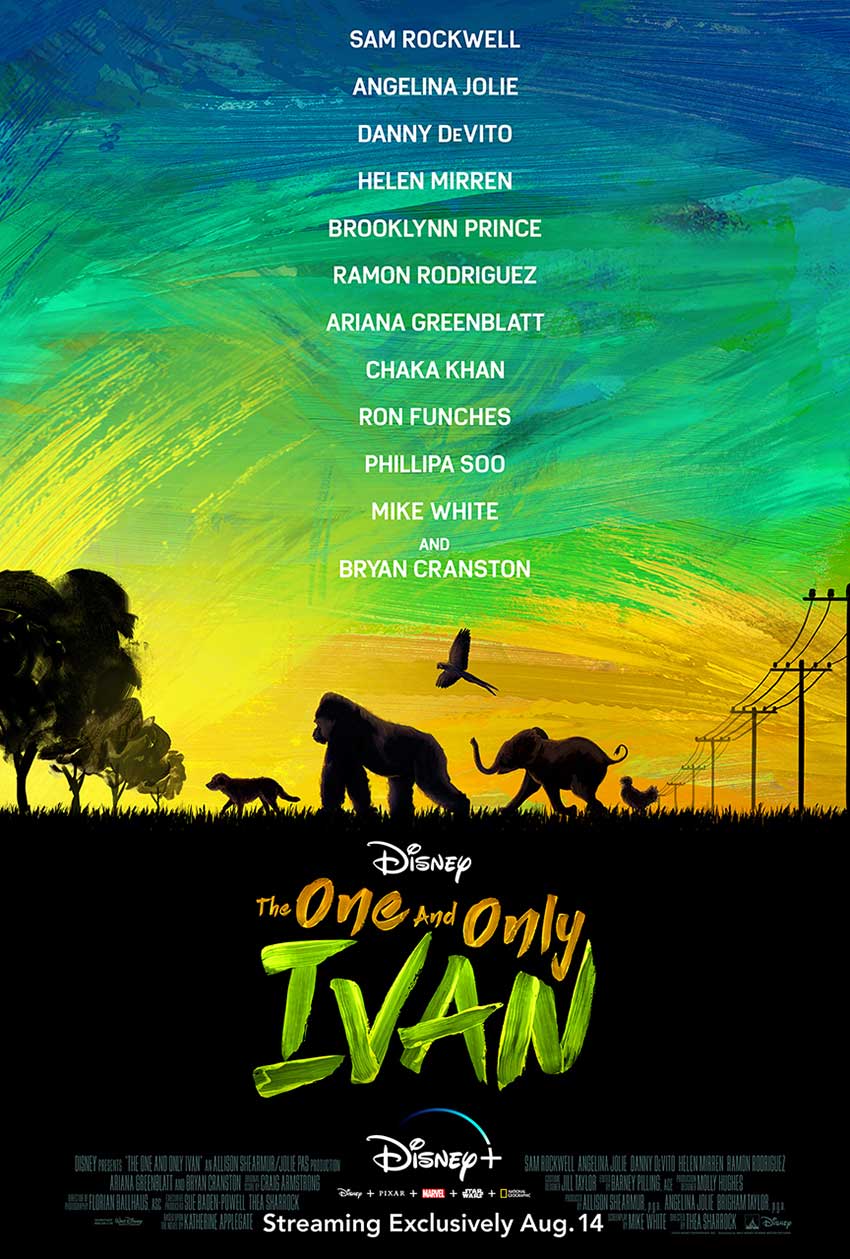 Official Synopsis
An adaptation of the award-winning book about one very special gorilla, Disney's "The One and Only Ivan" is an unforgettable tale about the beauty of friendship, the power of visualization and the significance of the place one calls home. Ivan is a 400-pound silverback gorilla who shares a communal habitat in a suburban shopping mall with Stella the elephant, Bob the dog, and various other animals. He has few memories of the jungle where he was captured, but when a baby elephant named Ruby arrives, it touches something deep within him. Ruby is recently separated from her family in the wild, which causes him to question his life, where he comes from and where he ultimately wants to be.