Details

Category: Interviews
Published: Sunday, 23 May 2021 15:41
Written by Lupe R Haas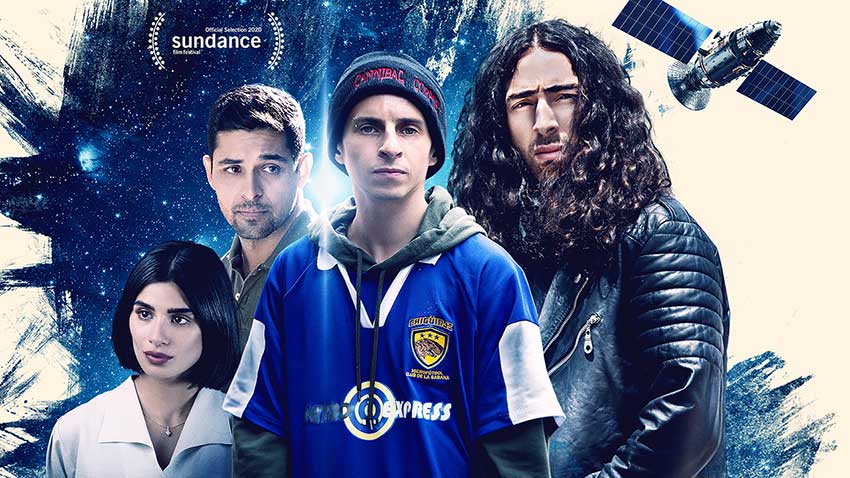 Brothers Moises and Mateo Arias star together in the bilingual film, BLAST BEAT from Colombian director Estaban Arango. The siblings play brothers from Colombia whose family move to the United States. CineMovie talked to the former Disney Channel actors regarding the film about sibling rivalry amidst the backdrop of immigration issues and the American dream. Watch the video interview below.
In BLAST BEAT, the Arias brothers are joined by Wilmer Valderrama (NCIS, That 70s Show), Diane Guerrero (Doom Patrol, Jane the Virgin) and Daniel Dae Kim who also serves as an executive producer. Set in 2000, the family escape to the United States because of death threats to their father. The eldest son, Carly (Mateo Arias) has dreams of becoming an engineer for NASA while Mateo (Moises Arias) feels out of place in his new environment, gets into trouble and lacks the drive his brother exhibits.
The brothers tell CineMovie it was an adjustment speaking to each other in Spanish in the bilingual movie. While fluent in the language thanks to their Colombian-born parents, they often don't communicate in Spanish with each other unless it's for secretive purposes.
They also serve as excecutive producers on BLAST BEAT, and explain why this project was close to their heart.
BLAST BEAT is currently in select movie theaters and On Demand.
MORE ABOUT BLAST BEAT
On the cusp of the year 2000, Colombian brothers Carly (Mateo Arias) and Mateo (Moises Arias) prepare to move to the United States for their last years of high school. Metalhead Carly has his heart set on attending the Georgia Aerospace Institute and working for NASA, while his supportive parents (Diane Guerrero and Wilmer Valderrama) seize the chance to escape the political turmoil in Colombia and chase the American Dream. At first, Mateo is the only one to express any cynicism, but when the reality of their new life sinks in, the family struggles to adapt as their expectations are shattered. When events threaten to derail their future, Carly's dream becomes his only lifeline. CAST AND CREW
Directed By: Esteban Arango
Written By: Erick Castrillon, Esteban Arango
Produced by: MACRO's Charles D. King and Poppy Hanks; Erick Castrillon, Ty Walker
Executive Producers: MACRO's Greta Talia Fuentes; Yira Vilaro, Moises Arias, Mateo Arias and Daniel Dae Kim
Cast: Mateo Arias, Moises Arias, Daniel Dae Kim, Kali Uchis, Ashley Jackson, Diane Guerrero, Wilmer Valderrama