Details

Category: Interviews
Created: Tuesday, 30 June 2015 23:04
Published: Wednesday, 01 July 2015 08:03
Written by Lupe R Haas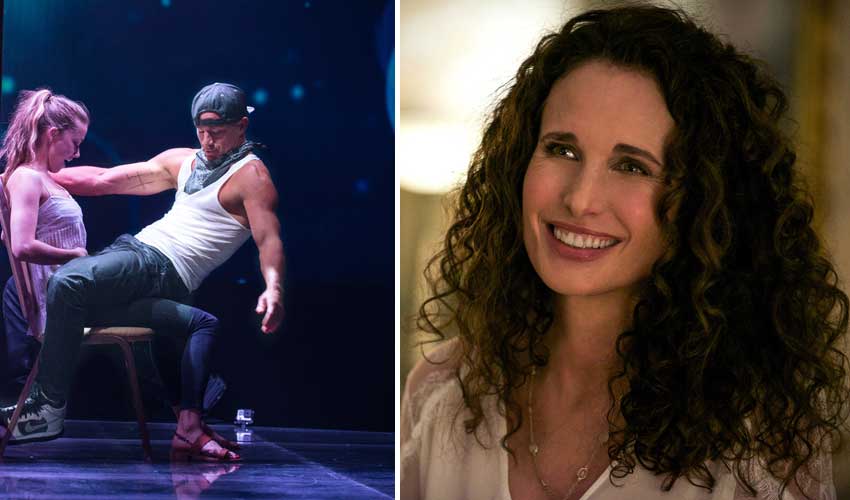 Andie MacDowell admits watching MAGIC MIKE XXL left her a little aroused. That's why she says MAGIC MIKE XXL is the perfect date movie, and men should have special plans after watching this film.
Andie MacDowell stars as an affluent woman in MAGIC MIKE XXL helping the boys during their journey to the big stripper convention at Myrtle Beach.
TERMINATOR GENISYS opens opposite MAGIC MIKE XXL, and when the cast was asked why men should see their movie over Arnold Schwarzenegger's return as the Terminator, Channing Tatum joked "the Terminator doesn't have a chance" against MAGIC MIKE XXL. Andie MacDowell says MAGIC MIKE XXL is the perfect date movie.
"The best thing to do is take a women to go see this movie and have some plans after the movie because its already warmed up."
MacDowell suggest men do a little stripping of their own with inspiration from the film. She admits when she sat down to watch the sequel, she was feeling "inspired" herself. "I found it a little arousing, this movie."
MacDowell claims it should be a no brainer between MAGIC MIKE XXL and TERMINATOR GENISYS.
"Guys can go watch things explode or whatever they want to do or… you know."
Of course the male stars of MAGIC MIKE XXL point out that statement has a double meaning. Tatum called for July 1st to be International Give Your Partner a Lap Dance Day.
MAGIC MIKE XXL might just outpace TERMINATOR GENISYS at the box office with female fair ruling the box office much like it did when PITCH PERFECT 2 won the weekend over MAD MAX: FURY ROAD.
Joe Manganiello & Channing Tatum Talk Manganiello's Rocky Moment in MAGIC MIKE XXL and Sofia Vergara's Reaction
MAGIC MIKE XXL Prize Pack Sweepstakes
More 'Magic Mike XXL' New Character Movie Posters & Trailer: Joe Manganiello, Kevin Nash, Donald Glover