Details

Category: Interviews
Created: Thursday, 27 August 2015 23:25
Published: Friday, 28 August 2015 10:11
Written by Lupe R Haas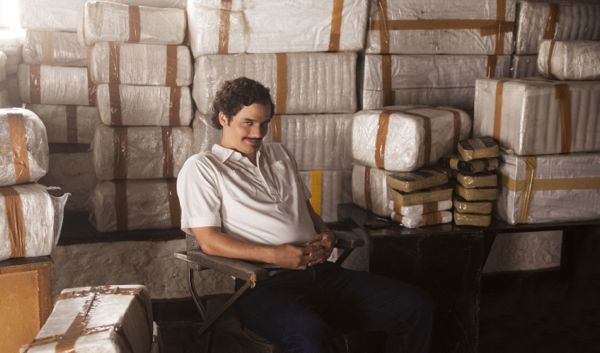 Film and television composer Pedro Bromfman teams up with Brazilian director/producer José Padilha (Elite Squad, RoboCop) for a third time to score the Netflix series, "Narcos" a chilling tale of Pablo Escobar's reign as the infamous drug kingpin and the bloody drug wars that waged through the 70's and 80's in Colombia. Bromfman scored and played most of the instruments on the soundtrack. He talks to us about his unique approach.
Pedro has worked on a number of movie scores including the most successful Latin-American film to date directed by Padilha, 'Elite Squad: The Enemy Within' and MGM's reboot of RoboCop. Pedro has been awarded two Gold Medals for Excellence in Film Music, and received an ASCAP Award and was nominated for twoCinema Brazil (Brazilian Oscars). His music can also be found on the video game 'Max Pain 3.'
Creator and executive producer José Padilha (Elite Squad, RoboCop) likes to bring in Bromfman into his projects early on unlike other Hollywood directors, says the Brazilian native.
"I love working with José. It's different than the way most people work here in Hollywood. Usually a composer is brought in last minute when the picture is already edited, and they tell me I have two months or a few weeks to do all the music, including meeting with the creative people."
Bromfman also adds that José is a great collaborator in that he doesn't micromanage him and allows for his artistic expression unlike other filmmakers in the industry. With José, he receives the script before they start shooting with little direction from the director. "He says, 'just write what you feel, what you think.' While production is on the way, Bromfman begins to research the setting of the story and the type of music genres popular in the region.
"Narcos" takes place in Colombia so the Brazilian composer focused on using instruments popular in that country and South America but not necessarily from that era. They didn't want to simply play Colombian or South American music, but use the "flavor" to bring out the various emotions of the series. He describes "Narcos" as dark and edgy with some comedic moments. "The music really needed to be suspenseful," he adds, and they accomplished that sound using common instruments of the region.
Bromfman plays most of the instruments including all the guitars, various flutes and a charango (a small Andean stringed instrument of the lute family). He calls it an "exploration" of different instruments from South America.
"I'm not necessarily an expert but I was playing and editing things at the computer and trying things out so I say 85 percent of what you hear there was played here in the studio by myself. It was an exciting experiment to get familiarized with that music and learn those instrument, and start exploring."
However for the percussion, he brought in various artists to add to the sound.
Traditionally orchestras are used to score soundtracks, but filmmakers like Alejandro González Iñárritu went the experimental route with his most recent film, Birdman which relied heavily on a drum score by Antonio Sanchez. Bromfman mentions he went to school with Sanchez so he's familiar with his work, and he tends to prefer the experimental over an orchestra.
"On this show, we decided there was no place for orchestra that we wanted mostly local instruments and sampled things."
The "Narcos" composer isn't averse to using orchestra. For his last project with Padilha, they recorded with an 80-piece orchestra for the Robocop soundtrack.
"That's what fascinates me about film and t.v. music. Each project is a completely different thing and you can renew yourself. You can start from scratch."
However, he feels his voice comes threw when he produces the score in his own studio.
Up next, Pedro Bromfman is scoring the new FOX comedy, "Rio Heat" which he describes as "Moonlighting" meets "Mission Impossible." and then he returns to Brazil to produce the music for a local film. Narcos recently was renewed for a second season, so Bromfman will most likely return to score.
NARCOS premieres on Netflix August 28th.