Details

Category: Interviews
Created: Thursday, 23 March 2017 08:53
Published: Thursday, 23 March 2017 19:13
Written by Lupe R Haas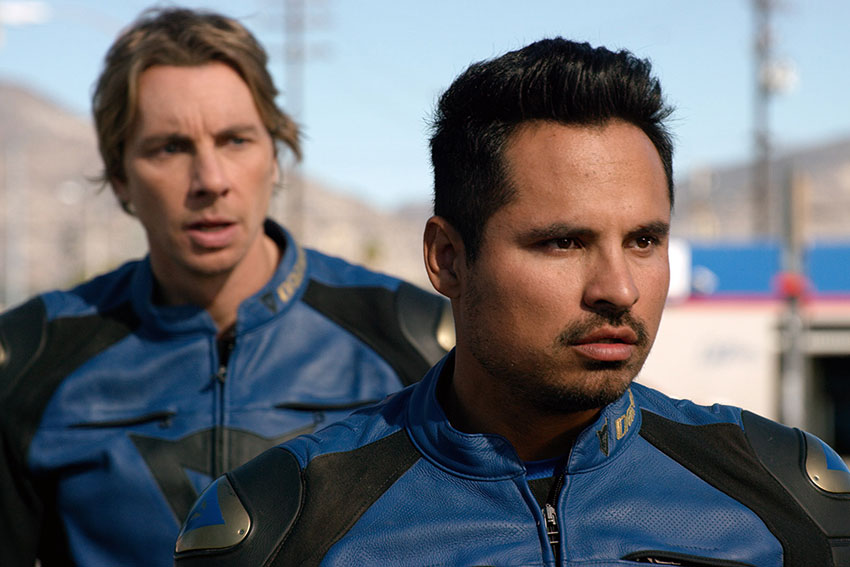 Michael Peña picks up where Erik Estrada left off in a revamp of the 70s television show CHIPS. Written, starring and directed by Dax Shepard, CHIPS the movie has nothing in common with the original show except for the action on motorcycles. For Peña, the motorcycle action proved the most difficult in the buddy comedy flick.
Known for mostly dramas, Michael Peña tackles his first action movie with CHIPS. "I never starred in a movie like this," says the actor who adopts the name Frank "Ponch" Poncherello for his undercover work. Unlike the Ponch from the show, Pena shares the name but nothing else. His Ponch is an unconventional FBI agent assigned to go undercover at California Highway Patrol after officers are suspected of carrying out an armored truck robbery. He's assigned to work with rookie cop Jon Baker (Shepherd).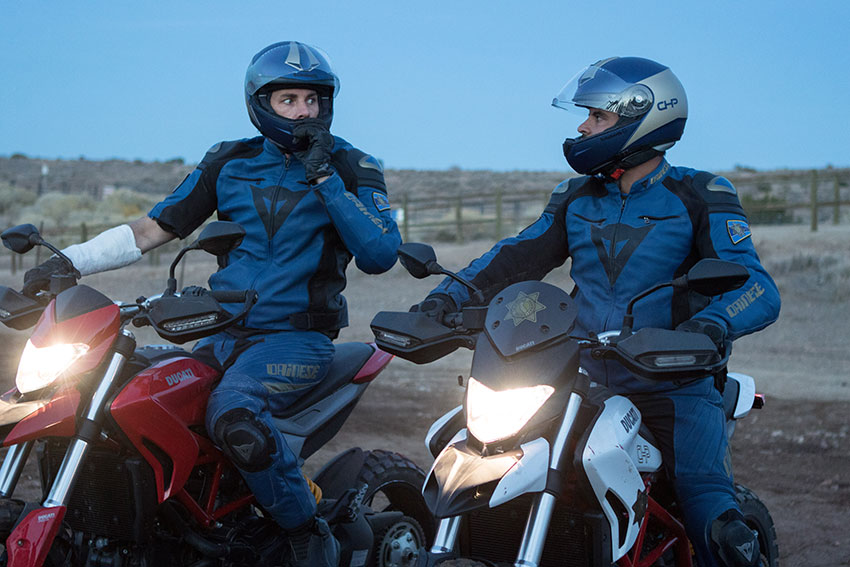 Peña's first order of business was mastering the ride. To play a CHP officer, Peña learned to drive the standard police model, the BMW RT 1200 and a Ducati Hypertard, a versatile and durable model known as the "hero bike" in the movie. Peña, however, didn't fully feel comfortable straddling the bikes, and even dropped one of them during one of the obstacles.
"I was not good. I gotta be honest with you. I had like 4 weeks to train, and that's not enough. You need like 2 years," jokes Peña. "Of course, you think as an actor you think you can do anything because you can visualize it, and then you get on and then you're like… 'Ooh! I can die (pause) real quick.'"
While his stuntman handled most of the action on the motorcycles, he did have to ride the bike at 65 mph on a Los Angeles freeway. As in most movies, a car or motorcycle is often rigged to a camera truck so the actors aren't really driving, but for that scene there was no way to fake the classic two-shot of the fellow CHP cruising down the freeway to the classic television song other than riding the bikes themselves. He felt "very comfortable" riding the motorcycle down the highway at a steady speed.
However, for the close up of Ponch and Baker driving side-by-side on the freeway, Peña's bike was rigged to a camera truck because it would be difficult to maintain both bikes at the same velocity.
Dax Shepard, on the other hand, is a motorcycle aficionado so he was able to do most of his own stunts. "He's a bad ass rider," says Peña of his co-star and director. When CineMovie asked if Shepard showed off for the cameras, the Mexican-American actor replied he did. In the trailer, Shepard is free styling and pumping his bike to 2Pac and Dr. Dre's "California Love" song. That was an impromptu scene that made its way into the movie. However when the stunt coordinator saw Shepard showing off, he warned Peña to do none of that. Peña did add his small dance moves, but he admits he looked stiff. We didn't notice that.
Peña may have another opportunity to master the motorcycle if the film performs well at the box office, and he's more than willing to return as Poncherello in a sequel.
CHIPS opens March 24.