Details

Category: Interviews
Created: Friday, 16 June 2017 22:39
Published: Friday, 16 June 2017 22:39
Written by Lupe R Haas
What man (or woman) wouldn't pay to roll around a shag carpet with Scarlett Johansson. Luckily for actor Enrique Murciano he got a paycheck to do just that in the raunchy comedy ROUGH NIGHT starring Johansson, Jillian Bell (22 JUMP STREET), Kate McKinnon (SNL), Zoe Kravitz (BIG LITTLE LIES) and Ilana Glazer (BROAD CITY). Murciano tells CineMovie says he was in awe of all the ladies but mostly Jillian Bell who he calls a comedic 'genius.'
A bachelorette party goes horribly wrong when a group of girlfriends hire a male stripper for Johansson's send off in Miami in ROUGH NIGHT. Directed by BROAD CITY's Lucia Aniello, the female-driven comedy is a hilariously good time.


On set, Murciano had an equally good time watching the ladies work and improvise. While Jillian Bell, Iliana Glazer and Kate McKinnon have mastered their funny side, Zoe Kravitz and Scarlett Johansson are fairly new to situational comedy. However, everyone came with their A-game.
'They're all all-stars in a very different way," says Murciano. "They're all great. I loved working with them. And when I saw the film, I enjoyed the hell out of it."
While speaking to the actor over the phone, his excitement for the female-helmed film was evident especially when recalling the scenes he shot with the actresses. He was very impressed with the group's dynamic and their improvisational skills.
"Working with them is like watching the Cirque du Soleil of comedy. They take these chances constantly over and over and I don't know how they land the jumps every time."
The atmosphere of the set was like a family setting. Not only were they playing good friends on camera, but off camera he sensed the love they had for each other. That allowed the actresses to feel free to experiment, he says.
Murciano has worked with many actors, but he says he left the set feeling "smitten" by the cast especially one actress in particular.
"I never left a set feeling like 'wow.' Julian Bell was a triple wow. She's the funniest human being I have ever seen or worked with," adding that she's a "genius." A word he doesn't use often.
He enjoyed watching her work as she constantly came up with ideas. He could see in her eyes she was conjuring up something funny at all times like the joke about giving a man a hand job but with her feet. "That wasn't in the script. She made that up," says the Miami-born actor. Now that's someone who thinks on her feet.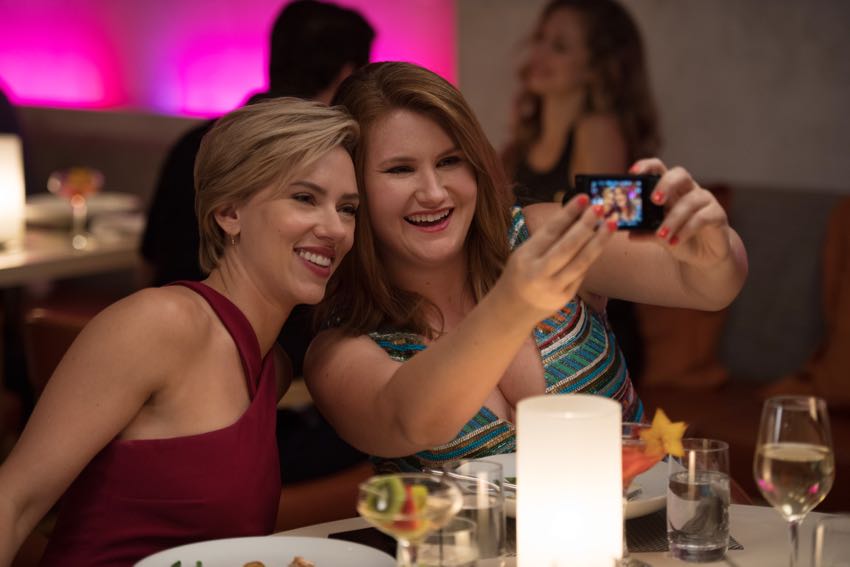 Murciano himself had to tread lightly on his feet for his scene with Scarlett Johansson that called for him to choke her with a selfie stick.
"You don't want to hit Scarlett Johansson with a selfie stick. You don't want to be that guy."
The ROUGH NIGHT sequence also called for him to roll around on shag carpet while Johansson wore a robe, but not in a sexy way. The rough housing was rehearsed and well choreographed. There's no improvisation there when there are sharp objects in the room like a glass table that could potentially cause harm. He describes the tussling like a dance sequence. That scene took 9 hours but who's counting when you're next to the most coveted woman in the world.

In ROUGH NIGHT, Murciano is unrecognizable with slicked back hair and a bushy mustache. He's proud to say that was no prop on face. "Looks like an animal took a nap on top of my lip." He's glad to hear that we didn't recognize him at first. He knows he's done his job when people don't immediately identify him as that guy from WITHOUT A TRACE or his current show THE BLACKLIST.

Ironically in ROUGH NIGHT, he's playing a detective - a role he's very familiar with. "I've played every single government employee possible," says the 43-year-old. He's certainly played his share of authoritative figures from FBI, CIA, NCIS, postal worker, and even a meter maid. Lately, however, he's expanded into playing really bad guys or as he calls it "the devil in the suit" as gangsters and drug lords in Starz POWER and in the upcoming David Ayer movie, BRIGHT coming to Netflix this fall. For that role, he gained 30 pounds and became unrecognizable even to his friends, but he enjoys transforming for each role. "It means I'm doing a good job."

We can also see Murciano reprise his role on THE BLACKLIST starring opposite James Spader. He joined the show at the end of last season, and he will be back determined to take down Red. "I'm there to take down Red. That's all he wants to do."
Gone are the days where a television gig on a series was secure, but thanks to GAME OF THRONES, killing beloved characters is common place even on network television. Murciano isn't sure how long his Julian Gale will stay alive on the show, but he hopes it's a long run. He says it's always a disappointment when you leave a show.

On the side, he's also working on some music with his friend and he looks forward to being an actor as long as the work is enjoyable. He has no qualms about retiring.

For now, he's genuinely excited to see how ROUGH NIGHT performs this weekend. He has high hopes for the female-driven comedy to succeed.

ROUGH NIGHT is now playing in movie theaters.