Details

Category: Interviews
Created: Tuesday, 13 March 2018 08:46
Published: Tuesday, 13 March 2018 09:13
Written by Lupe R Haas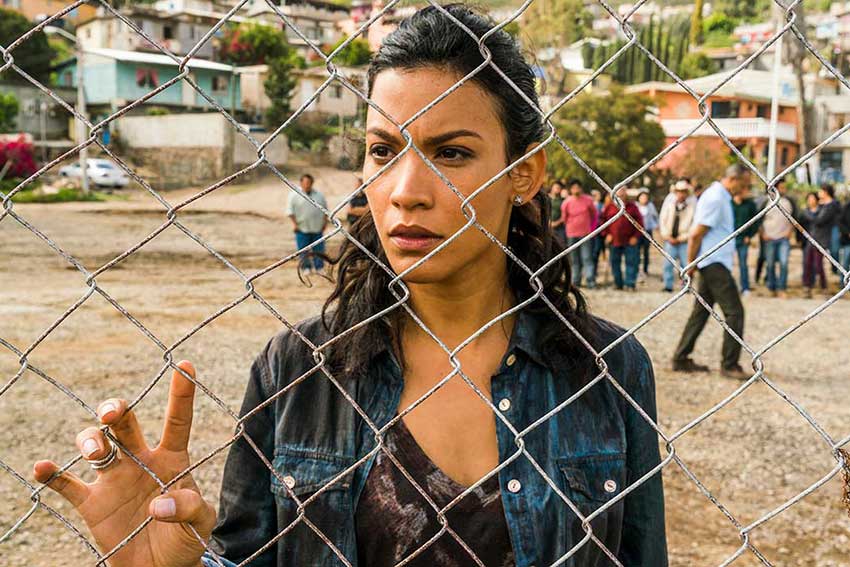 Fear the Walking Dead's Danay Garcia ("Luciana") made a dramatic exit from the ranch in season 3 of the AMC horror drama and rightly so. While most actors hate being killed off or written off a show, the Cuban actress tells CineMovie Lucian's exit was the right move for the character in season 3. In case you missed the bloody season and Luciana's exit, Fear The Walking Dead season 3 is now available Blu-ray and DVD.
We first met Luciana Galvez in Fear The Walking Dead season 2 as one of the leaders of a compound in Mexico. After nearly dying in season 3, Luciana chose to leave Nick and his family behind at the ranch and brave the killer elements on her own. Garcia will be rejoining the apocalypse for the new season of Fear The Walking Dead premiering in April. CineMovie spoke to Garcia from Austin where she is currently shooting season 4.
In the apocalypse, characters often die but in Luciana's case, she opts to go at it alone in this apocalyptic world. Most actors would dread being written off the show, but after talking to the producers Garcia agreed it was the right choice for the character.
"It has a lot to do with the values of the character. The values of who she is. What she's about. And I agreed. I play this woman, Luciana. She's a Mexican woman that knows what she cares about and knows where she is. She has no shame for being who she is, the color of her skin. She's proud. That's one of the reasons Nick falls in love with her."
The Cuban actress supported the producer's decision 100% and calls it a smart movie to stay true to Luciana's character. Luckily for her, she didn't suffer the fate of most of the characters in Season 3. Next season fans will find out where she's been holed up this whole time while the ranch burned down.
In new show photos from the upcoming new season, Danay Garcia's Luciana reunites with Nick (Frank Dillane) and his family. Reprising her role has personal meaning for the actress.
"I really loved that she's this woman in charge and on top of the world, kind of, and she earned that position. She really put her life out there for other people and I think in times of trouble, personalities really come out and if you're that personality where you're willing to risk your life for other people. You'll really know that in the apocalypse. So I really love playing a woman who puts herself second and people first. That's what true strength is about."
The actress also admires how the Fear the Walking Dead writers and producers faithfully represent the togetherness of Mexican culture and she "loves interpreting" that in this world.
"That's what the Mexican culture is about. Latinos in general are very together. They have strong values. People become stronger together. It's just nice to see that in times of trouble and be in a world where people fall apart and see how a group of people can stick together. I love so much playing that. "
As a Cuban refugee, Danay Garcia knows what it feels like to leave your home in fear, and that's a feeling she can channel into Luciana.
"I went through it to some extent, being an immigrant and coming to the U.S. and leaving everything behind. You get to live in a world, and blend with new people, learn the language, learn the culture and learn what' important to other people. And how to understand them in this new life."
Fear The Walking Dead is perhaps the most diverse cast on television, and we've rarely seen these many Latino actors (Ruben Blades, Mercedes Mason, Lorenzo James Henrie, etc) gathered in one American drama series. Garcia tells CineMovie the cast represents people from all over the world. Cliff Curtis is a New Zealander, Alycia Debnam-Carey is from Australia, Frank Dillane ("Nick) from the U.K., Kim Dickens ("Madison) from the U.S. and Garcia from Cuba. In between killing zombies and killing bad humans, Garcia says the actors reverted back to their native accents, told stories about their cultures and countries.
"We were the most universal cast that I can possibly think of. It was such a beautiful journey to blend with them and blend together, and live this apocalyptic life. I never experienced so much kindness to one another while working so many hours a day."
For Fear the Walking Dead Season 4, Garcia has a new cast to learn from with Jenna Elfman, Maggie Grace (TAKEN) and The Walking Dead's Lennie James ("Morgan") joining the fray in the new season.
Catch up on Fear The Walking Dead Season 3 now on Blu-ray and DVD and watch the new season premiere April 15 at 10pm following the season finale of The Walking Dead.