Details

Category: Interviews
Created: Tuesday, 23 September 2014 22:05
Published: Wednesday, 24 September 2014 00:40
Written by Lupe R Haas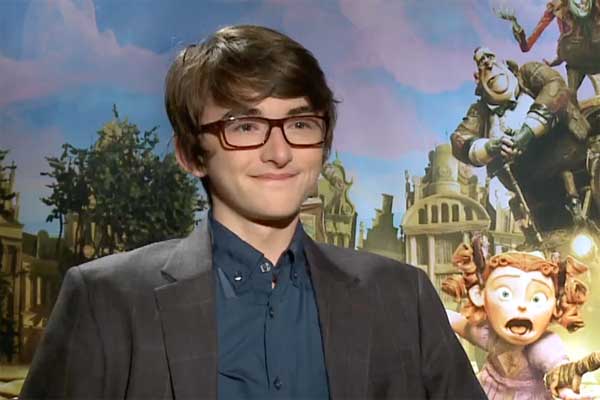 "Games of Thrones'" Isaac Hempstead Wright welcomed the change from the cold and muddy locations of his HBO show for a warm recording booth for his animated role in THE BOXTROLLS. He admits, however, sharing a small booth with his BOXTROLLS co-star Sir Ben Kingsley was a terrifying experience.

We last saw Isaac Hempstead Wright as Bran Stark in the dead of winter being attacked by the walking dead on the fifth season of the hit HBO series. At a recent press event with the 15-year-old, he tells CineMovie he welcomed the change of pace voicing the title character of Eggs in THE BOXTROLLS, a stop-motion, hand-drawn, and CG hybrid film from the makers of Coraline and ParaNorman.
"Most of the roles I've done tend to be some pretty heavy duty, quite dramatic stuff without much humor so it was nice to do something so quite light-hearted,… my kind of humor because its got some Monty Python-esque stuff throughout."
Voicing an animated character in THE BOXTROLLS was a first for the young actor. Despite not having much experience in the recording booth, Wright credits the director with "painting a vivid picture" for his scenes in the animated movie, and then filling in the rest with his imagination.
For a couple of scenes, however, he didn't have to pretend or imagine being scared of his BOXTROLLS nemesis. While Wright did most of his voiceover solo in an Oxford recording studio, he was paired with THE BOXTROLLS' villain, played by acclaimed-actor Ben Kingsley. Wright describes working with Kingsley as the "most terrifying experiences in the Boxtrolls."
Wright describes the booth as "tiny" especially after Ben Kingsley decided he would voice the role of the villainous and burly Archibald Snatcher laying down on a recliner, taking up most of the space. So not only is he cramped up in a small booth with the Academy Award-winning actor, but he had to step up his A-game opposite the intense actor. The scenes called for Kingsley's Archibald character to threaten Eggs' life so there wasn't any pretending to be scared. he literally was. Wright says Kingsley's low, bassy voice "over-powered the room" compared to his high-pitched, squeaky tone as the character of Eggs. "I kind of used the terror to be terrified," says the "Game of Thrones" actor.
In an interview with Ben Kingsley, the English actor explained why he literally did his job laying down. Kingsley knew that Archibald Snatcher's voice had to come from his enormous belly and the only way to accomplish that for the small-framed actor was to have the voice come from his own belly which he couldn't do standing up at the microphone.
"Laying down stopped me making physical gestures. We tend to do when we talk we do things with our bodies to underline what we're saying. The stiller my body was and the more relaxed it was, then it all started coming through on the voice."
It was a technique Kingsley never attempted before but it paid off.
Despite being scared of his co-star for those intense scenes, Wright says the comedy in THE BOXTROLLS attracted him to the role. "It's quite fun," he says of the experience, and he would like to do more comedic projects.
He also enjoyed the setting of working in an air-conditioned recording booth with a buffet platter, which is quite different to what he's been used to for the last five years of his life on "Game of Thrones." In contrast, the "Game of Thrones" setting is much harsher environment.
"It was so nice. You don't have to get up at seven in the morning and go to a muddy location in the middle of Northern Island and go through hair and put a wig on and than wait for four hours on set and then go stand in the mud and get freezing cold feet. Maybe I'm painting a bad picture but…
He's not alone in that feeling. His "Game of Thrones" co-star Kit Harrington echoed the feeling about acting in the cold when CineMovie interviewed him for his role in the sequel to How To Train Your Dragon earlier this year.
Isaac Hempstead Wright doesn't consider acting his full-time job, rather he says he's concentrating on his schooling, and if a good role comes along he'll take it.'
THE BOXTROLLS is in movie theaters September 26.