Details

Category: Interviews
Created: Thursday, 20 April 2017 17:06
Published: Thursday, 20 April 2017 18:23
Written by Lupe R Haas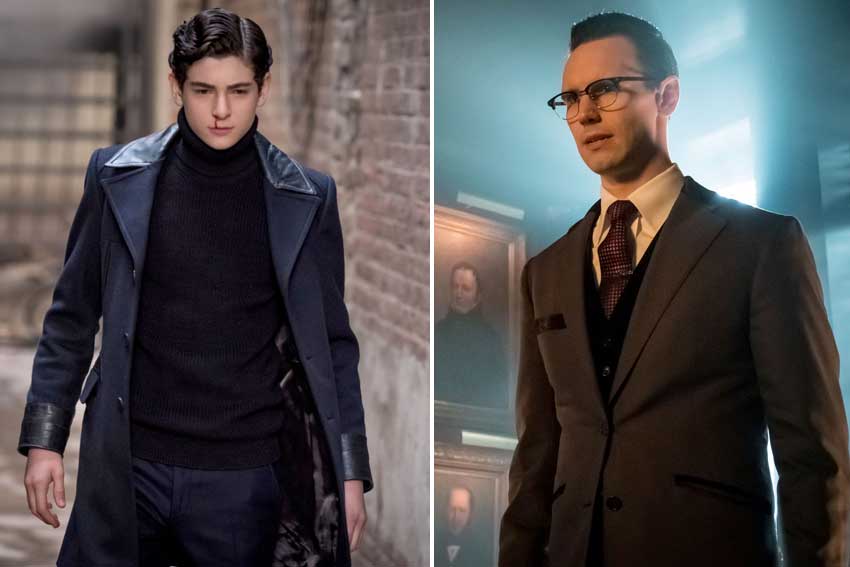 GOTHAM'S midseason premiere is upon us, and GOTHAM producer reveals Bruce Wayne will inhabit his Batman persona while Edward's Riddler will take shape in the new episodes. CineMovie spoke with GOTHAM producer Danny Cannon, actors David Mazouz and Cory Michael Smith about their upcoming transformations.
The latest trailer titled "Heroes Rise" may be a reference to Bruce Wayne's ascension into Batman mode, but you can't have a new hero without a new supervillain. At WonderCon last month, CineMovie learned from GOTHAM producer Danny Cannon that Edward Nygma will finally become the Riddler, one of Batman's greatest foes. "You'll also find out the origins of his name," teases Cannon on the spring premiere April 24.
Cory Michael Smith also confirmed the Riddler's rise during our one-on-one conversation at the GOTHAM WonderCon press room. He tells CineMovie he's been asking about his Edward's eventual transformation from the start. "I've always been curious about the evolution of my character, and ask them [producers] every day."
Smith teases Episode 15 is the one to watch Edward become the full fledged Riddler. Will he don the famous green spandex costume with question marks? You can count out the spandex and the iconic symbols. Smith says he will parade around in a nice green suit that will not be campy like in previous iterations.
'Gotham' Stars Robin Lord Taylor and Cory Michael Smith Talk Favorite New Character for Season 3
David Mazouz also talked to us at WonderCon about his transformation into Batman for the upcoming new episodes. While he stayed mum on whether he'll be fighting crime in a Bat suit, he promises a lot more action from an adolescent Bruce Wayne.
Riddler won't be Batman's greatest adversary, says the 16-year-old actor. At WonderCon, the teen wore a Joker t-shirt under his blazer. The Joker's imagery is shaped by tiny bats. He explained the significance of that powerful imagery. "The Joker is the ultimate villain," says Mazouz. You can't define Batman without the Joker."
All indications also point to Selina Kyle finally becoming Catwoman in the winter finale when she is pushed out of a window. Batman fans will remember Michelle Pfeiffer's same fate in Tim Burton's BATMAN RETURNS when Christopher Walken shoves her out a tall building.
At WonderCon, CineMovie asked Selina Kyle herself, Carmen Bicondova if she will be inhabiting a cat suit anytime soon. All she would tell us is that she takes it day by day, and she's not in any rush in becoming the feline superhero.
DC fans have been itching to see their favorite heroes and villains rise, and it seems they're finally going to see it when GOTHAM returns Monday, April 24 on FOX at 8/7c.