Details

Category: Interviews
Created: Friday, 07 July 2017 00:29
Published: Friday, 07 July 2017 09:53
Written by Lupe R Haas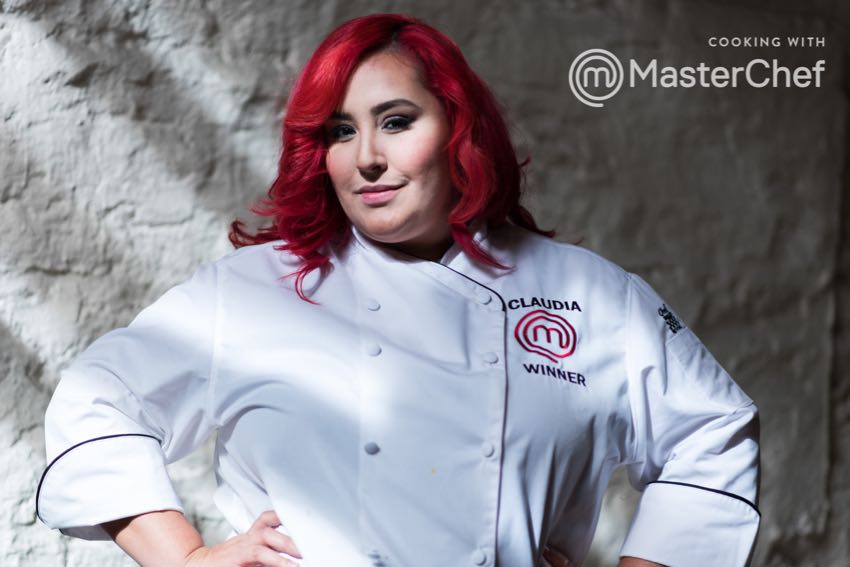 Since winning MASTERCHEF'S season 6, Claudia Sandoval has been working non-stop cooking for Eva Longoria's charity event, working promotions with brands such as Target, Coca-Cola and traveling around the United States for her book tours. Now Claudia Sandoval is bringing her fan favorite dishes into your kitchen with personal cooking lessons. Sandoval along with other MASTERCHEF winners Luca Manfé (Season 4) and Shaun O'Neale (Season 7) are instructors in FOX's "Cooking With MasterChef," a series of online cooking classes with lessons taught by the former winners. The Gordon Ramsay alumni reveals what life has been like since winning and how to make her most popular dishes in the new online FOX series.
The San Diego-native went from Events Manager to MASTERCHEF winner two years ago. "Everything has changed. And nothing has changed," says the Latina cook. She feels blessed for so many of the opportunities that came her way since her big win and the "love" she's received for the Latino community. She's taken her show on the road promoting her book "Claudia's Cocina: A Taste of Mexico" by traveling around the country. The mom is interested in writing down her experience in every city for perhaps a sophomore book.
For now, you can bring Sandoval into your kitchen with personal lessons on how to make her hibiscus-poached peaches and her famous enchiladas with COOKING WITH MASTERCHEF's online series. The FOX online series offers two classes "Homestyle Favorites" and "Restaurant Results," taught by Sandoval, Luca Manfé and Shaun O'Neale. Each class includes detailed instruction and step-by-step demonstrations, complete recipes and inspirational guidance from the winners themselves. Participants will master new techniques, experiment with fresh ingredients and create delicious, innovative dishes right at home. The cost of each course is $39.99 and includes lifetime access to 2+ hours of video content, downloadable course materials and direct interaction with instructors and fellow home cooks in an online messaging forum.
Sandoval wishes these personal online classes were available years ago.
"I kind of wish this kind of stuff had been around before. It's such a neat concept that's readily available. You can have on your phone, look at your shopping list right away. Access it 24 hours a day, seven days a week. Fast forward. Rewind. It's like a DVR, right for cooking classes.
In COOKING WITH MASTERCHEF, Sandoval reveals her secrets to making her fan favorite dishes like her winning green salsa for chilaquiles and her popular hibiscus-poached pears. Aside from those delicious-sounding dishes, the online course offers smaller recipes for some extra "fun."
Aside from the above mentioned dishes, most people ask about her tamales. On MASTERCHEF, she made tamales in under an hour. As many Latinos know, tamales take hours to make and cook so many want to know how to cut time from the arduous process.
When it comes to the future, Sandoval's goal is to become the "best Latina chef in the world" and the possibly opening her own restaurant when she meets the right investor. And what about in following in Gordon Ramsay's footsteps with a reality show? While she hasn't put much thought into it, the idea does intrigue her.
"I would love to do something like that. I love tv and I love to share my food."
As far as what sort of teacher she would be, the maternal instinct may kick in.
"I don't know. I'm a strict mom. I'd probably be well-balanced."
Until then, she's teaching aspiring home cooks with personal online lessons on "Cooking With MasterChef." Go to Cooking with MasterChef for more information.