Details

Category: Interviews
Created: Monday, 01 December 2014 22:13
Published: Tuesday, 02 December 2014 08:04
Written by Justine Browning
This month, THE HUNDRED-FOOT JOURNEY, starring Helen Mirren and produced by Steven Spielberg and Oprah Winfrey, heads to home video. Based on Richard C. Morais' novel of the same name, the light-hearted dramedy centers on Hassan Kadam (Manish Dayal) and his family - who relocate from India to France in order to make their dream of opening a restaurant there a reality. They soon discover that their passionate pursuit doesn't sit well with Madame Mallory (Helen Mirren) - who owns an eatery just across the road.
Much like Jon Favreau's Chef, the film provides an alluring look at the competitive nature of the restaurant industry. Director Lasse Hallström (Chocolat) and screenwriter Steven Knight, craft a richly layered, colorful film about the importance of family, dealing with rivalry and having the courage to follow your dreams. Most importantly - it's about the immeasurable joy food provides and the creation of new dishes.
There's a reason why the plates prepared in THE HUNDRED-FOOT JOURNEY seem so authentic and mouth-watering. The filmmakers decided to consult professional chef Floyd Cardoz (owner of the new NY restaurant White Street) while making the flick. The well-known cook worked with eight additional chefs on set to diligently prepare many of the scrumptious-looking shots.
To celebrate the release of the film on Blu-ray, Disney held a cooking demo with Cardoz in a cozy kitchen provided by cooking supply company Get it Right. Cardoz introduced attendees to one of his specialties, the Indian Omelette.
The accomplished restauranteur has a skill for guiding even the most culinary-challenged onlookers (guilty!) through his inventive recipe. For those who wish to try the breakfast dish at home, it makes for a delicious and healthy addition to brunch. Seasoned with turmeric, the omelette can be made using cilantro (both the stems and leaves), tomatoes, onions, spices, and salt.
During the lesson, the spirited Cardoz shared what it was like to be a part of the film.
"It was great that this movie came about for me," he said. "The story in the book is very similar to what I went through being a chef in India, coming here and not being given and chance - then finally doing what I wanted."
Cardoz was initially supposed to make six dishes for the film but ended up making 27.
"When they asked me to do this film, I flew to Paris cooked on the back of a very nice food truck," he added. "It was fun. I've done TV. I've done books but I've never done a film, so it was pretty interesting."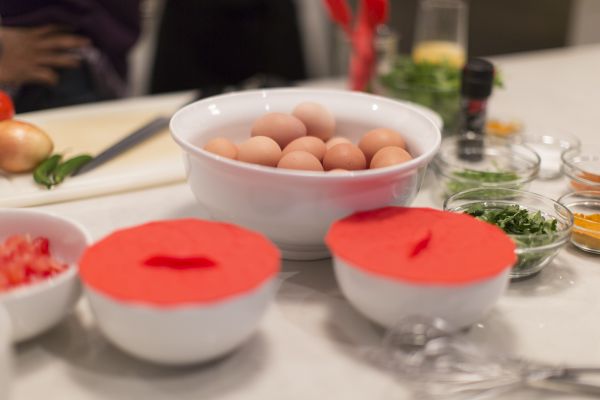 You can catch a glimpse of what it was like behind the scenes of the film through the featurettes that appear on the home video release - which hits shelves on December 2.