Details

Category: Interviews
Created: Thursday, 16 August 2018 05:04
Published: Thursday, 16 August 2018 05:49
Written by Lupe R Haas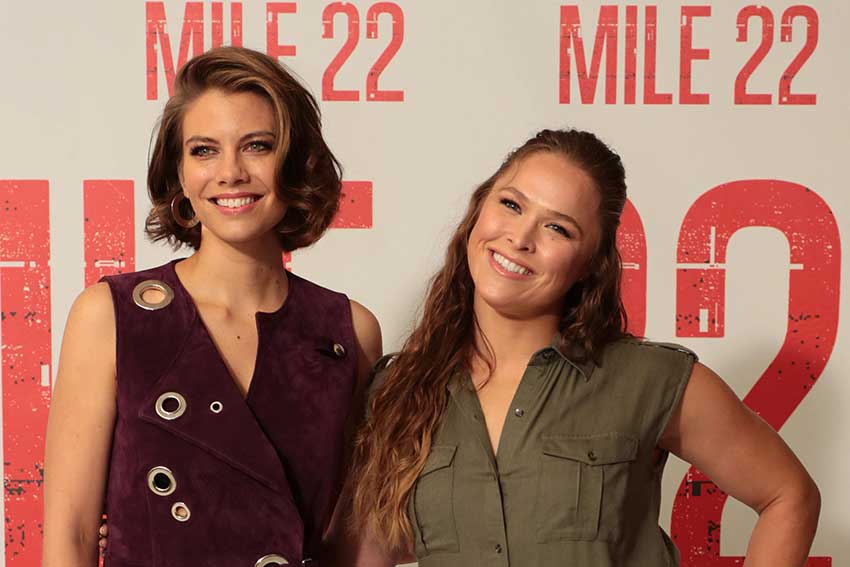 Lauren Cohan and Ronda Rousey get to play with the big boys in Peter Berg's MILE 22 starring Mark Wahlberg. The duo have made plenty of films showcasing the unsung male heroes of the armed services but in their fourth collaboration, women get to play in their sandbox. Lauren Cohan and Ronda Rousey appreciate being part of a film that doesn't differentiate the sexes but presents them as equals in every way.
Lauren and Ronda play members of highly trained team of CIA operatives – Alice Kerr (Cohan) and Sam Snow (Rousey) led by Mark's Jimmy Silva. Alice is Silva's lieutenant on the team. The team is charged with transporting a foreign intelligence asset from the American Embassy to an airfield 22 miles away. In formulaic fashion, a villainous group (Russians and a foreign government) are out to stop that transfer.
We've seen plenty of men in heroic situations specifically for many of Mark Wahlberg and Peter Berg's collaborations (LONE SURVIVOR, PATRIOT'S DAY, DEEPWATER HORIZON). Their films have focused on real-life people and events, and while the story takes a few liberties, the narrative must stick to the actual events. For MILE 22, the duo wanted to tell another story of unsung heroes but a fictional one. MILE 22 was the chance for Mark and Peter to team up once again without the constraints of a true story for a bit of fun.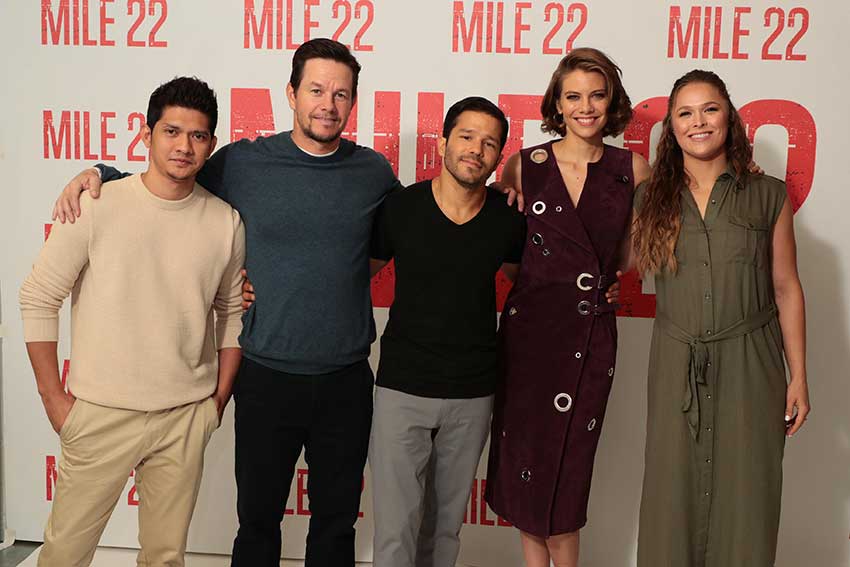 In MILE 22, the operatives give and take the beatings equally. Among the male and female characters, there is no gender divide nor any romantic relationships which is often the go to sub plot when you team up a man or a woman. It's strictly business, and Mark's character Silva often tells his team to check their emotions at the gate.
Lauren Cohan was eager to work with Mark and Peter as a fan of their previous collaborations. Another selling point was the fact that MILE 22 was a story that could take shape with fictional characters.
"We're obviously sensitive to representing the real people, but also tied to what the gents are saying - it was an opportunity to have fun and make a fun movie that wasn't betrothed to a real-life story," she said at the Los Angeles press conference for the movie.
"The Walking Dead' star knew she would be in good hands. Although their characters are not based on real people or events, there were consultants on set to bring accuracy to the role especially from a woman's perspective as a black operative.
Lauren is no stranger to fight scenes as a veteran of the show about the zombie apocalypse, but she admits MILE 22 was tougher than she expected. That's the job of an actor to adjust when the director yells "action," but she appreciated being treated like one of the boys.
"You prepare for anything when the cameras start rolling. You're going to be called upon to do what's needed and that's not gender specific. It's not gender specific to play these black operatives because it's looking for the job to be done."
While MILE 22 is a fictional story, it's not lost on Lauren that these CIA operatives exist in the real world and they should be honored as ultimate patriots for their sacrifices.
"They have to anticipate grave danger, and do what it takes, and make personal sacrifices and self-sacrifices in order to protect their country. It was great."
Another great experience for Lauren was working with UFC champion Ronda Rousey.
"Having to do it with Ronda who's inspiring as a human being on so many levels - it was a great engine for me as a female comrade and as a general comrade to work together."
Ronda also spoke of the equal portrayals of the sexes in MILE 22.
"I loved that so many women were involved in the film. Women are not just an anecdote. It's a story about people, and some of those people happen to be women. And I think that's when progress is made when it becomes normal."
Lauren Cohan and Ronda Rousey certainly can handle themselves on screen in MILE 22. Watch them in action when MILE 22 opens in movie theaters August 17.