Details

Category: Interviews
Created: Monday, 25 September 2017 23:22
Published: Monday, 25 September 2017 23:22
Written by Lupe R Haas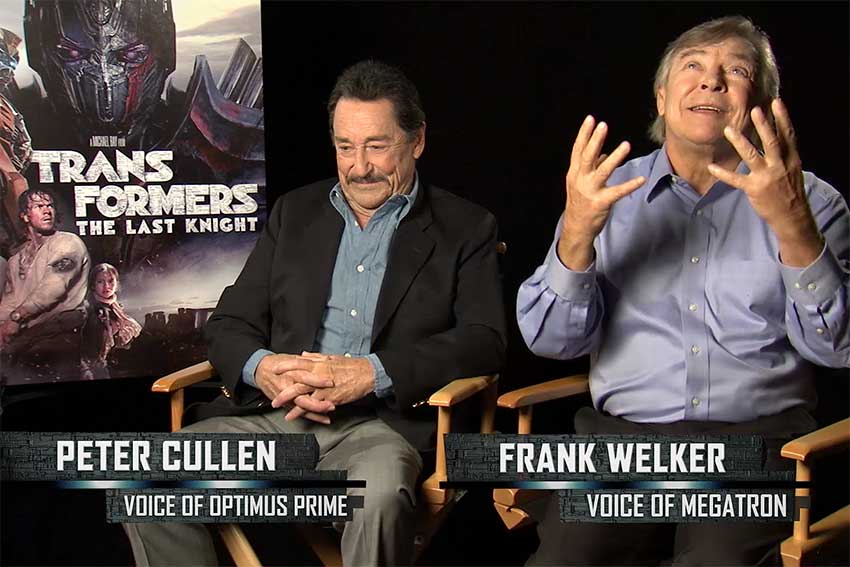 Peter Cullen and Frank Welker, the renowned voices of Optimus Prime and Megatron in the Transformers franchise, sat down together to talk about their voice over work in TRANSFORMERS: THE LAST KNIGHT which arrives on Blu-ray and DVD September 26. The veteran voice actors reveals some cool behind the scenes details about their time in the recording booth and what it's like working with director Michael Bay.
Peter Cullen and Frank Welker have been voicing the Autobots and Deceptions for decades. They reveal the two have input into the dialogue for both Megatron and Optimus Prime in the movie franchise, and Michael Bay is more than willing to listen to their expertise.
Watch what else they reveal in the interview below and see more behind the scenes in the making of TRANSFORMERS: THE LAST KNIGHT Blu-ray and DVD extras out now.
Thanks to Angela Ortiz of Se Fija Online for covering the press day for CineMovie.
Read more about Peter and Frank's work below.
Peter Cullen's many voices are well known throughout the world. The 2011 Emmy® nominated voice actor is best known for providing the voice of Optimus Prime from the Transformers franchise. He has also lent his voice talents as Eeyore in Disney's Winnie-the-Pooh series; KARR in Knight Rider; Zandar in G.I. JOE; Red Skull in the SPIDER-MAN series; Coran, Stride the Tiger Fighter, and King Alfor in the Voltron series; and Ramrod in the anime series Saber Rider and the Star Sheriffs. In addition to his film and television credits, Cullen's voice has been heard in many film trailers and television commercials, including announcing for the Toonami and You Are Here blocks on Cartoon Network.
Frank Welker has more than 800 acting and voice credits. He voiced many recurring characters in the multiple iterations of the "Transformers" animated series, provided the voices of Shockwave, Barricade, and Soundwave in the film TRANSFORMERS: DARK OF THE MOON, voiced Galvatron in TRANSFORMERS: AGE OF EXTINCTION, and Megatron in TRANSFORMERS: THE LAST KNIGHT. His first cartoon job was for Hanna Barbara voicing Freddy Jones in the legendary "Scooby Doo" series and he has been the voice of Scooby Doo for over a decade. Among Welker's other characters are the wide-eyed monkey Abu in Aladdin, Gargamel's cat Azrael in The Smurfs feature film, Nibbler in "Futurama," as well as the opinionated cat Garfield and the mischievous Curious George.