Details

Category: Interviews
Created: Tuesday, 05 August 2014 23:22
Published: Wednesday, 06 August 2014 08:12
Written by Ethan Falk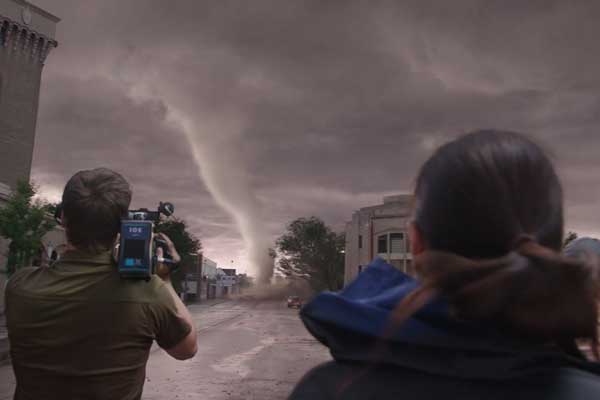 Virtual Reality has arrived and CineMovie got to experience it with a simulation of the windiest scene in the upcoming tornado disaster flick, INTO THE STORM.
The technology is called the Oculus Rift and yes, Facebook just bought it for 2 billion dollars. Fresh out of Comic Con and E3, the Oculus Rift awesomely crossed our path at the INTO THE STORM press day where I was thrust into the eye of the storm. Watch the video below.

After entering the glass booth and putting on the glasses/headphone get-up, you find yourself in a three-dimensional world fighting a storm and hanging onto dear life. At first the scene felt relatively calm. As the storm approached, heavy gusts of wind created by high-powered fans made it feel like you were actually battling a tornado! What made this experience so memorable was that no matter where you moved your head; you were able to see more of this virtual world.

Just like the Oculus Rift, the filmmakers and actors working on INTO THE STORM strived to create the most realistic aesthetic they could. The film featured a "found footage" style to achieve just that, putting the audience at the ground level within the heart of the storm. Director Steven Quale ("Final Destination 5") was confident that with today's advances in sound and special effects, he'd be able to make this movie in a compelling and visceral way. He was even determined enough to seek out perfectly spherical ice for the hail scene to improve its realism.
"So I talked to the special effects guys. 'Can we get real hail?' After tons of research, they found a real high-end company that makes ice for cocktails that are perfect spheres. They were a dollar each. So, we got thousands and thousands of dollars worth of ice."
Quale also mentioned that creating the man-made torrential rain and brutal winds posed a huge challenge for both the special effects team as well as the actors.
During the filming, the actors didn't have to rely too much on their imaginations since they got to experience all of the symptoms of an actual tornado. The actors dealt with 100-foot rain bars pouring water and 100 mile per hour wind machines blowing it at them. Max Deacon ("Summer in February") who plays Donnie, said at first he thought "This is great! Then three days later he thought, "This is the worst!"
"Everything that happened to us was real, all the wind and the rain. When you're under stress, you worry about the monster, but what you really feel is what's happening to you at the time. Having all that stuff aided our performance," said Deacon.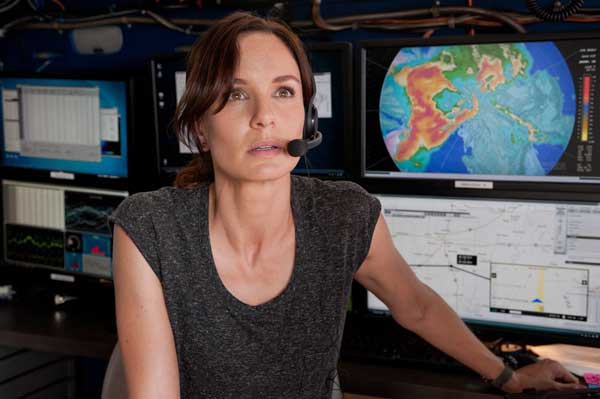 Sarah Wayne Callies who wrapped up her role in "The Walking Dead," added that when they first put on the wind machine she was blown 20 feet out of frame. She praised Steven Quale for creating such an immersive environment that elicited such organic performances.
"It's a really fun experience and it's also very exhausting. I'm grateful to Steve for it because without that, you suffer the indignities of trying to act a tornado. That's not going to work."
CineMovie also got to take a closer look at The Titus, a military tank of a vehicle designed to withstand the powerful effects of a tornado. Equipped with grappling claws and a glass turret with a full 360 degree articulation, The Titus was easily the most bad-ass star in the movie. Matt Walsh ("Veep") led the group of storm chasers and got to do most of the driving of the Titus. Walsh had never done a film like this before but when he had heard his character would mainly be driving a storm- chasing vehicle and playing with explosions, he knew his departure from comedy would be worthwhile.
"It was an opportunity to do an action movie. We were hauling and whipping U- Turns, it was really fun. I'm a young boy at heart so I enjoyed an opportunity like that."
INTO THE STORM will blow you away when it hits theaters August 8th