Details

Category: Interviews
Created: Friday, 22 June 2018 15:32
Published: Friday, 22 June 2018 17:18
Written by Lupe R Haas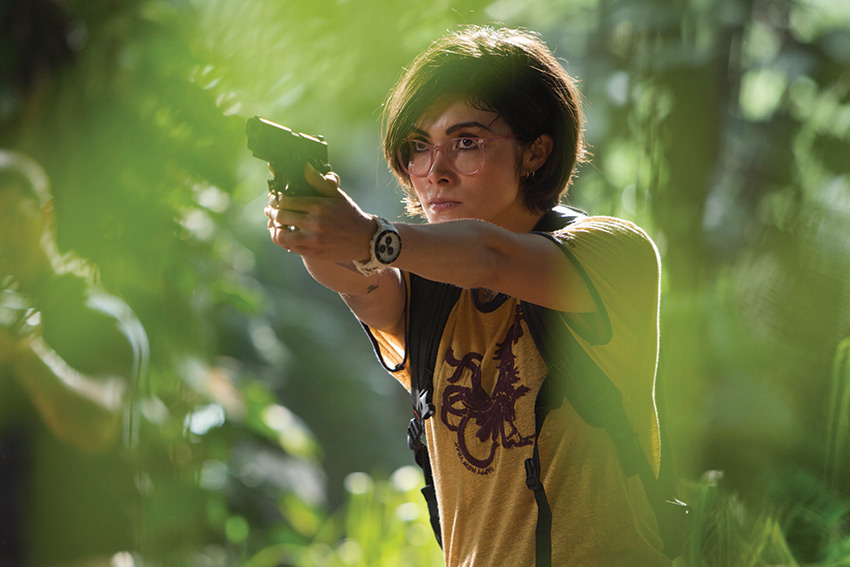 A smart, no-nonsense Latina character graces the screen in JURASSIC WORLD: FALLEN KINGDOM, a rarity in a Hollywood blockbuster. That role went to actress Daniella Pineda who plays dinosaur veterinarian, Zia Rodriguez. The Mexican-American actress is excited to represent a positive female professional and credits FALLEN KINGDOM director J.A. Bayona in convincing others to take a chance on a relative newcomer.
Originally from Oakland, CA, Daniella Pineda is best known for her role as Sophie in "The Vampire Diaries." Starring in JURASSIC PARK: FALLEN KINGDOM is her biggest break yet, but she never thought she would even be considered for the role if it wasn't for the FALLEN KINGDOM director. Pineda tells CineMovie she was used to getting passed on for roles so when she submitted herself on tape for the casting agents, she didn't hold out hope.
"I was like I'm not going to get this. After I submitted my tape, I completely forgot about it because the chances of you getting something this big are so small especially if you're a first timer."
To her surprise, she was given a test offer, but she had to audition four more times which she calls unusual. On FALLEN KINGDOM, the director wasn't the only one who had a say in the matter. She would also have to impress executive producers Steven Spielberg and JURASSIC WORLD director and writer Colin Trevorrow. She believes it was the Spaniard-born director who fought for her.
"I can't help but feel that him casting me was... there was a familiarity between us like we could've been cousins or something," she told CineMovie. "Honestly I feel like him being the director is part of what, you know... it was him convincing everyone else to take a chance on me. If it weren't for him telling everyone, 'Hey, give this Mexican-American girl a shot.' I mean, talk about looking after each other."

Movie Review: 'Jurassic World: Fallen Kingdom' Delivers On The Horror
Diversity in feature films has been slow in comparison to television shows on network and streaming services. The Latina actress personally feels the lack of opportunities as an actress which she attributes to the attitude in Hollywood that people of color or someone who who looks like her are not bankable leads.
"It's 2018. There are so few Latinos on screen, it totally boggles my mind. We're almost a majority. I just don't understand how this late in the game... yes people are making a push for diversity, but in my opinion, it's still super slow... like molasses going up the hill."
Hopefully her starring role in the fifth JURASSIC PARK movie will be her breakthrough. She's essentially the Laura Dern of the film, and Pineda holds her own as Zia Rodriguez, the tough paleoveterinarian, a dinosaur veterinarian. She admits the profession is a made up one, but it doesn't change the fact that this role represents a positive role model for young women and girls.
"That's what I'm most excited for the little girls who are going to get so hyped and excited. What it does for little girls is teach them that if you want to have a specialty job you have to go to school and you have to be determined."
On set, the Oakland-born actress discovered her own role models with Chris Pratt and Bryce Dallas Howard. They're huge stars but they didn't act like it.
"Bryce and Chris are two of the most humble people. They're so chill. So down to earth. Chris is the nicest, kindest, goofiest in the world. Working with him was a delight."
Both JURASSIC WORLD stars set an example for the other actors on the set. She added that Chris was so giving of his time and all his energy was focused on others. Pineda worried her co-star wasn't making time for himself.
Pineda also enjoyed being around Bryce Dallas Howard who she calls "super professional and positive." While juggling acting in the blockbuster, in between shots, Bryce was on business calls planning her future endeavors as a filmmaker. "She has father's genes in intelligence," says Pineda of Ron Howard's daughter. She added her energy level was at a constant 10 throughout the long shoot days.
The cast had so much fun during the making of JURASSIC WORLD: FALLEN KINGDOM, they called it "Camp Jurassic." On set they pulled pranks on each other and goofed around to pass the time.
Another highlight for Daniella Pineda was working with an animatronic Velociraptor which practically felt like a life-like animal. She had up close scenes with Blue, the prehistoric animal Owen (Pratt) raised since birth.
"You talk about movie magic, that animatronic was the realist looking thing that I ever saw. It just looks like a real dinosaur with massive claws, with skin that felt scaly like a reptile with eyes that react to light. It would sweat. It had pulsing veins. It would tick. It would blink… just everything that looked like a real animal."
The 31-year-old actress prefers practical effects over CGI, and she's happy they went that route.
"That made working on this film a real pleasure because personally, my personal opinion... I don't like it when it's just CGI. I'm a practical effects girl."

'Jurassic World: Fallen Kingdom' Director J.A. Bayona Pushed For More Dinosaur Animatronics
She explained that CGI was involved to enhance scenes, and also used in combination with the animatronics. That hit the "sweet spot" and it took her back to 80s movies when practical effects were king.
Daniella Pineda will most likely use practical effects in her next project which she is writing as a horror movie. It's a secretive project, but CineMovie did get her to admit she's working with Blumhouse on the project. Blumhouse is the place to be right now as they're cornering the horror market with successful movies such as GET OUT, INSIDIOUS and THE PURGE.
Chris Pratt and Bryce Dallas Howard Join Dancing Dinos For 'Jurassic World 2' Amazon Event
Look out for Daniella Pineda as a creative force in front and behind the camera. For now, catch her running from dinosaurs in JURASSIC WORLD: FALLEN KINGDOM, now playing.