Details

Category: Interviews
Published: Friday, 10 June 2016 13:29
Written by Lupe Haas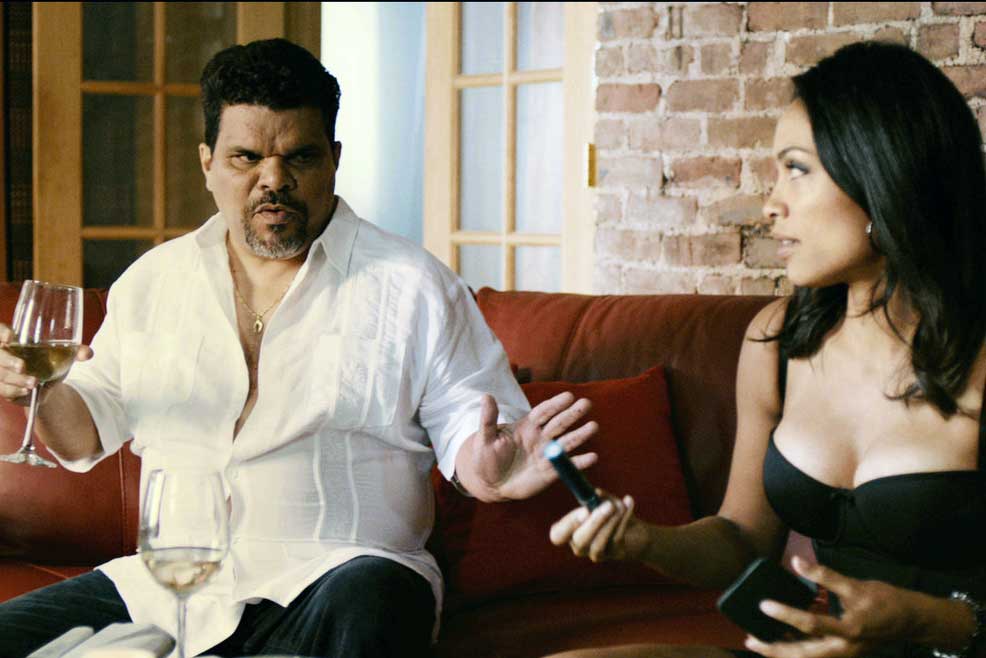 Hollywood's diversity issue came to a head with the Academy Award nominations stirring up the age old conversation about diversity in Hollywood. The #OscarSoWhite uproar forced studios and the Academy of Motion Pictures and Television to address the disparity, but actor/producer and star of the upcoming PUERTO RICANS IN PARIS Luis Guzman doesn't put the blame entirely on Hollywood but on the communities itself.

While many know Luis Guzman as a character actor in films such as TRAFFIC, BOOGIE NIGHTS, ANGER MANAGEMENT and most recently seen in KEANU and Netflix's NARCOS, he's often relegated to supporting characters and villains. Since Hollywood hasn't given him many chances as a leading man, he took matters into his own hands, and the end product is a starring vehicle in PUERTO RICAN IN PARIS alongside Edgar Garcia in a fish-out-of-water comedy about two NYPD cops sent to Paris to track down a stolen handbag.
"When is Hollywood going to let Latinos in? I found myself having this opportunity to put this film together. You know what! Let's make a movie. Make it fun. Let's put a group of people together that we enjoy working together, and we can grow together.' And just to show the world, we're here to entertain."
Guzman made the film independently, and had creative control over every aspect including casting. He brought in long-time friends Rosario Dawson and Rosie Perez in small roles as love interests.
Guzman also wants it known that the title doesn't limit the audience. The actor of Puerto Rican descent says the film has universal themes and the ethnicity doesn't play into the story.
"I did not make this movie just for Puerto Ricans. I made it for the universe. We wanted to do a comedy based on a situation, the environment and relationship of two people. Hollywood saw the movie and offered to distribute it. I'm proud of that, but I still do struggle."
That struggle Guzman speaks of is the constant fighting to get Latino projects out in the mainstream.
"The problem I found with Latino movies is that why are we only being interviewed by the Latino market. What happened to the rest of them. Spike Lee and Tyler Perry aren't just limited to their African-American market. That's something that we have to break."
Luckily for Guzman, the power of social media is a means for him to spread the word, and he's used it fully. He recruited music sensation Pitbull to help by posting the film's trailer on his popular social media accounts, and Guzman asked his fans to share it as well. He's proud to say it worked and it reached 4 million shares.
Another advantage which takes control out of Hollywood's hands is digital streaming like Netflix, Hulu and VOD. Guzman recalls a time when there were only three networks when he started out in the business. While many in the industry are against day-and-date play, Luis is not opposed to utilizing the various means for exposure simultaneously with a theatrical run which he thinks is an "important element."
"That's the way the world is going. It's like theatrically you might get 200,000 people to see your movie, and digitally you might get 3 million to see your movie within the same amount of time. So it all works. Everything compliments everything else and I believe you have to take advantage of all those things. Why not? It is the world we live in."
Guzman brings up the success of Hulu's "East Los High" as an example of a Latino project that has broken barriers for Latino portrayals. However, the PUERTO RICAN IN PARIS star and producer says the the reason Latinos haven't broken into mainstream Hollywood is the quality of projects out there. He's been approached by many writers with their first draft in hopes he'll take on the project, but that is often their first mistake.
"It's important as far as the Latino community goes - we do have talent. We do have the ability. What's important is the quality. That's really important. You have to be able to commit to that because again we want to be able put out a quality that people are going to notice, and not put out a quality that kind of hinders us."
As a producer, Guzman says he'd love to mentor up-and-coming talent, but he won't take on a project simply because "you're Latino." He adds it has to be "credible and worthy for the universe," and most of all he wants a challenge.
The easy part for Guzman was the acting in PUERTO RICANS IN PARIS. It wasn't a stretch for him.
"I just had fun with it. It allowed me the opportunity to do that. You know. For me it wasn't about going over the top. It was just living that moment as that character."
Luis Guzman is hoping that fun translates into more opportunities for Latinos. He says PUERTO RICANS IN PARIS will be a "game changer," but he needs support from the movie-going public to do so and he hopes everyone will do their part.
PUERTO RICANS iN PARIS is now playing in movie theaters, On Demand and Digital HD.