Details

Category: Interviews
Created: Thursday, 31 August 2017 08:50
Published: Thursday, 31 August 2017 14:51
Written by Lupe Rodriguez Haas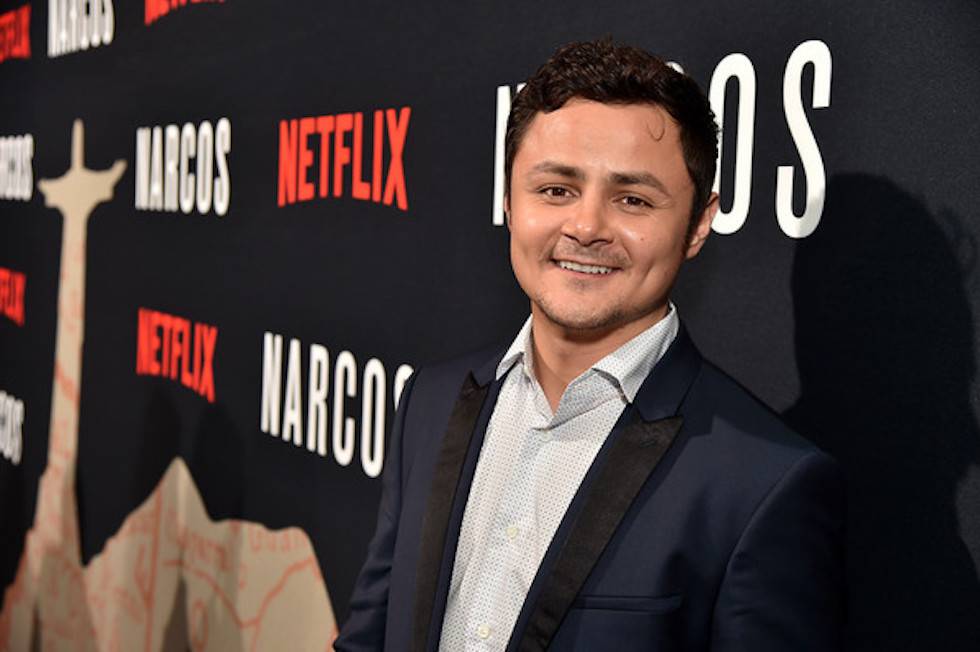 Now that Pablo Escobar has been eliminated, DEA agent Javier Pena (Pedro Pascal) sets his sights on the Cali Cartel in season 3 of the Netflix series, "Narcos." One of those targets is Arturo Castro's character who the actor promises you'll love to hate on the new season.
You may know Castro as the lovable Jaime, the drug dealing roommate of Ilana on "Broad City," but he's no sweetheart on the upcoming new season of the Netflix show. He's as ruthless and brutal as they come. Castro plays David Rodriguez, the real-life son of one of the Rodriguez Orejuela brothers who lead the Cali Cartel, the richest drug trafficking organization in the world in the 80s and 90s.
Castro tells CineMovie he actually auditioned for the premiere season of "Narcos" a few years back.
"I auditioned the first season for a very small character. It didn't work out. It broke my heart but this character is way better."
Looking back now, the Guatemalan-born actor and sketch comedian calls the whole situation serendipitous.
The Cali Cartel, led by four powerful godfathers, operates much differently than Escobar's brutal reign in that they prefer to bribe government officials and keep its violent actions out of the headlines, except Castro's David Rodriguez doesn't adhere to those principles and becomes the brutal enforcer for the family. There's a reason to his madness explains Castro.
"There's an interesting through line with this character. He wants to impress his dad so much and be taken seriously so much, he runs over everybody in his path to do it. That was really fun to play. Playing a bad guy is awesome."
Castro says fifty percent of NARCOS is based on real events and characters, but the producers and writers do take 50% creative license. His character, however is based on the real person who is still alive, according to Castro. His portrayal of David Rodriguez has the actor a bit concerned.
"I figure he's going to hate me by the time this comes out. We don't paint him in the best light."
This role is the first time the actor has played a character based on a real person. While most actors generally like to meet the subject they're portraying, Castro wanted nothing to do with the Cali Cartel enforcer.
"I didn't want to look him up or call him. No! The less I have to talk to him or the less I have to do with him the better."
When you first meet David Rodriguez in "Narcos" season 3, we meet a tame but bratty wannabe drug dealer, but as the show progresses Castro says he will become more brutal with a culmination of it in episode 4.
"For him we get really, really dark." Episode 4 is where we see him go psychopathic with his desires to impress dear old dad. Some people want to watch the world burn. And David Rodriguez is that person. It's not like violence without a purpose. He's more about protecting what his father has created and protecting his family."
Castro read up on everything about the Cali Cartel, but what really informed him about the infamous drug traffickers was their homes. The production for "Narcos" Season 3 actually took place in some of the former homes of the Cali Cartel i Colombia. The opulence and level of tackiness really informed their personalities. "You get to know someone through their taste," says Castro.
Castro says season 3 of the Netflix show will be different from prior seasons in that rather than focusing on one villain you have four drug trafficking godfathers who are funny and charming. The characters are "so nuanced" and Castro believes viewers will fall in love with a different set of characters. Although it may be a love/hate relationship from what we've seen so far.
Unlike the two seasons which focused on Pablo Escobar, "Narcos" Season 3 will be a self-contained season that will see the end of the Cali Cartel in 10 episodes. Next, Season 4 of the Netflix series takes the DEA to Mexico.
"Narcos" Season 3 premieres Friday, September 1.