Details

Category: Interviews
Created: Saturday, 12 May 2018 22:48
Published: Sunday, 13 May 2018 14:01
Written by Lupe R Haas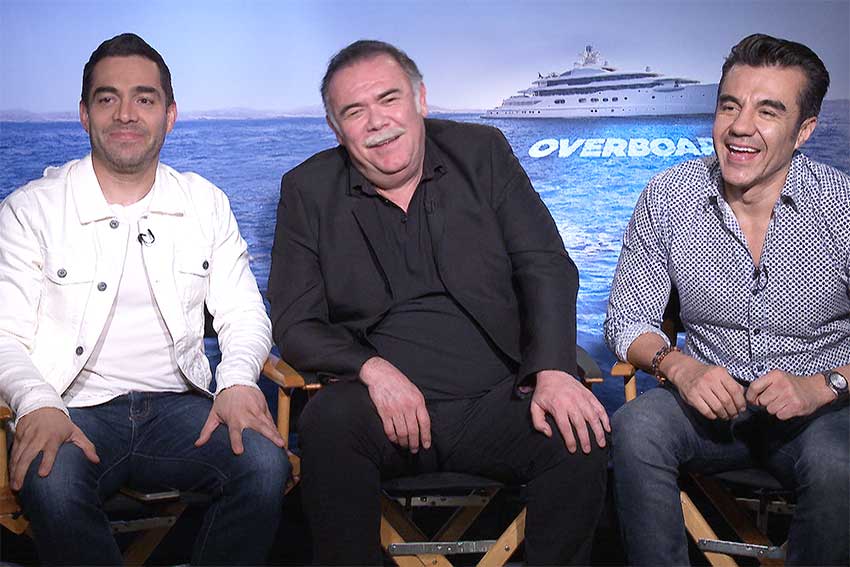 OVERBOARD movie stars Omar Chaparro, Jesus Ocha and Adrian Uribe are hilarious in the Eugenio Derbez and Anna Faris comedy, and the Mexican actors are equally as funny in our sit down interview. Watch below.
OVERBOARD is now playing in movie theaters. Eugenio Derbez and Anna Faris star alongside an incredible Hispanic cast that includes Eva Longoria, Omar Chaparro, Adrian Uribe, Mel Rodriguez, Jesus Ochoa, Cecilia Suarez and Mariana Treviño.
Metro-Goldwyn-Mayer Pictures (MGM) and Pantelion Films presents OVERBOARD, a fresh take on the iconic romantic comedy. In a splashy new twist,Overboard focuses on "Leonardo" (EUGENIO DERBEZ), a selfish, spoiled, rich playboy from Mexico's richest family and "Kate" (ANNA FARIS), a working class single mom of three hired to clean Leonardo's luxury yacht. After unjustly firing Kate and refusing to pay her, Leonardo falls overboard when partying too hard and wakes up on the Oregon coast with amnesia. Kate shows up at the hospital and, to get payback, convinces Leonardo he is her husband and puts him to work - for the first time in his life. At first miserable and inept, Leonardo slowly settles in. Eventually he earns the respect of his new "family" and co-workers. But, with Leonardo's billionaire family hot on their trail and the possibility of his memory returning at any moment, will their new family last or will Leonardo finally put the clues together and leave them for good?
JOIN CMT MOVIE CLUB Become a Patron!