Details

Category: Interviews
Created: Friday, 11 August 2017 09:05
Published: Sunday, 13 August 2017 20:55
Written by Lupe R Haas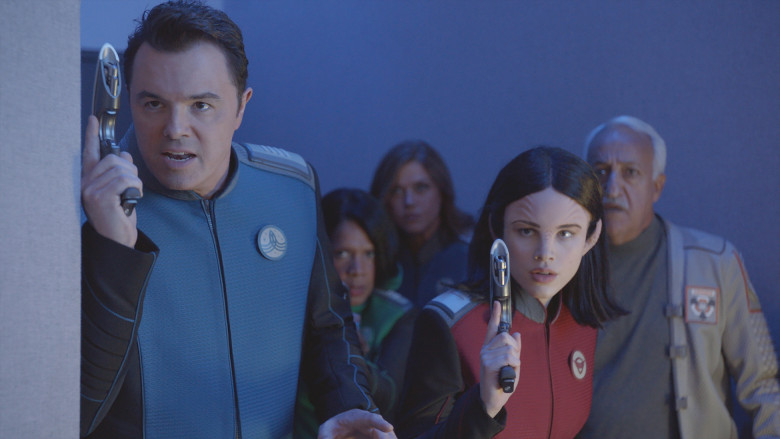 Seth MacFarlane takes us into space in the new FOX show, THE ORVILLE, and of course there are alien species in outer space. CineMovie got a chance to talk to the actors playing the beings from other planets in our interview below.
Humans and aliens co-exist in space in THE ORVILLE. While Seth MacFarlane, Adrianne Palicki and Penny Johnson Jerald play humans, their cohorts on the U.S.S. Orville are of the alien species. We caught up with the stars of the FOX television show at San Diego's Comic-Con. Meet Chad L. Coleman ("The Walking Dead), Mark Jackson, Peter Macon (NCIS) and Halston Sage who reveal what sort of alien they play and their special skills.
From Emmy Award-winning executive producer and creator Seth MacFarlane (FAMILY GUY, "Ted") and directed by Jon Favreau ("The Jungle Book," "Iron Man"), THE ORVILLE is a one-hour science fiction series set 400 years in the future that follows the adventures of the U.S.S. Orville, a mid-level exploratory vessel. Its crew, both human and alien, faces the wonders and dangers of outer space, while also dealing with the familiar, often humorous problems of regular people in a workplace…even though some of those people are from other planets, and the workplace is a faster-than-light spaceship.
Seth MacFarlane and Adrianne Palicki Talk Influence Behind The Orville
In the 25th century, Earth is part of the Planetary Union, a far-reaching, advanced and mostly peaceful civilization with a fleet of 3,000 ships. Down on his luck after a bitter divorce, Planetary Union officer ED MERCER (MacFarlane) finally gets his chance to command one of these ships: the U.S.S. Orville. Determined to prove his worth and write a new chapter in his life, Ed finds that task all the more difficult when the First Officer assigned to his ship is his ex-wife, KELLY GRAYSON (Adrianne Palicki, "Agents of S.H.I.E.L.D.," "Friday Night Lights"). As the new commander, Ed assembles a qualified, but eccentric crew for the mission.
FOX's all-new comedy, THE ORVILLE premieres September 10.