Details

Category: Interviews
Created: Wednesday, 03 May 2017 23:07
Published: Thursday, 04 May 2017 08:34
Written by Lupe R Haas
Zoe Saldana, Dave Bautista, Chris Pratt and the GUARDIANS OF THE GALAXY VOL. 2 cast interacted with Baby Groot using a ten-inch maquette on set, but for Rocket, the smart-aleck raccoon had a stand-in. Sean Gunn once again pulled double duty as Ravager Kraglin and Rocket Raccoon, but Gunn had a larger role in the Marvel follow-up which made it all the more challenging playing the miniature Guardian simultaneously.
Bradley Cooper voices Rocket in GUARDIANS OF THE GALAXY VOL. 2, but Sean Gunn gave Rocket life in both movies through movement and expression. In the sequel to the highly-successful Marvel film, Gunn reprises his role as Yondu's first mate Kraglin in a much larger role. In the original GUARDIANS OF THE GALAXY, Gunn's Kraglin was a background actor with a few lines, but in Vol. 2 he plays an expanded role joining the Guardian's latest mission.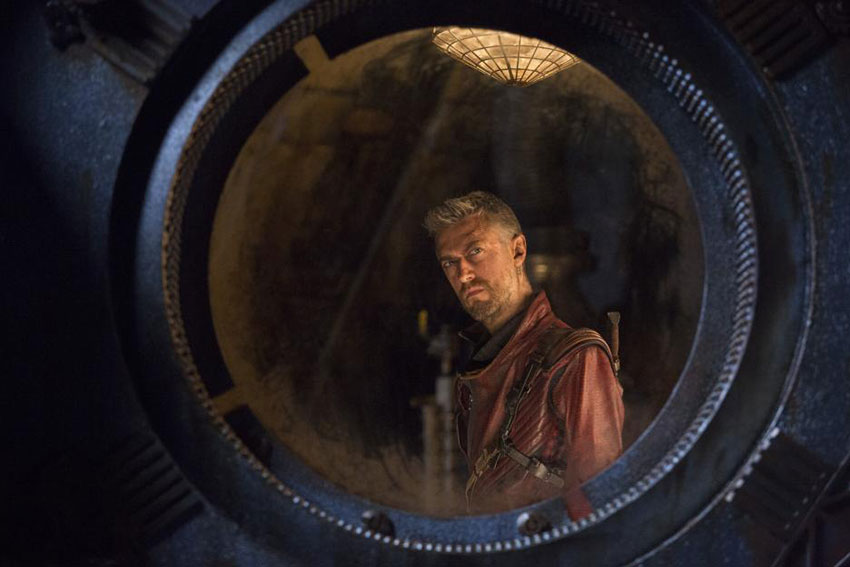 While suited up as a Ravager, he would also jump into action when it was time for the actors to interact with the furry, pint-sized superhero. James Gunn's younger brother, however, shares screen time with the CGI character so that presented a few challenges.
"Juggling the two things was a very strange and challenging experience for me, says Gunn at the recent Los Angeles press day for the movie. "But I love it. I love both characters and I, you know, I'm just really grateful to be a part of it."
He went on to explain how he handled the scenes in which both Kraglin and Rocket appear together.
"But yeah, it was, that was a weird thing to wrap my head around, but you know, I just try to kind of prepare the scene twice, from two different [LAUGHS] mental points of view and then we just shoot around it, I mean, as best we can," says Gunn. "So yeah, there were times when I would be in the… and it's a lot harder to do the physical stuff as Rocket in the Kraglin uniform, but… but we had to do it a couple of times."
Marvel President Kevin Feige chimed in and spoke highly of Sean Gunn's performance in both roles.
"I'm happy to talk about how great Sean Gunn is, all day long, says the Marvel executive. "And in this movie Kraglin obviously does a lot more and there are a few moments where Kraglin brings the emotion and really sort of puts it over the top for me as I watch it. And although nobody else in this cast is allowed to talk about it, Rocket has encountered other Marvel characters and I will tell you all of the actors have had an amazing time with Sean, as he brings Rocket to life and they can start acting off of him. It's really impressive."
Let's hope Sean Gunn also got paid double time for his work on GUARDIANS OF THE GALAXY VOL. 2. The Marvel film opens May 5.