Details

Category: Interviews
Created: Thursday, 10 October 2013 00:04
Published: Thursday, 10 October 2013 00:04
Written by Lupe Haas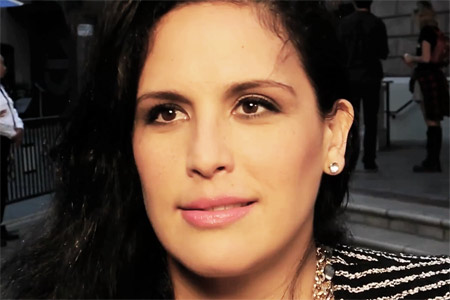 A new season of The Walking Dead premieres October 13 and one famous fan who can't wait for the fourth season is Mexican actress and singer Angélica Vale.

Best known for her telenovela role in La Fea Mas Bella (The Prettiest Ugly Girl), the daughter of Mexican icon Angélica Maria and comedian Raúl Vale returned to Universal's Halloween Horror Nights this year for more fun at the annual scare fest. She kicked off the festivities at the EyeGore Awards with her mother and husband. Last year, both Angelica's were honored with an EyeGore Award for their role in the Mexican television drama, "Mujeres Asesinas," but only Vale accepted the award. This year, Vale brought along her mother to the Halloween Horror Nights to experience the scary attractions. She jokes that her mommy will hit those horrible zombies.

Vale tells CineMovie she became intrigued by The Walking Dead last year after experiencing the maze inspired by the popular show. She then sat through a marathon of The Walking Dead and became a huge fan.

When it comes to being a scaredy cat, Vale says she is the least brave unlike her mother who won't let a few zombies scare her.