Details

Category: Interviews
Created: Tuesday, 29 April 2014 11:36
Published: Tuesday, 29 April 2014 11:36
Written by Lupe R Haas
Jon Hamm walks into the pressroom wielding a baseball bat and joking with the press, "don't mess up." Not only is the "Mad Men" star funny, but he's got a sentimental side to him and his new movie MILLION DOLLAR ARM is the kind of film he's a sucker for.
While promoting his feel-good movie MILLION DOLLAR ARM in Los Angeles, Hamm reveals he's a "huge baseball fan," but he had not heard of the real story of the two young boys recruited from India who now play for the Pittsburgh Pirates. Once he read the script, he went into what he calls a "Google hole" researching the true story of the real life sports agent JB Bernstein who traveled to India to find cricket players who can throw a fastball for a show called "The Million Dollar Arm."
During the interview, the "Mad Men" star makes it clear he'd rather come out of a movie feeling something rather than questioning why "this exploded" or why this or that happened. Hamm's preference for character-driven material is obvious in the roles he chooses. MILLION DOLLAR ARM is essentially Hamm's first leading role in a mainstream Hollywood film. According to MILLION DOLLAR ARM producer Gordon Gray, Jon Hamm has the reputation for being picky with his roles. He's chosen small quirky roles on television such as "Parks and Recreation," "30 Rock," "Children's Hospital," and of course his edgy character on the "Mad Men" series which comes to an end this season. On the big screen, we've only seen him in supporting roles in Ben Affleck's The Town and an even smaller role in Bridesmaids. Now he's the star of a Disney film, which is something different for him.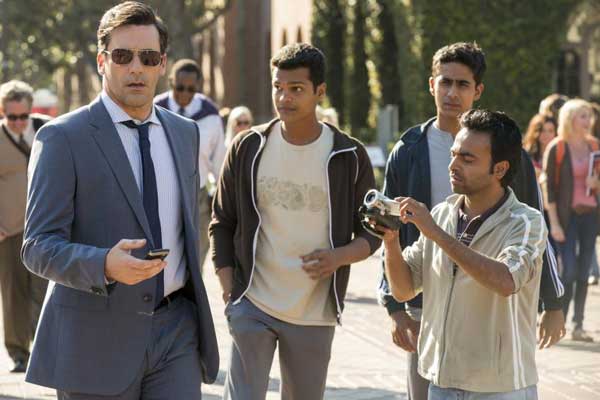 Hamm says the film could've easily gone to the hockey side, but after watching MILLION DOLLAR ARM, Hamm was pleasantly surprised as a movie fan rather than the star of the film. He came out feeling something positive. "It has this beautiful sensibility to it. I'm a sucker for it," he admits. Hamm recalls how films used to make audiences feel.
"It used to be that when you came out of the movie, you felt something. You were either emotional or wanted to be a better person and this that kind of movie. It's not a sports movie, so much a movie that moves you." "
Hamm gives credit to director Craig Gillespie Lars and the Real Girl, Fright Night) and writer Tom McCarthy (The Visitor, Up) for writing an story that he calls "affirming, uplifting, heart-warming and emotional." He also attributes the heart of the film to his co-stars Suraj Sharma and Madhur Mittal as the fish-out-of-water players from India who give the story "soul and depth."
Playing the sports agent in MILLION DOLLAR ARM was a 180 degrees turn from his Don Draper character, and he's glad that there is at least one project of his is something that can be shared with family. "It's nice to portray that," he adds.
MILLION DOLLAR ARM opens May 16.