Details

Category: Interviews
Created: Wednesday, 14 January 2015 16:30
Published: Wednesday, 14 January 2015 17:01
Written by Fernando Esquivel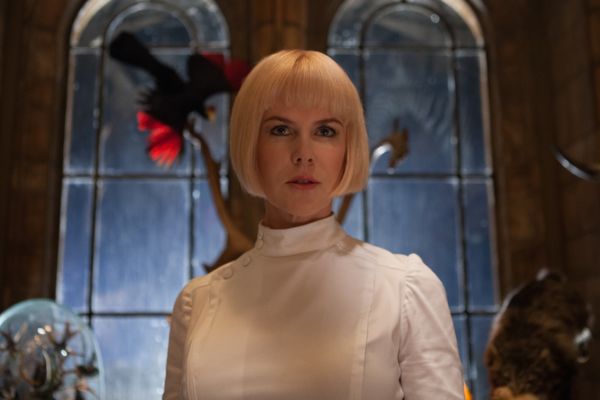 PADDINGTON follows the comic misadventures of a young Peruvian bear who travels to London in search of a home. The cast of PADDINGTON is led by acclaimed British Talent, Ben Whishaw (voice of Paddington), Hugh Bonneville (Mr. Brown), Sally Hawkins (Mrs. Brown) and Nicole Kidman as the villainous Millicent. Nicole Kidman and producer David Heyman, known for the Harry Potter films, sat down in Los Angeles to talk about the live action and CGI film, and why Colin Firth was dropped as the voice of Paddington in favor of Ben Whishaw (Skyfall).
Based on the best selling and internationally adored series of children stories, it was the main draw for actress Nicole Kidman. Nicole had the best time on set as well as her kids. She grew up reading the books and has passed that tradition down to her kids. She also always wanted her own PADDINGTON bear and now has finally got one.
Her first day on set she was put upside down on these wires, "I sent a photo to my family in Australia and they said what are you doing? It's like I joined the circus". According to Nicole, "They always say if you have a great time making a movie, the movie is not going to be any good. But this movie is good and we had a really good time. So there that refutes that right?"
When it came to playing the evil Millicent she also had to learn to throw knives which was subsequently cut out of the film. "I just remember, David (Heyman) telling me it's a children's movie. I throw one knife now. I'm saving my knife throwing technique for another film, or for real life."
Her kids were also excited about their mom's new role. "It was good because now they're on the set. Initially they were like 'oh no please don't be the one that wants to hurt the bear.' Now they understand the behind the scenes and strangely enough my six year old is really loves the villain characters which kind of worries me (laughs). But she also loves the blond hair I have."
It was also a film that the whole family could also enjoy together. "It was really great because I got to watch the film with my mom who is seventy four and my four year old and my six year old. To see that all of them were laughing at the same thing, that's amazing. I just love that I made a film that my family can enjoy."
PADDINGTON was originally slated for a 2014 release but had a few set backs. According to director Paul King one of those was due to the PADDINGTON's voice. Ben Whishaw voices PADDINGTON but he wasn't the first choice. They initially started working with Colin Firth. Producer David Heyman couldn't help but notice that they had an icon playing an icon. Although Paul King was super excited about Firth being on board at first, he had his reservations.
"From day one he was telling us he wasn't sure that his voice was going to turn out to be right. We worked with him a lot and rehearsed with him and he's terrific. But as the animation emerged, you just didn't believe his voice was coming out of this little cub, it was a little to bass and too resonance. We tried to do some digital enhancements to make it feel lighter but it just sort of sounded Smurfy so quickly. It just didn't feel right. I'm so glad he just wasn't this young actor getting his big break, but he's off to make the next Matthew Vaughn film, he'll be fine."
David Heyman had to give credit to Colin Firth since he was in agreement with them, "It was a mutual decision, we all sat down and knew it wasn't working. When that voice came out of the animated bear it just didn't feel right and it was a brave decision of Paul to make because you have to start animating again."
Once they heard Ben they knew they had their bear. "When we heard Ben, from the first sentence we were like 'ahhhhhh!' So it was difficult but easy at the same time because if it's not working then it's not working. None of us just wanted to have this big movie star in the film but we wanted to make a film as good as we could more than anything."
PADDINGTON is in theaters January 16th.