Details

Category: Interviews
Created: Tuesday, 02 May 2017 08:37
Published: Tuesday, 02 May 2017 10:16
Written by Lupe R Haas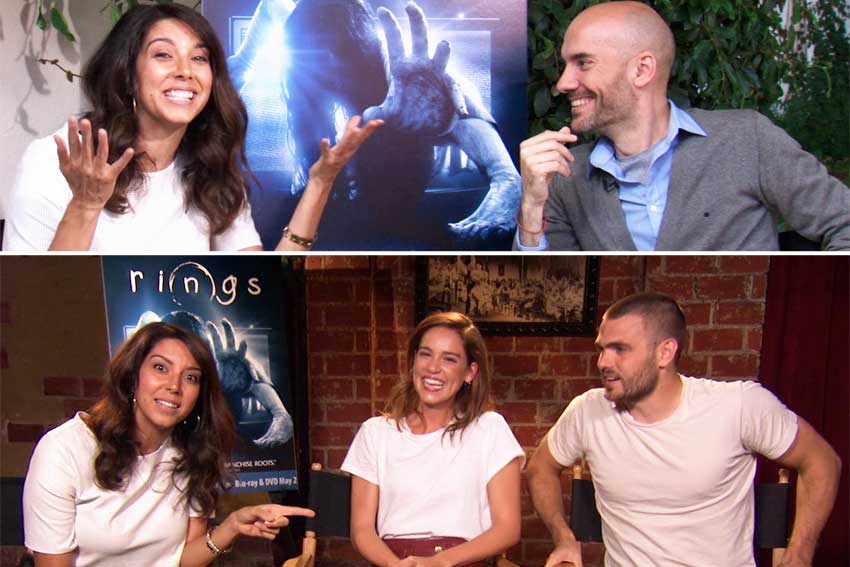 RINGS director F. Javier Gutiérrez and actors Matilda Anna Ingrid Lutz and Alex Roe sit down with CineMovie to discuss the new chapter of the RING franchise, RINGS, which arrives on Blu-ray Combo Pack, DVD and On Demand May 2, 2017. CineMovie's Viviana Vigil also tests their scare meter to see if they easily spook. Watch!
At least the interview environment wasn't a scary one for the RINGS DVD press day. We sat down with the director and actors for happy hour at the historic El Cid supper club in Los Angeles, CA where Viviana asked about a possible follow-up to horror flick whose ending sets up for another twisted return for Samara.
In RINGS, a radical college professor (Johnny Galecki, "The Big Bang Theory") finds the mysterious video rumored to kill viewers seven days after watching, he enlists his students in a dangerous experiment to uncover the secrets behind the Samara legend. When the deadly video goes viral, they must figure out a way to break the curse and defeat Samara before her evil is unleashed upon the world. But, how do you stop her when she's everywhere? RINGS also stars Matilda Anna Ingrid Lutz (Summertime), Alex Roe (The 5th Wave), Aimee Teegarden ("Friday Night Lights") and Vincent D'Onofrio ("Law & Order: Criminal Intent").
The RINGS Blu-ray Combo Pack features over 45 minutes of terrifying bonus content including deleted and extended scenes and a nail-biting alternate ending. Plus, go behind-the-scenes with interviews with the cast and crew as they discuss the new chapter in the iconic Ring franchise, dare to discover the real Samara, and more!
The film is available now on Digital HD.
'Rings' Director F. Javier Gutierrez Talks Behind The Scenes And Bringing Samara Into The Digital Age