Details

Category: Interviews
Created: Monday, 24 July 2017 09:08
Published: Monday, 24 July 2017 22:28
Written by Lupe R Haas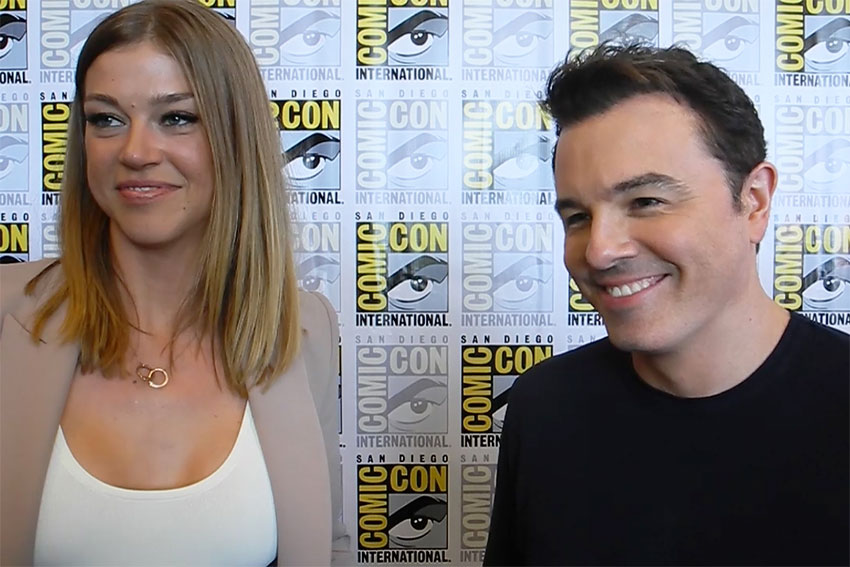 Seth MacFarlane takes us into space for an adventure comedy on FOX's all-new comedy, THE ORVILLE premiering September 10 on FOX! CineMovie caught up with show's creator and star and his co-star Adrianne Palicki at this year's Comic Con in San Diego to talk about why THE ORVILLE has more in common with 1930s sci-fi rather than STAR TREK or STAR WARS.
From Emmy Award-winning executive producer and creator Seth MacFarlane (FAMILY GUY, "Ted") and directed by Jon Favreau ("The Jungle Book," "Iron Man"), THE ORVILLE is a one-hour science fiction series set 400 years in the future that follows the adventures of the U.S.S. Orville, a mid-level exploratory vessel. Its crew, both human and alien, faces the wonders and dangers of outer space, while also dealing with the familiar, often humorous problems of regular people in a workplace…even though some of those people are from other planets, and the workplace is a faster-than-light spaceship. In the 25th century, Earth is part of the Planetary Union, a far-reaching, advanced and mostly peaceful civilization with a fleet of 3,000 ships. Down on his luck after a bitter divorce, Planetary Union officer ED MERCER (MacFarlane) finally gets his chance to command one of these ships: the U.S.S. Orville. Determined to prove his worth and write a new chapter in his life, Ed finds that task all the more difficult when the First Officer assigned to his ship is his ex-wife, KELLY GRAYSON (Adrianne Palicki, "Agents of S.H.I.E.L.D.," "Friday Night Lights"). As the new commander, Ed assembles a qualified, but eccentric crew for the mission.