Details

Category: Interviews
Created: Thursday, 25 October 2018 22:28
Published: Thursday, 25 October 2018 23:10
Written by Lupe R Haas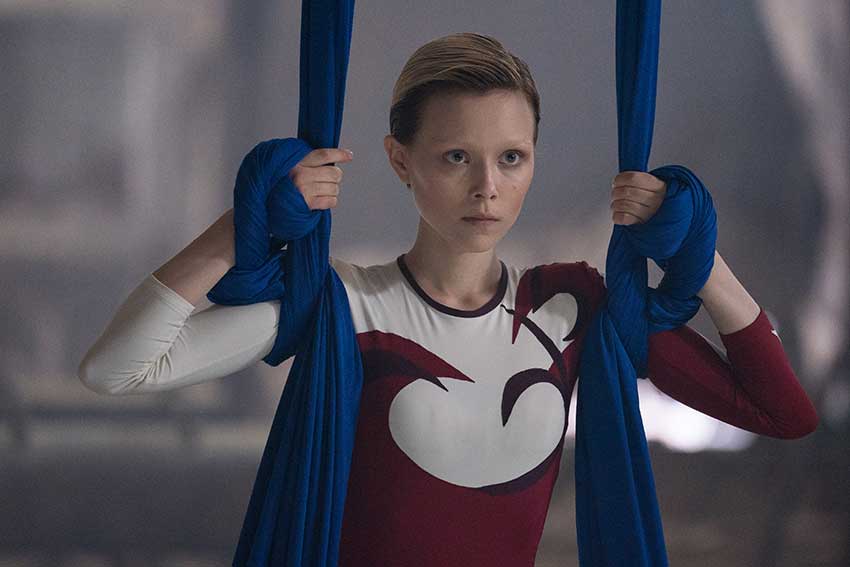 Relative newcomer Ivanna Sakhno steals the show in THE SPY WHO DUMPED ME as the gymnast hit woman in the action comedy starring Mila Kunis, Kate McKinnon, Justin Theroux and "Outlander's" Sam Heughan. The Ukrainian-born actress reveals the funny behind the scenes shenanigans from the set and what food obsession Mila started on the Budapest set. The action comedy is coming to Blu-ray and DVD October 30.
Mila Kunis and Kate McKinnon play best friends, Audrey and Morgan, who are caught up in an international conspiracy after Audrey's ex-boyfriend turns out to be a spy and sends her on a mission. They jump into action and fly off to Europe to deliver the goods to a European contact but assassins are on their trail.
Sam Heughan Interview: 'The Spy Who Dumped Me' Star Would Love To Play A Scottish James Bond
Ivanna Sakhno (PACIFIC RIM: UPRISING) is one of those assassins as Nadedja. One of the scenes called for Ivanna to perform acrobatics as former gymnast turned assassin. Although she had no prior experience with acrobatics and she had two stunt doubles performing the high-flying moves, she wanted to perform some of the stunts.
"Whenever I would ask them to let me do some more of the stunts, it felt really, really great to learn from them and to train for the scenes. I think in an action comedy, the most fun part to do is to participate in the action and train for it."
That scene calls for Ivanna to kick Kate and Mila in the face during a funny torture scene. While the action seemed brutal, the funny moments abounded during the movie and in between takes.
"It was quite an experience to try and keep a face straight while working with Kate, and you can actually see it in the additional footage when the Blu-Ray comes out."
What you won't see on the extras on THE SPY WHO DUMPED ME home release is the funny behind the story Ivanna recounts to CineMovie. The film shot in Budapest, and while there Mila discovered a local treat.
"I remember in between the takes Mila came up to me with her mouth filled with wheat balls and she just came up to me and was really fascinated with them and asked me if I ever tried them before. Later on I saw half of the crew walking around eating the little wheat balls. Mila introduced them to all the crew and it just stayed with me. Now I keep eating them to this day, and it's been a year."
Wheat balls are grain that are very popular in Budapest, according to Ivanna, and everyone became obsessed with them including Mila's husband Ashton while visiting. He, too, came up to her asking if she had discovered the delicious treats that come in different flavors.
THE SPY WHO DUMPED ME is the second time the Ukrainian actress is playing a Russian/ Eastern European soldier-type in a big-budget film after last summer's PACIFIC RIM: UPRISING. Hollywood has often portrayed Russian women as hard-edged operatives with chiseled good looks. CineMovie asked Ivanna her thoughts on playing the Hollywood stereotype in her latest movie.
"I guess it's just part of the industry and the way some of the characters are portrayed. So being from Ukraine and being born in Ukraine is of course part of who I am. I couldn't be more grateful to be from my country because it has been through so many things and I've been part of everything that has been going on, but the fact that women are often portrayed that way, I do hold a lot of hope for it to be more broad or new ideas to also come in. But as far as playing those characters, I have nothing against them. They are so well-written, and I do think that when writing those characters, they really cared about them and so playing them has been a great, great honor to play them."
For her next role, Ivanna Sakhno is keeping mum and it must be so top secrect she can't even reveal the genre to CineMovie. She promises the world will know in a few months, but she's sworn to secrecy.
What we do know is that THE SPY WHO DUMPED ME is coming to Blu-ray and DVD October 30 or watch it now on Digital.