Details

Category: Interviews
Created: Wednesday, 28 March 2018 22:35
Published: Thursday, 29 March 2018 11:34
Written by Lupe R Haas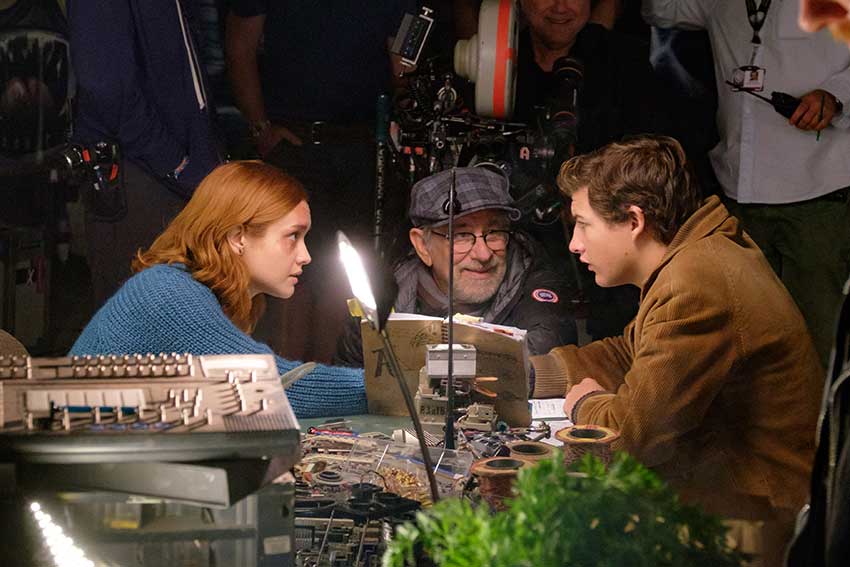 READY PLAYER ONE takes viewers into a nostalgic adventure with pop culture references in the Steven Spielberg-directed action film including some from his own iconic movies. There was one movie reference he refused to include in the movie. Listen below to why he didn't want to make READY PLAYER ONE a homage to himself, and what Easter Egg in the movie geeked out his cast.
Based on the Ernest Cline book by the same name, the film is loaded with references from every memorable decade that would make any geek, video gamer, and cinephile orgasm. READY PLAYER ONE includes many iconic items from Spielberg and Amblin movies such as the DeLorean from BACK TO THE FUTURE, the T-Rex from JURASSIC PARK and JAWS, but there was one movie reference he refused to include in the feature film adaptation because he didn't want to make a movie about his movies.
At a press conference in Los Angeles, Spielberg along with READY PLAYER actors Tye Sheridan, Olivia Cooke, Ben Mendelsohn, Lena Waithe, Philip Zhao, Win Morisaka and Hannah John-Kamen talked about their work on the movie. Author Ernest Cline and screenwriter Zak Penn joined in on the fun discussion.
In READY PLAYER ONE, Watts lives in a futuristic world where the only form of escapism is found in the OASIS, a virtual reality world where humanity spends their days living out their fantasies. When the creator of the OASIS creates a challenge to OASIS users to find an Easter Egg, he promises the winner his fortune. Watts and his friends knowns as the High Five set out on the treasure hunt, but a greedy corporate executive wants to beat it to it first and puts them in danger.
The movie straddles between reality and the OASIS where the avatars lead the adventure. Spielberg revealed the OASIS scenes were shot entirely in a virtual reality setting in what he calls an "abstract set." Everyone in the crew and the actors acted out the movie in a virtual reality space using Oculus VR goggles while wearing mo-caps (motion capture gear.)
"Inside the goggles was a complete build of the set that you saw when you saw the movie, but when you took the goggles off, it was a big white space," revealed Spielberg. "It was a 4000 square foot white empty space called a volume."
In that space, the actors could fully act out their movements without any limitations. The veteran director was blown away by the process.
"It was really an out of body experience to make this movie. And it's very really hard to express how it was like."
In another interesting fact, Tye Sheridan revealed Spielberg wanted his Avatar character, Parzival to walk like John Travolta's character in SATURDAY NIGHT FEVER. So Spielberg started playing "Staying Alive" and strutting his stuff which Tye copied. Let's all imagine Spielberg breaking out that move. Unfortunately, Tye said the director emptied out the set for Tye's eyes only.
Listen to the interview for more fun reveals from the cast.