Details

Published: Friday, 03 September 2021 11:40
Written by Lupe R Haas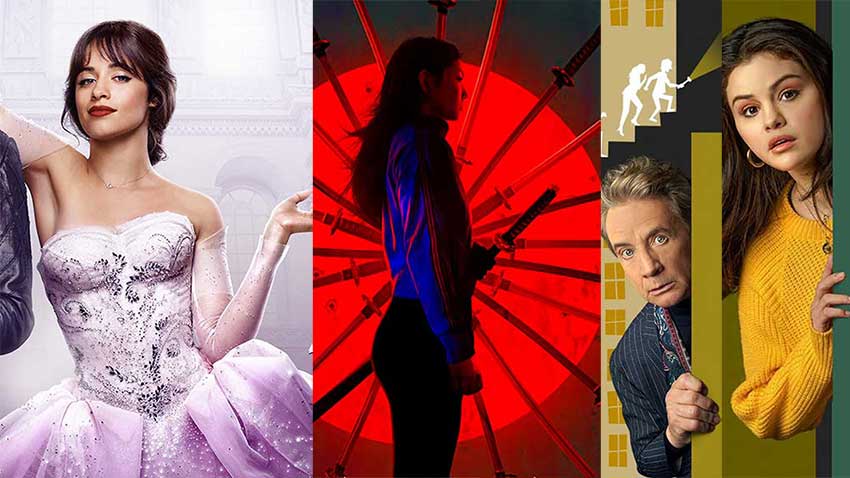 Two different sorts of princesses make their debut this weekend on streaming. Camila Cabello is a progressive Cinderella in Amazon Prime Video's new movie while a sword-wielding princess in YAKUZA PRINCESS is kicking butt and taking names for in a theatrical run and VOD rental. On Hulu, Selena Gomez joins comedic veterans Steve Martin and Martin Short for a true-crime /murder mystery series. Watch full reviews with my HCA "What to Stream" cohost Jana in the video below.
CINDERELLA
If you're a Camila Cabello fan, you'll love CINDERELLA but if you're not - then you may want to avoid this cheesy, non-sensical retelling of the classic princess story. Cabello's Cinderella is a progressive woman with dreams of being a successful dressmaker rather than marrying a prince. Described as a "modern musical with a bold take," Amazon's CINDERELLA is essentially a Glee-inspired fairy tale set to popular modern tunes. The musical numbers are rather dull and unimpressive. While Cabello is captivating as Ella, the production around her is simplistic and boring.
Billy Porter as the fairy glam-mother is underutilized and so is producer James Corden. Idina Menzel lends her beautiful voice but the music is criminally underwhelming for her gifts. Pierce Brosnan and Minnie Driver's storyline is by far the most interesting thing about the movie.
YAKUZA PRINCESS
Another princess makes her way to VOD and movie theaters with YAKUZA PRINCESS starring musical artist MASUMI, Jonathan Rhys-Meyers and Tsuyoshi Ihara.
Set in Brazil in the expansive Japanese community of Sao Paulo. A young girl becomes an orphan after the yakuza kill all her family members. Years later as an adult - she's surrounded by people who know she's the heiress to half of a yakuza crime syndicate so they train her in martial arts and the art of the sword.
After her guardians are killed, Akemi's life is in danger when her existence is discovered by the syndicate who murdered her family. a stranger (rhys meyers) wielding a sword and suffering from amnesia wants answers to his past and partners with Akemi to survive the yakuza.
ONLY MURDERS IN THE BUILDING
The Hulu comedy series stars Steve Martin, Martin Short and Selena Gomez as residents of a NYC luxury apartment investigating a murder in the building. The true crime podcast fans decide to become sleuths in order to find the killer. However, they realize the killer may be one of their neighbors.
The series is amusing and hilarious for anyone who loves true crime podcasts. Watching Martin, who is one of the creators of ONLY MURDERS IN THE BUILDING, and Short is certainly nostalgic for long-time fans but adding a millennial in the mix with Gomez is more folly for laughs.
The first three episodes are up with a new entry arriving every Tuesday.
Jana on Camera and I discuss these options more in our weekly "What to Stream" podcast for the Hollywood Critics Association. Watch below.