Details

Published: Friday, 08 April 2022 21:00
Written by Lupe R Haas
Before you head out to see FANTASTIC BEASTS THE SECRETS OF DUMBLEDORE, you may want to revisit the events from THE CRIMES OF GRINDELWALD. Four years of passed since the last installment and you're painfully aware of that when the new movie begins and things don't make sense (at least in my case).
Grindelwald is moving to take control of the Wizarding world. Dumbledore, Newt, a team of witches, wizards and a Muggle will take him on and his legion of followers. Eddie Redmayne, Jude Law, Dan Fogler, Alison Sudol, Ezra Miller and Mads Mikkelsen replaces Johnny Depp as Gellert Grindelwald.
Fantastic Beasts' Eddie Redmayne Rates His Dancing in 'The Secrets of Dumbledore'
Aside from Queenie leaving Kowalski to join forces with Grindelwald at the end of CRIMES OF GRINDELWALD, not much else was available in my recollection. There's a new crew in THE SECRETS OF DUMBLEDORE who are plopped into the story without a reminder of who they are which may be fine for the diehard fans but not the casual viewer.
Katherine Waterston who plays Tina Goldstein is missing 95% of the movie, and she's sorely missed. Jessica Williams, however, makes her impression as Lally the witch.
Mads Mikkelsen brings his own interpretation of the powerful dark wizard rather than copying Johnny Depp's portrayal. The four-year gap works in Mikkelsen's favor and you soon forget the previous actor.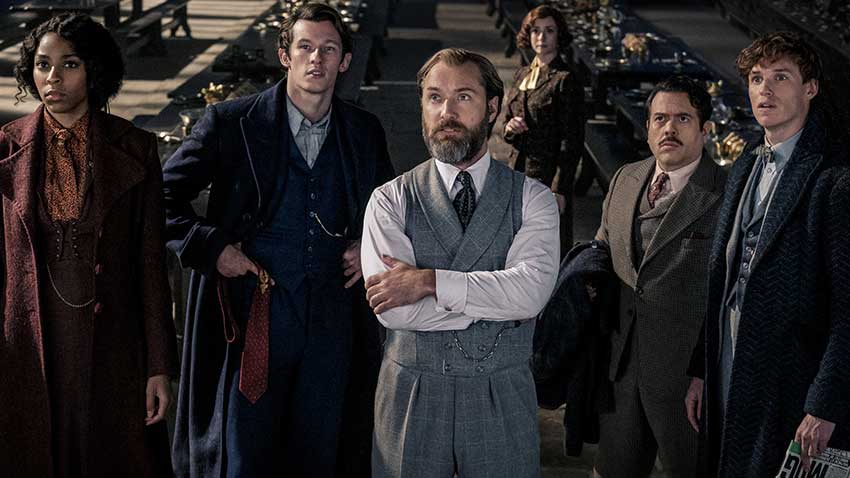 At a running time of two hours and 25 minutes, the secrets of Dumbledore felt like an endless ride. Some scenes felt unnecessary although one of those sequences was hilarious but it didn't move the story forward.
Credence's storyline once again is a sidenote in the movie and the character isn't given the proper attention which was an issue in the previous installment. The first FANTASTIC BEASTS movie built up Ezra Miller's character as an ominous threat but the promise of his powers and fate never get their due. The solution to his journey comes too easily with a simple explanation.
The third movie in the FANTASTIC BEASTS franchise takes an interesting turn with the introduction of a gay romance. It's something we've never seen in the entire Wizarding world. However, it comes out of left field, but it served as an explanation for a certain character's past actions.
Queenie and Kowalski's romance also brings lots of heart to the movie with his undying love prompting him into action.
FANTASTIC BEASTS: THE SECRETS OF DUMBLEDORE is underwhelming but the sentimental aspect of the film is what drives the story.
FANTASTIC BEASTS: THE SECRETS OF DUMBLEDORE is in movie theaters.