Details

Published: Thursday, 15 December 2022 17:46
Written by Lupe R Haas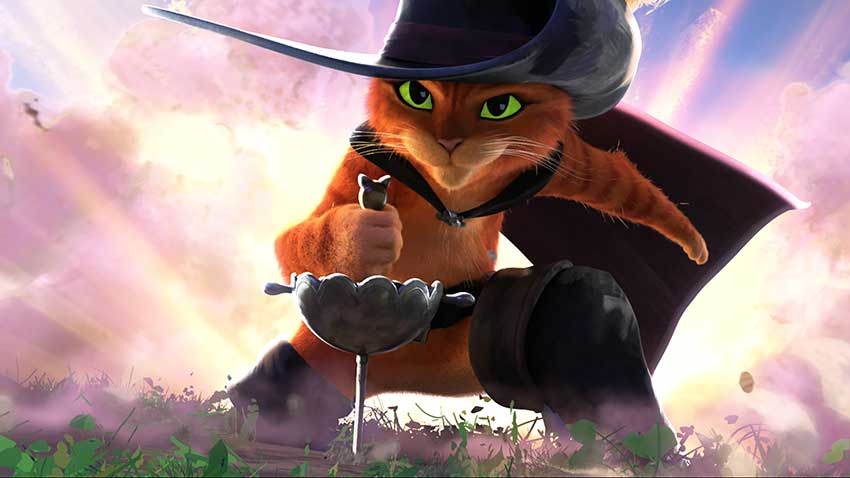 Antonio Banderas returns as Puss, the Leche-loving swashbuckler along with Salma Hayek's Kitty Softpaws in a sequel that far surpasses the original in every way.
Puss in Boots stole the show when the cat debuted in 2004's SHREK 2, and more than a decade has passed since Dreamworks Animation's stand-alone film featured the fear-defying feline.
In THE LAST WISH, Puss is down to his last life, having exhausted his other eight lives. The realization humbles the over-confident cat and his fear of death overtakes him. When he hears of a magical Wishing Star that can restore his nine lives, he sets off to the Black Forest with Kitty Softpaws and a new pup, Perrito voiced by What We Do In The Shadows' Harvey Guillén and he reunites with
Puss isn't the only one seeking the Wishing Star. Fairy tale favorites Goldi Locks (voiced by Florence Pugh) and the Three Bears (Olivia Colman, Ray Winstone) join the fun as a cockney-speaking crime family willing to do anything to reach the prize. A not-so-little Jack Horner (voiced by John Mulaney) is also on the same quest as is the big, bad Wolf (Narco's Wagner Moura), the grim reaper waiting to rip Puss out of existence.
THE LAST WISH is directed by Joel Crawford and produced by Mark Swift, and executive produced by Illumination founder and CEO Chris Meledandri.
THE LAST WISH is full of charm and emotion with themes that everyone can relate to. The swashbuckling cat shows his sensitive side when he fears his days are numbered. Banderas strikes the right tone when Puss loses his confidence which endears you to the character even more. Humbling Puss in that manner was a genius plot twist because who wants more of the same!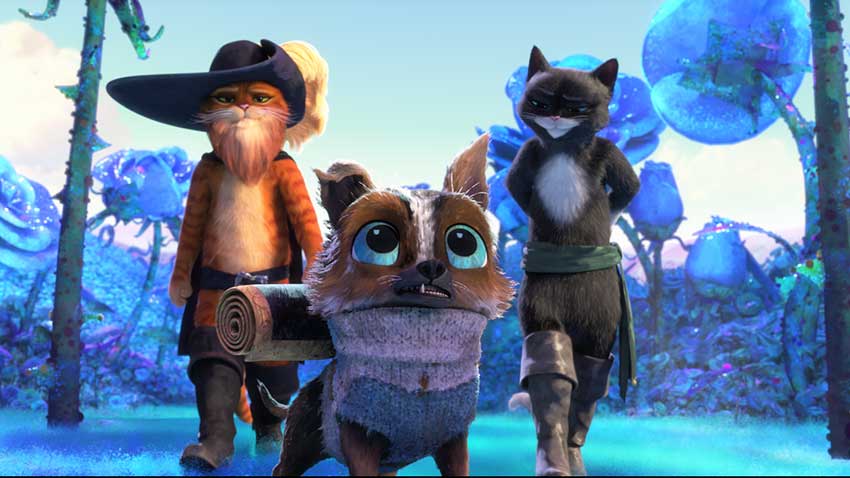 However, you'll fall in love with a new character who chews up every scene. Harvey Guillen voices a little mutt Puss names Perrito. Perrito is the Olaf of this Dreamworks sequel. His innocence is simply adorable, and the character brings a lot of heart into the animated film. You'll want to take him home.
The voice cast is just phenomenal. John Mulaney delivers the perfect pitch as Jack Horner, a selfish, petulant child while Florence Pugh, Olivia Coleman, Ray Winstone, and Samson Kayo make a great team as Goldi and the Three Bears crime family. Hayek-Pinault also returns with a softer side to Kitty in a much bigger role.
The sequel to PUSS IN BOOTS is by far a better movie. The first stand-alone was extremely entertaining, but THE LAST WISH tugs at your heartstrings and mind. The characters all seek something very human in their quest. The "grass is always greener" quote comes to mind when watching PUSS IN BOOTS 2.
Every frame is filled with popping colors that dazzle, and the animation feels very immersive as if watching it in 3D. THE LAST WISH surpasses the original in story and visuals.
The Spanglish wordplay among the three Latino leads is perfectly blended. It's done just right and Latino families will no doubt feel proud to be represented on screen.
PUSS IN BOOTS: THE LAST WISH hits movie theaters on December 21.