Details

Published: Wednesday, 30 September 2020 15:32
Written by Lupe R Haas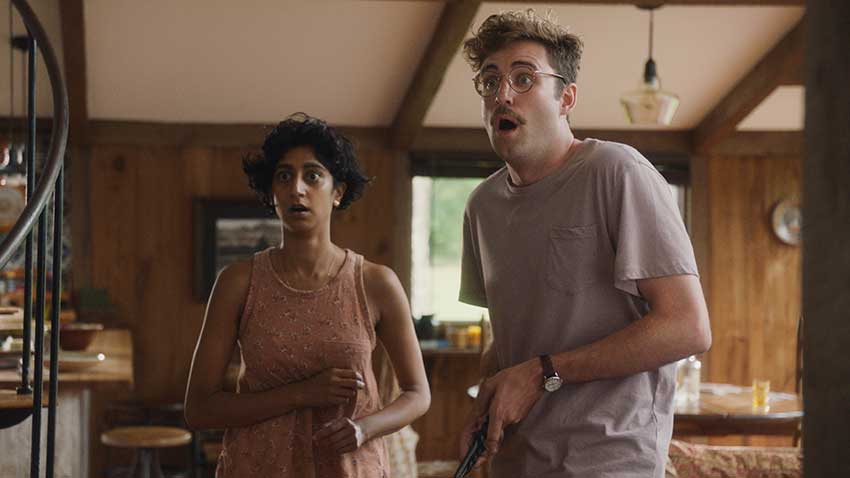 Save yourselves from watching endless negative news reports with a new movie that will distract you from what seems like the apocalypse. SAVE YOURSELVES! is just what the doctor ordered this week for some quirky end of the world fun.
From indie filmmakers Alex H. Fischer and Eleanor Wilson, SAVE YOURSELVES! stars "Glow's" Sunita Mani and John Reynolds ("Search Party") as a millennial couple in crisis who head to an isolated cabin in the woods outside Brooklyn to reconnect to each other and disconnect from their smart phones. By tuning out the world and their push notifications, they are unaware an alien invasion is threatening civilization.
Jack (Reynolds) and Su (Mani) are in a very relatable relationship that practically every couple will identify with. They struggle to interact with each other without a phone in their hands. The story certainly reminds you that we're in a relationship with our smart device rather than the person next to us.
The absurdity of the situation is entertaining. The viewer has more insight than the characters to the external forces at play. Part of the fun of the movie is waiting for the characters to realize what's going on. How they discover the aliens is also a hilarious sequence.
When they're on the run from the aliens, the central focus remains their relationship, and their hilarious reactions to the ever changing discoveries.
Writer/directors Alex H. Fischer and Eleanor Wilson told CineMovie (interview coming soon) the story was partly inspired by their own obsession with their phones in their relationship. It's no wonder that this on screen relationship feels very grounded and familiar. The characters and dialogue are quirky and fun.
It's not a cutesy romantic entanglement rather one based on friendship. Kudos to the filmmaker for also casting an interracial couple without addressing it in the story which should be the norm but sadly you rarely see it unless it has ties to the plot.
Sunita and John bring a lot of charm to their roles. Best known for "Glow" on Netflix, Sunita captures down to earth characters that you may know in real life. For a low-key story like SAVE YOURSELVES! you really need to be invested in this couple, and both actors reel you in.

When we finally discover the aliens, it's not what we expect when we hear the word "aliens." These "beings" are more creatures rather than aliens. To some, it may remind you of an iconic creature in GREMLINS or Sonic the Hedgehog which they joke about in the dialogue. Part of the charm of SAVE YOURSELVES! is the discovery of the aliens so I won't spoil any more.
The ending came as a surprise. There can only be two outcomes when faced with extinction from aliens so the resolution was a shocking surprise.
If you're looking for a sci-fi flick in the traditional sense, look elsewhere. The aliens are merely the backdrop for these character's journey as a couple. But if you're in the mood for some silliness, SAVE YOURSELVES! is a belly full of laughs.
Bleecker Street will release SAVE YOURSELVES! in theaters nationwide on October 2nd, 2020 and on digital October 6th, 2020.
93 Minutes | Rated R
Cast: Sunita Mani, John Reynolds, Ben Sinclair, John Early, Jo Firestone, Gary Richardson, Johanna Day, Zenobia Shroff, Amy Sedaris