Details

Published: Wednesday, 17 August 2022 11:36
Written by Lupe R Haas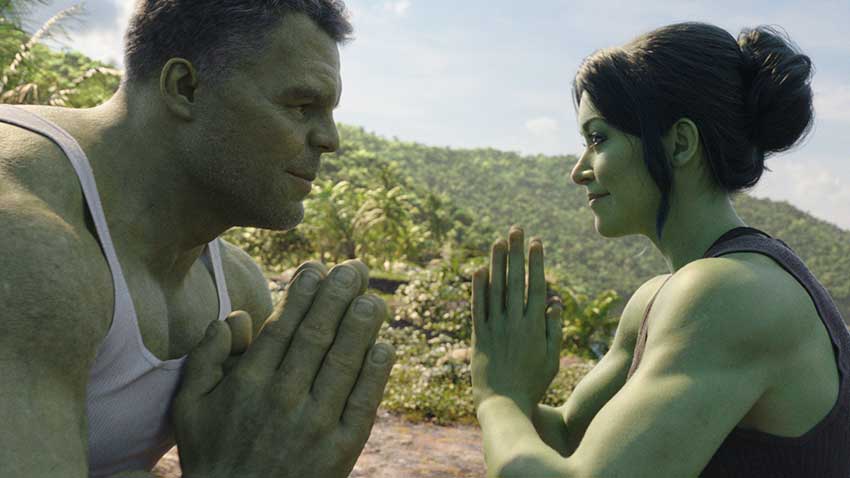 She Hulk: Attorney at Law is like no other Marvel series. It's Ally McBeal on steroids. Tatiana Maslany is so delightful and nails the comedy which often breaks the fourth wall. There's so many female truth bombs that will have women cheering along with tons of MCU throwbacks that tie in with past movie events. And finally, we get the answer to whether Captain America was a virgin.
Tatiana Maslany stars as Jennifer Walters, an attorney specializing in superhuman-oriented legal cases who happens to be a green 6'7"super-powered Hulk. The nine-episode comedy series includes a host of MCU favorites like Mark Ruffalo as Bruce Banner/Hulk, Tim Roth as Emil Blonsky/Abomination and Benedict Wong as Wong. The sitcom-like series also stars Jameela Jamil, Josh Segarra, Ginger Gonzaga and Renée Elise Goldsberry.
The series is directed by Cat Coiro (Episodes 1, 2, 3, 4, 5, 9) and Ana Valía (Episodes 5,6,7) with Jessica Gao as head writer. She-Hulk: Attorney at Law will be made available on Disney+ beginning August 18.
The first four episodes were made available for press. She-Hulk: Attorney at Law is unique in the MCU Disney+ realm. It is unlike any other streaming property, playing more like a sitcom with Jennifer Walters navigating the superhero responsibilities and her complicated single life. WandaVision started out with that same fun sitcom vibe but as viewers found out, it took a dark and sinister turn.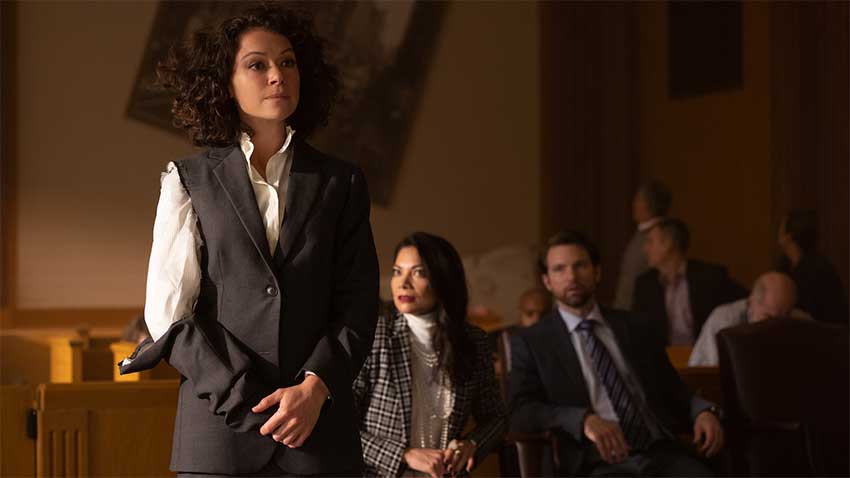 Tatiana Maslany is absolutely perfect in this role. Her comedic timing is on point and endearing. The character of Jennifer is someone you would love to have as a best friend, and the attraction is immediate as soon as she hits the screen with her witty banter and happy-go-lucky attitude. The character often breaks the fourth wall for comedic effect.
The first episode hits the ground running with Jennifer hanging out with her cousin Bruce Banner, and quickly transforming into the green superhero. The training session between Jennifer and Smart Hulk is hilariously entertaining, and an indication of where this clever series is headed. It's Ally McBeal on steroids. At one point, you see the Calista Flockhart show playing in the background on a television screen at a bar.
This new Disney+ series is comedy gold along with many truth bombs about women. The crew behind the scenes are all women, and it clearly shows. There are so many "raw-raw" moments that make women feel seen as no other series or movie has ever done.
On the Marvel end, the first four episodes are filled with ties to other MCU movies including movies that came before Disney acquired Marvel. Tim Roth starred as the Abomination/Emil Blonsky in The 2008 film, THE INCREDIBLE HULK with Edward Norton as the comic book superhero. The events from the Abomination's appearance in SHANG-CHI AND THE LEGEND OF TEN RINGS are also addressed in She-Hulk in a hilarious fashion. Emil Blonsky has evolved from when we last saw him. There's also a hilarious moment when Smart Hulk addresses in a subversive way the fact that he's not the same actor. In brilliant fashion, the show also settles the ongoing debate about whether Steve Rogers was a virgin for the entire events in the Avengers saga.
While Jennifer Walter's character is unique and a fun personality to follow, the new cast of characters fits into stereotypical roles often seen in a sitcom. For example, Ginger Gonzaga's character is Jennifer's loud and quirky best friend and paralegal. Luckily we have the MCU veterans making cameos to keep the momentum going.
In the first four episodes, you will not see much of Jamila Jamil's Titania nor the rumored appearance of Charlie Cox as Daredevil. So those are things to look forward to in the remaining episodes.
The CGI is very uneven in the She-Hulk series. At times the female Hulk looks spot on, and other times the unrealistic-looking eyes take you out of the moment. It's more noticeable when She-Hulk is dressed in business clothes and when she's in motion like walking.
However, Smart Hulk is flawless like in the movies which is confusing as to why there's a discrepancy in the CGI between the two characters.
Despite that, She-Hulk: Attorney at Law is a sitcom full of hilarious nuggets that will entertain and make you laugh. Out of all the Marvel series on Disney+, She-Hulk: Attorney at Law is the most fun of the bunch.