Details

Published: Saturday, 31 July 2021 14:53
Written by Lupe R Haas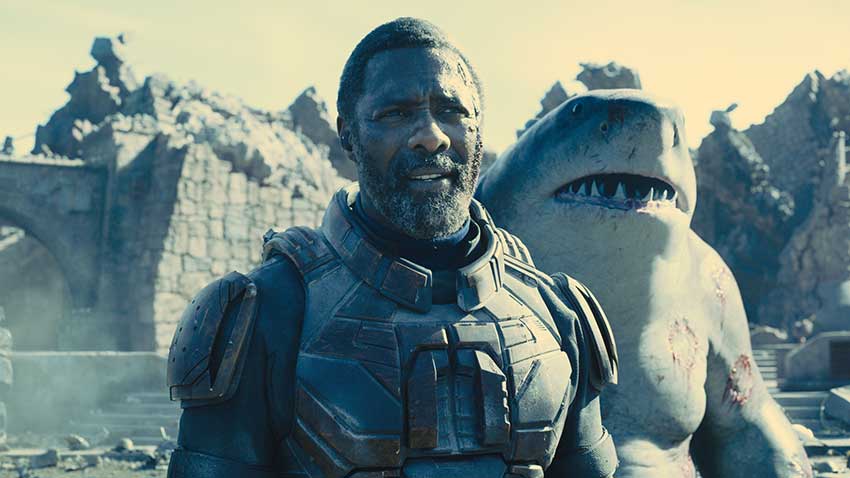 James Gunn sets things right with the new Squad. It's raw and DCEU's grittiest and most irreverent movie to date. While it doesn't exactly reach DEADPOOL-level humor, it's close. There are few issues with THE SUICIDE SQUAD. Luckily the new character's charming qualities and the group's chemistry outweigh the weakest part of the movie - the human villains.
Amanda Waller (Viola Davis) assembles new recruits for the latest SUICIDE SQUAD mission. Margot Robbie's Harley Quinn, Davis, Joel Kinnaman's Rick Flagg, and Jai Courtney's Boomerang reprise their roles alongside new Belle Reve inmates played by Idris Elba, John Cena, Pete Davidson, Nathan Fillion, Michael Rooker, Peter Capaldi, Sylvester Stallone as the voice of King Shark and dozens of others. However, as the poster art slogan states, 'Don't get too attached."
In the latest suicide mission, Waller tasks the squad with finding a secret weapon on an island of Corto Maltese whose government was overthrown by a military coup hostile to the US.
THE SUICIDE SQUAD by comparison is no GUARDIANS OF THE GALAXY. Gunn brought a different sensibility to the DC property and didn't try to replicate the same energy from his Marvel movies. While both properties revolve around criminal misfits, Gunn's Marvel movies are more family-friendly while THE SUICIDE SQUAD is not. However, there is one joke by Capaldi's Thinker referring to the giant starfish as Star Lord, but the joke falls flat. The comic book fans wanted irreverence, gore, and rawness to the characters and they get that here.
He did, however, replicate the chemistry among the group of misfits. Elba's Bloodsport and Cena's Peacemaker's competitiveness was enjoyable, while Bloodsport's endearing relationship with Daniella Melchior's Ratcatcher 2 is the heart of the movie. David Dastmalchian's Polka Dot Man may have had the lamest superpower and costume, but his sensitivity and mommy issues quickly made him a favorite along with King Shark's low IQ humor. Melchoir brought an air of innocence to her role as Ratcatcher which also made her a standout among the crowd. Robbie as always is enjoyable to watch as Harley Quinn, and she becomes romantically involved since her breakup with the Joker which was a highlight. Kinnaman's Rick Flagg is much more enjoyable to watch this go around with less of a drill sergeant attitude and a more fun demeanor.
Unfortunately for Jai Courtney, his Boomerang character was short-changed once again. He was underutilized in David Ayer's SUICIDE SQUAD, most likely thanks to Warner Bros.' hack job, and here his character and weapon are explored even less. Imagine the damage you can do with a boomerang yet Gunn gave no good reason why Boomerang should even be in this movie. The Thinker played by Dr. Who's Capaldi seemed miscast. The delivery of his jokes inspired more eye rolls than laughs. Cena didn't bring anything new to his role as Peacemaker other than playing a tough guy that would warrant a spin-off for HBO Max. That's not to say he was bad, but there's no merit for a spin-off that was announced months ago.
The residents of the South American island of Corto Maltese don't fare well in THE SUICIDE SQUAD. The Latino cast includes very talented actors in Alicia Braga (Queen of the South), Joaquin Cosio (Narcos: Mexico, Gentefied), and Juan Diego Botto, but they are wasted in the story. Braga comes in as the leader of a rebel group and soon disappears from the movie entirely until she returns at the end to thank the crew. One of her soldiers tags along to help Task Force X's mission then at one point there's a bit with Harley and Polka Dot Man bantering on about when this guerilla fighter joined the group before he becomes a victim. It was a strange bit used purely for laughs.
Botto's Presidente General and Cosio's Mayor General characters are simply there to be the faces of the bad guys, but there's no exploration of their characters. One is discarded early on as a bit for Harley which was hilarious but then it sets up another character as so evil that he would hurt innocent creatures and then do nothing remotely as evil for the rest of the film except call in his soldiers. It's another baffling choice on top of a previous gruesome scene in which Latino soldiers are brutally killed for no apparent reason except for the laughs. I just don't know what to make of it. Is Gunn making the point that Latinos are invisible or do people just assume they're the bad guys? I would love to pick his brain about these choices.
It's easy to see why those characters didn't make the cut. The StarFish creature becomes the main villain in Act 3, then all the attention turns to destroying the monster, and the rest sorts itself out.
THE SUICIDE SQUAD relies heavily on visual effects and CGI in the action-heavy scenes and it's done flawlessly.
THE SUICIDE SQUAD contains tons of bits that serve up the laughs for the moment but within the scope of the storyline - it seems disjointed and misplaced.
Despite that, THE SUICIDE SQUAD is exactly what fans of the comic book wanted with violence, gore, and irreverent humor.