Details

Category: New at the Movies
Published: Thursday, 16 February 2012 14:44
Written by Melanie Wilson
Article Index
Page 1 of 2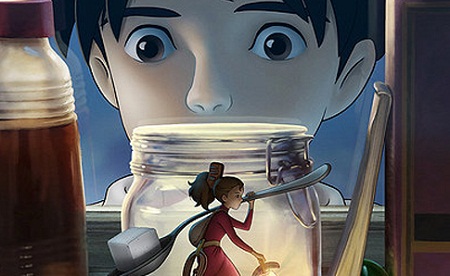 I remember in elementary school making a diorama for little people. A wooden thread spool became a table and a large match box became a bed. The fancy of recycling found objects for a scaled down world intrigued me and captured my imagination. THE SECRET WORLD OF ARRIETTY has done the same thing. With its lovely animation and heartfelt story telling I was completely lost in their world and thoroughly enjoyed the journey.

At the top of our story, Arrietty (Bridgit Mendler) is going on her first borrowing mission with her father (Will Arnett). She is brave, cocky and full of anticipation. After venturing beyond the house on her own and securing some bay leaves for her mother as a gift, she is confident of her abilities and is ready for action. But once inside the secret passage ways with her father, she soon discovers how dangerous borrowing truly is.

The house that the Borrowers live within belongs to an old lady and is run by her housekeeper Hara (Carol Burnett). On the day of Arrietty's first mission a new resident arrives ("Wizards of Waverly's Place" David Henrie). Shawn is very sick and has come to his grandmother's house to rest. He has a bad heart and is due for an operation. He is sad, quiet and expecting to die. But when he unexpectedly spots Arrietty the excitement gives him something to occupy his mind. He starts to think beyond his circumstances and begins to imagine how tough life would be for a little person.

Through his investigation, Shawn learns that his parents believed in the little people so much so that they built a customized doll house for them. But the code of the Borrowers kept them away and his parents eventually stopped believing. According to the Borrowers they only take what they need and only things that would not be missed. Taking anything for the doll house would be too noticeable.

After Arrietty's and Shawn's encounter they become friends against the advice of her parents. Her mother (Amy Poehler) is a chronic worrier and in this case she is right. Shawn's interest piques the curiosity of the maid and she in turn hires some pest control. This puts the Borrower family in peril and Shawn, with his illness, is not in too much of a position to help.

What I loved the most about this film were the details in the artwork. Everywhere you looked you would see texture, nuance and lovely delicate flourishes. Whether it was the flowers in the garden or the engraving on a tea cup, every frame was imagined and complete with exacting detail. I also liked the heart in this film. You could really feel the relationships between the characters and I especially liked the relationship between Arrietty and her father. Will Arnett's voice has a quiet authority and even though he says little, you could tell how much he admires his daughter. He protects her, but he also wants her to be independent and free. He truly loves his daughter.

This film, coming from Japan, is not your typical American animated film. There are no jokes, silly songs, cute little characters or merchandising ploys. What you get is a lovely fully-realized film with heart and breath-taking animation. Small children may get squirmy but everyone else will love this film. Carol Burnett is funny as the menacing housekeeper and there is a fat cat that provides some lighter moments. But THE SECRET WORLD OF ARRIETTY is a serious tale with life and death issues. It is a film to be appreciated and enjoyed by all.