Details

Category: New at the Movies
Created: Saturday, 18 June 2016 15:49
Published: Saturday, 18 June 2016 17:20
Written by Lupe R Haas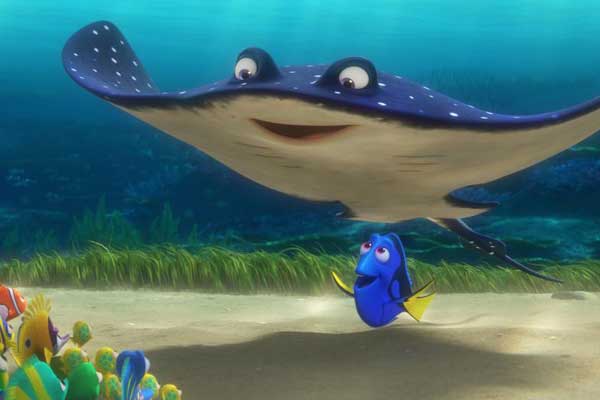 Sequels are far less superior than the originals especially when it comes to animated fare, but we are talking Disney and Pixar so we expect nothing less than the best from the studio that brought us all the equally enjoyable Toy Story movies. FINDING DORY stands on its own and the 13 year wait for FINDING DORY was well worth it. Here are five reasons why.
In FINDING DORY, Dory sets out to find her parents along with Merlin and Nemo, but her short term memory loss is a hindrance. Their adventures take them to a rescue aquarium where they meet a few friends who will help Dory find her parents. WATCH TRAILER
1. Dory

Dory is just as lovable as always, but she goes to dark places in her past as she recalls the trauma of being separated from her parents. However, the forgetful fish voiced by Ellen DeGeneres once again makes everything alright with her innocence and humor.
2. Heart
The most heartfelt message behind FINDING NEMO is the importance of family and the lengths one will go through for a loved one. The same applies in FINDING DORY with the story tugging at the same heartstrings, but they add another layer.
In FINDING DORY, Dory isn't the only one with a disability that makes her lovable. We meet other friendly ocean life at the rescue aquarium where Merlin, Nemo and Dory end up at during their adventures. There we meet Destiny, a whale shark with partial vision, Bailey, the Beluga Whale whose sonar doesn't work so well and Hank, an octopus with only seven tentacles. The ultimate message is that regardless of your defaults, you're special in unique ways.

3. Sigourney Weaver Bit
There's a bit with the actresses voice that keeps on giving when it comes to laughs. During the press screening, adults were giddy with laughter during the gag while the children had no idea why the grown-ups kept giggling. The gag is sprinkled throughout and we don't want to say why. You'll just have to see it for yourself because we don't want to ruin it.
4. New Adorable Characters
A whole new gang of interesting characters are introduced. As mentioned in #2, the newcomers add to the fun. Destiny voiced by Kaitlin Olson, Hank voiced by Ed O'Neill and Bailey voiced by Ty Burrell steal your heart as they overcome their own disabilities, but they also prove to be funny. The actors behind the voices are perfect and very natural. Idris Elba and Dominic West are hilarious as seal lions and perhaps the highlight.

5. Humor
This statement may warrant another viewing of FINDING NEMO, but FINDING DORY may be much funnier than the original. The sequel doesn't tread familiar ground when it comes to humor. Sequels often base the humor on what you know from the original film, but here the jokes are stand alone and the new environment invites new jokes.
The humor comes from the animal's behavior. If anyone has watched seal lions interact, then you'll have a good chuckle how they work that into the movie with hilarious outcomes.
Much of the funny business in FINDING NEMO came by way of Dory, and some of the characters they meet along the way. In FINDING DORY, the new characters provide a lot of the humorous dialogue in addition to having the location be a rescue aquarium. It opened it up for funny situations and commentary.
MORE
Visually Impaired Audiences Can Now Enjoy Theatrical Releases Starting with 'Finding Dory'
Ellen DeGeneres Reveals Campaigning Disney*Pixar for Dory Sequel Was Joke: 'Joke Became A Reality'
Ellen Degeneres & 'Finding Dory' Cast Present Sneak Peek at 'Finding Nemo' Sequel